Updated: April 11, 2000
1998 Campaign Finance Profile
Attorney General James E. Doyle (D)
January 1, 1995 through December 31, 1998
SUMMARY

Attorney General James E. Doyle, 54, is a former Dane County District Attorney whose family has long been prominent in state Democratic politics. He was first elected state attorney general in 1990 and then reelected in both 1994 and 1998. Doyle is again being mentioned as a leading Democratic candidate for his party's nomination for governor in the 2002 election.

Doyle had more than $867,000 to spend during the 1998 election cycle (Chart 1). After starting the four-year cycle on Jan. 1, 1995 with a cash-on-hand balance of $63,343, Doyle's campaign raised $803,962 by December 31, 1998.

Doyle's campaign spent $821,605 during the four-year election cycle, including $715,295 in election year 1998. His campaign had a cash balance of $46,700 at the end of 1998.

In general, Doyle's successful statewide campaigns relied mainly on lawyers and labor. Doyle's status as the state's top law enforcement officer explains his support from the legal community. Support from the labor unions, a key elements in the Democratic fundraising picture, illustrates that the Attorney General is also a partisan office holder. In addition, his campaigns depended heavily upon financial support from the Madison and Milwaukee areas.

INDIVIDUAL CONTRIBUTIONS

Doyle raised $575,971 from nearly 9,000 individual contributions from 1995-98 (Charts 2 and 3). Individuals who gave $100 or more provided 70 percent, or $405,296, of the funds raised from individuals, and 47% of the $867,305 from all sources. Individuals who gave less than $100 are the second most significant source of campaign funds. Doyle received $170,625, or 20 percent, of all of his funds in small contributions.

The totals by the size of contribution received by the Doyle campaign were more evenly spread - as seen in Chart 3 - than for other major statewide officeholders. He has not used fundraising gimmicks, such as special "clubs," to reward well-heeled individuals and special interests with greater access in return for a larger contribution. Sixty-five family groups and individuals gave $1,000 or more to Doyle's 1998 campaign (Table 1). Five individuals and two family groups have given total contributions of $2,500 or more. The maximum amount a single individual can contribute to a candidate for Attorney General is $10,000.

COMMITTEE CONTRIBUTIONS

Contributions from political action committees and from other candidate committees accounted for 17%, or $143,331, of the money raised by Doyle during the 1998 election cycle (Chart 1). Seven of the top 10 PAC contributors to Doyle during the four-year cycle were labor unions (Table 2). The top four PACs contributors - all labor unions - gave Doyle $10,000 or more. Committees are allowed to contribute up to $21,564 during a campaign cycle.

TOTAL SPECIAL INTEREST CONTRIBUTIONS

When contributions from individuals and PACs are combined by interest grouping, lawyers and law firms are Doyle's single largest financial supporter (Chart 4). This special interest gave Doyle at least $118,833 from 1994-98 in primarily individual contributions. The nature of the office may explain the major role of lawyers in financing Doyle's campaign. They are the people most familiar with and most affected by his work. 

The partisan aspect of Doyle's office can be seen in the second-largest source of special interest money -- labor union PACs, a key element in the Democratic fund-raising picture. Unlike the lawyers, labor unions made contributions almost exclusively through PACs. Doyle's top union supporters represented teachers, public employees, truck drivers, firefighters, engineer and steelworkers. Individual and PAC contributions from labor union interests to Doyle totaled $108,135 from 1995-98.

Six other interest categories provided the bulk of Doyle's remaining special interest support, more than $20,000 apiece, from 1995-98 (Chart 4). But the support of lawyers and labor is responsible for another major characteristic of Doyle's campaigns - most of his support comes from Madison and Milwaukee. This narrow geographic base of campaign funding may be partly due to the activities of the Attorney General's Office being centered in the courts and legal communities of the state's two largest cities. The office is responsible for providing legal advice and representation, and criminal investigation and enforcement services for the state. As a result the Attorney General has higher visibility in these areas.

Doyle received about 98 percent of his contributions from inside Wisconsin during the 1995-98 election cycle. However, more than 80 percent of his large contributions came from Dane and Milwaukee counties. Dane County residents provided 44 percent - $177,832 - of the total money that he raised from large individual contributors from 1995-98. Residents of Milwaukee and its suburbs accounted for another 37 percent, or $148,574, of the total amount Doyle raised from large individual contributions from 1995-98.

CAMPAIGN SPENDING

Doyle spent a total of $821,605 during the 1995-98 election cycle. Much of his fundraising and spending occurred in the 1998 election year, where he spent $715,295, or 87 percent of his total expenditures for the four-year period.

The bulk of his money - $535,773, or 65 percent - was spent on advertising in the final months before the November 1998 election. Campaign Communications of Milwaukee handled most of the Doyle campaign's media purchases. Printing and postage accounted for his second largest expense, about $106,344. Staff payroll and expenses was the campaign's third largest cost - $87,707.

Doyle's campaign committee expenses were not typical of many other incumbents who have enjoyed multiple terms in a statewide office. For other statewide incumbents, consulting by out-of-state consultants and fundraising cost campaigns tens of thousands of dollars. However, Doyle relied primarily on in-state consultants - Christofferson and Associates and Fitch and Associates, both of Madison - and only spent $25,148 on them during the four-year period. His fundraising costs amounted to only about $17,471. This may be the reason that Doyle gets most of his support from people in Madison and Milwaukee, as opposed to the rest of the state.

In addition, Doyle spent less than many statewide campaigns on telemarketing, polling and telephoning. His major telephone and voter contact costs amounted to just a little more than $11,000 for the four-year period.
Charts
Tables
Table 1 Top Individual Contributors to Attorney General Doyle

Table 2 Political Action Committee Contributors to Attorney General Doyle
Charts
War Chest on 1/1/95
$220,829
Self
$0
Less than $100
$71,255
$100 or More
$363,637
PAC & Party
$19,050
Other
$57,641
WECF*
$11,977
Total Raised
$523,560
Ending Cash 12/31/98
$46,700
*voluntary spending limit system

*Estimate based on the assumption of an average of $25 per single contribution.

** Contributions of less than $100 are included in this total if the year-to-date column on the report shows that the contributor has given a total of $100 or more.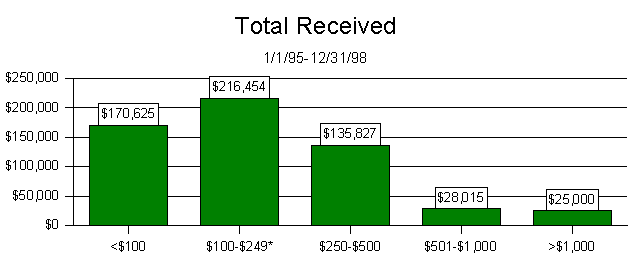 * Contributions of less than $100 are included in this total if the year-to-date column on the report shows that the contributor has given an annual total of $100 or more.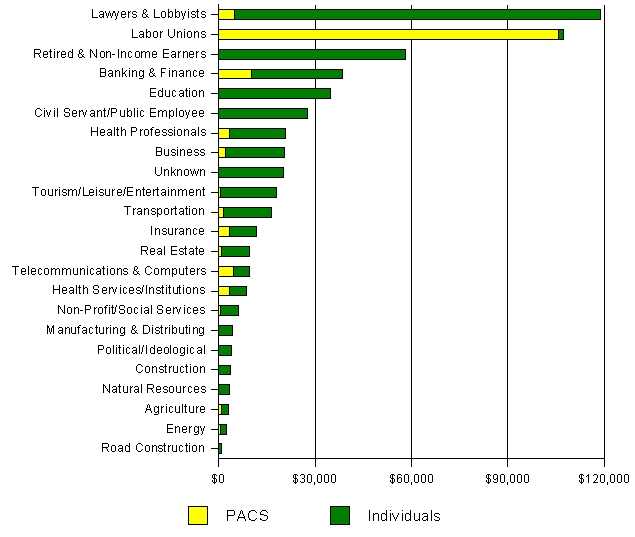 *Candidate committees, parties, and legislative campaign committees are excluded from this chart.