Wisconsin Manufacturers & Commerce (WMC) is the state's largest business organization and one of the most politically and financially powerful special interest groups to roam the halls of the state capitol. WMC uses a combination of lobbying muscle and heavy, secret spending on outside electioneering activities to sway how the governor and the legislature handle dozens of state policy and spending issues, including taxes, labor, education, and environmental regulation.

Influence Peddler of the Month
Wisconsin Manufacturers & Commerce
June 1, 2015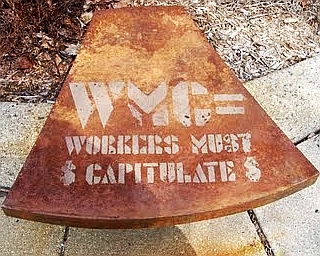 Wisconsin Manufacturers & Commerce (WMC) is the state's largest business organization and one of the most politically and financially powerful special interest groups to roam the halls of the state capitol.
WMC uses a combination of lobbying muscle and heavy, secret spending on outside electioneering activities to sway how the governor and the legislature handle dozens of state policy and spending issues, including taxes, labor, education, and environmental regulation. The organization employs a cadre of about a dozen lobbyists and spent about $2.2 million on lobbying from the beginning of 2011 through 2014 to hawk its special interest wish list.
In just the opening months of the current 2015-16 legislative session, WMC scored a major, pro-business victory with passage of so-called right-to-work legislation, which prohibits requiring workers to make payments to unions as a condition of employment.
In addition to its lobbying influence on state policy and spending, WMC is a heavyweight among groups in outside election spending to determine who sits in the governor's office and which party controls the state Assembly and Senate.
WMC refuses to disclose how much it spends on its phony issue ads and where it gets its money for its electioneering activities, which are mostly negative broadcast ads that smear Democratic candidates and praise Republicans. But the Democracy Campaign estimates that WMC spent $25.9 million between 2006 and 2014 to support pro-business conservative and Republican candidates for governor, attorney general, Supreme Court and the legislature.
Much of WMC's secret election spending has gone to support Republican Gov. Scott Walker. The group has doled out an estimated $9.5 million to help Walker win his 2010 general, 2012 recall, and 2014 reelection contests, with volleys of statewide television ads, like these – here and here for a couple of examples– that praised Walker or attacked his Democratic opponent.
WMC reportedly was among numerous ideological and trade organizations that were subpoenaed in a John Doe investigation into possible campaign finance law violations by special interest groups and the Walker campaign in the 2011 and 2012 recall elections for governor, lieutenant governor and 13 state Senate seats. WMC was one of the top spenders in the recall elections, doling out an estimated $4.7 million to support Republican candidates.
Candidates and outside special interest groups that sponsor electioneering activities to support or oppose a candidate are not allowed to work together on their fundraising, spending, advertising and other messages.
The John Doe investigation has been on hold until the probe's fate is determined this summer by the seven-member Wisconsin Supreme Court, which has been criticized for its role in the case because WMC and two other groups connected to the investigation spent an estimated $8.3 million between 2007 and 2013 to help elect the high court's conservative majority – Justices Annette Ziegler, Michael Gableman, David Prosser and Patience Roggensack.
In addition to its own secret outside electioneering spending, WMC also supports cloaking information about direct campaign contributions to statewide and legislative candidates from public view. The group supports Assembly Bill 176, which would severely reduce the amount of occupational and employer information candidates must report about their donors on campaign finance reports.
WMC's support for hiding information about individual political contributions from the public likely stems from some of the owners and executives of its 3,500 member businesses who are generous contributors and hail from more than a dozen special interest groups, including business, manufacturing, energy, insurance, health care, transportation, construction, real estate, finance, tourism, agriculture, road builders, natural resources and telecommunications.