The National Rifle Association (NRA) is the nation's largest and most controversial pro-gun advocacy organization whose ability to rev up a wide geographic membership and raise millions of dollars has made it a dominant influence on federal and state policies and elections.

Influence Peddler of the Month
National Rifle Association
September 1, 2015
The National Rifle Association (NRA) is the nation's largest and most controversial pro-gun advocacy organization whose ability to rev up a wide geographic membership and raise millions of dollars has made it a dominant influence on federal and state policies and elections.
The Virginia-based group boasts more than 5 million members nationwide and has branches, like Wisconsin Force, in all 50 states and Puerto Rico.
The NRA spends large amounts of money on federal and state elections through direct contributions to candidates and outside spending on broadcasts ads, mailings and other electioneering activities, usually to support Republican and conservative candidates.
In Wisconsin, the NRA makes direct contributions and independent expenditures on state elections through its longtime state political action committee, the NRA Political Victory Fund. The group also created a corporation called the National Rifle Association of America in 2012 to make independent expenditures in Wisconsin elections.
The NRA spent $3.6 million between 2008 and 2014 on independent expenditures to support Republican and conservative candidates for Wisconsin statewide offices and the legislature (see Bar Chart below). Most of the group's money was spent on television and radio ads and mailings. About $3.5 million, or 96 percent, of the NRA's election spending between 2008 and 2014 in Wisconsin was to support Republican Gov. Scott Walker, who is a 2016 GOP presidential candidate.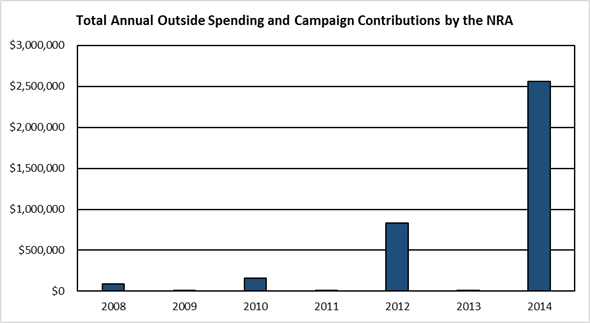 To learn more about the outside electioneering activities the NRA sponsored, and the candidates it supported and opposed between 2008 and 2014, please check out the Democracy Campaign's NRA profiles – here, here, here, here, here, here, here, here, and here.
In addition to its outside spending on behalf of candidates, the NRA Political Victory Fund made another $49,325 in direct contributions to candidates between 2008 and 2014.
The bulk of the group's outside election spending and direct contributions to candidates occurred in the 2012 recall election and 2014 reelection. Coinciding with the NRA's election spending and campaign contributions, Walker and majority Republican lawmakers approved numerous controversial laws sought by the NRA, including concealed carry; elimination of the 48-hour waiting period to buy a gun; legal protections for people who shoot trespassers inside a home, business or vehicle, often called "castle doctrine"; creation of a wolf hunting season; and looser state raffle regulations.
The NRA and its state group, Wisconsin Force, also support several other measures still under consideration in the current 2015-16 legislative session, including Assembly Bill 13, which creates a speedy process that authorities would be required to use to return seized firearms to their owners; and AB142 and SB102, which virtually legalize switchblade knives.
Earlier this year, the NRA's activities were the subject of requests for two federal investigations.
Last June, the NRA's federal elections activities and spending drew requests for investigations by the Citizens for Responsibility and Ethics in Washington (CREW). CREW said the NRA filed federal campaign finance reports that showed it spent $33.5 million on political activity in federal elections between 2008 and 2013, but also filed annual tax reports during that period that claimed it did not make any political expenditures. The requests for investigations were filed with the U.S. Internal Revenue Service and the Federal Election Commission.
CREW also asked the FEC to audit the NRA because it alleges the group may have violated federal campaign finance law by failing to tell donors that their contributions would be used for political purposes; by soliciting donations from the general public; and by failing to disclose the employer and occupation of some of its contributors. The NRA denies the allegations.