As chief of the $870 million Lynde and Harry Bradley Foundation, Michael W. Grebe has quietly made the foundation one of the nation's largest funders of conservative think tanks, political groups, and by extension, rightwing causes and candidates since he took charge in 2002.

Influence Peddler of the Month
Michael W. Grebe
January 4, 2016
As chief of the $870 million Lynde and Harry Bradley Foundation, Michael W. Grebe has quietly made the foundation one of the nation's largest funders of conservative think tanks, political groups, and by extension, rightwing causes and candidates since he took charge in 2002.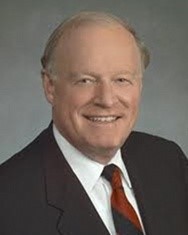 Michael W. Grebe
And even though Grebe has announced plans to retire from the foundation's helm by June 30, he has said that his near-lifelong involvement Republican Party politics won't end.
Grebe, 75, is a longtime state and national Republican political strategist who grew up in Illinois. He cast his vote for president for conservative Barry Goldwater in 1964, and 20 years later, was Wisconsin state co-chair for Republican President Ronald Reagan's reelection campaign.
Nationally, Grebe has contributed more than $250,000 since January 2000 to GOP federal candidates and committees, including House Speaker Paul Ryan, the Republican National Committee, U.S. Senate Majority Leader Mitch McConnell, 2012 presidential candidate Mitt Romney, former House Speaker John Boehner, the Club for Growth Political Action Committee, 2008 presidential candidate John McCain, and former Republican senator and presidential candidate Rick Santorum.
Most recently, Grebe served as GOP Gov. Scott Walker's campaign chair during his three successful elections in 2010, 2012 and 2014. In Wisconsin, Grebe contributed nearly $111,000 to GOP and conservative legislative and statewide candidates between January 1995 and June 2015. Topping the list of recipients was Walker, at about $30,000, followed by former Republican Attorney General J.B. Van Hollen at $12,000.
Grebe, a lawyer, once served as general counsel for the Republican National Committee. He also served as chairman of the Foley & Lardner law firm.
Grebe has often said that his private political activities are separate from his foundation work, despite the foundation's role in conservative causes and Grebe's involvement in Republican politics.
The Milwaukee-based foundation has been one of the country's major wellsprings of cash to numerous rightwing advocacy and political outfits like American Majority, Wisconsin Club for Growth, American Legislative Exchange Council (ALEC), Americans for Prosperity, Center for Union Facts, Heritage Foundation, Federalist Society, Cato Institute, and the Wisconsin Institute for Law & Liberty.
Through those groups, the foundation's grants have supported an array of political, social and economic conservative causes nationwide, including school vouchers, voter ID cards, privatizing Social Security, right-to-work laws, collective bargaining restrictions, opposition to the federal Affordable Care Act, and the weakening of campaign finance laws.
On one of those issues, Grebe recently took some heat for $1.4 million in past foundation funding to the Center for Security Policy, an anti-Islamic think tank that sponsored a poll used by GOP presidential candidate Donald Trump to support Trump's call for a ban on Muslim immigration into the U.S. Critics say the Bradley Foundation has been among the leading funders of anti-Muslim groups in recent years.
Bradley's financial support was front and center in 2011 when it funded groups and activities that supported Walker's successful effort to severely restrict public employee collective bargaining rights. Those groups included the MacIver Institute for Public Policy, Americans for Prosperity, and the Center for Union Facts.
One of the foundation's most well-funded causes under Grebe has been the privatization of our public schools. The foundation's largest recipient is the Colorado-based Charter School Growth Fund, which has received more than $28 million from 2001 through 2014. In Wisconsin, School Choice Wisconsin, which promotes and defends the state's school voucher programs, received $890,000 from 2012 through 2014.
A liberal advocacy group, One Wisconsin Now, issued a report last month that claimed the Bradley Foundation provided about $108 million from 2005 through 2014 to organizations that support voucher, charter and school privatization programs.
To view the foundation's grant recipients in recent years, check out its annual reports in 2012, 2013, and 2014.
Under Grebe's leadership, the foundation also created the annual Bradley Prizes, which are $250,000 awards given to up to four people each year whose careers have promoted private enterprise, American capitalism and other ideas consistent with the foundation's mission. Notable recent award winners were GOP presidential candidate and former Florida Gov. Jeb Bush, Fox News chief Roger Ailes, and syndicated conservative columnist George Will, who also sits on the Bradley Foundation Board of Directors.
Though the foundation has kept a low, profile outside conservative circles compared to more well-known players, like billionaire brothers Charles and David Koch, Grebe said in a 2011 interview there was nothing secretive about the foundation's goals, which he compared to the hugely successful Green Bay Packers in the 1960s.
"We're going to run off tackle, right over there, and we're telling you we're going to run there and we're going to knock you on your butt and carry the ball down the field. There are no surprises," Grebe said in a Milwaukee Journal-Sentinel interview.