Diane Hendricks, a Wisconsin native whose estimated $3.4 billion in personal wealth makes her one of the richest women in the United States, is a longtime backer of state and federal Republican and conservative candidates, party committees and dark money groups.

Influence Peddler of the Month
Diane Hendricks
February 1, 2016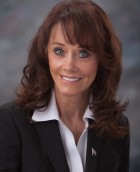 Diane Hendricks
Diane Hendricks, a Wisconsin native whose estimated $3.4 billion in personal wealth makes her one of the richest women in the United States, is a longtime backer of state and federal Republican and conservative candidates, party committees and dark money groups.
Hendricks, of Afton, owns ABC Supply, the nation's largest wholesale distributor of siding and roofing materials, which she co-founded with her late husband, Ken, in the early 1980s. Hendricks also owns Hendricks Holding Co., which she uses to manage about two dozen other companies.
Unlike many other wealthy contributors, Hendricks has been very public about her political bent.
She made news shortly after Republican Gov. Scott Walker was first elected in 2010 when a videotape showed the pair talking about the governor's "divide and conquer" strategy to fight public unions. The conversation, where Hendricks urged Walker to turn Wisconsin into a "right-to-work" state, took place in January 2011, shortly before the governor introduced his successful plan to sharply restrict public employee collective bargaining rights.
She has also penned columns – like this one for USA Today – and granted interviews – like this one – where she talked about her support for conservatives and blamed government as the biggest obstacle to job creation and business growth.
Hendricks was reportedly invited to at least one of several tony getaways sponsored by billionaire brothers Charles and David Koch over of the past several years. At the 2010 Vail, Colo. retreat, Hendricks was among several people cited by Charles Koch for giving more than $1 million to their cause. The secretive events are for rightwing millionaires and billionaires, foundations, and other powerful special interests to plot election strategies for Republicans.
Hendricks also made news in 2012 when it was reported that she paid no state taxes in 2010 because of a change in her company's tax structure.
Hendricks, who grew up on a dairy farm in Osseo, has backed up her political leanings with her wealth, particularly in recent years.
Between January 1995 and December 2015, Hendricks contributed more than $644,000 to Wisconsin candidates for statewide office and the legislature – substantially more than any other individual. Hendricks also tied with the late Texas home builder Bob Perry for the largest single contribution made to a Wisconsin state candidate - $500,000 to Walker during his 2012 recall.
The top recipients of contributions from Hendricks (Table) since January 1995 were Walker, $529,100; former Attorney General J.B. Van Hollen $12,400; and Lt. Gov. Rebecca Kleefisch, $11,000.
In addition, to her direct contributions to state candidates, Hendricks also made contributions totaling $1.1 million to the Republican Party of Wisconsin's state account in 2014 and 2015.
Outside Wisconsin, Hendricks has contributed more than $6.5 million to federal GOP candidates, political action committees (PACs) and party committees. Hendricks' top federal contributions since 1999 were:
$5 million to Unintimidated PAC, a Washington, D.C.-based Super PAC created early last year to help pay for Walker's 2016 presidential run;
$1 million to Freedom Partners Action Fund, a Republican Super PAC created by the Koch brothers;
$234,600 to the Republican National Committee, which raises and spends funds to support Republican candidates for Congress and president;
$80,500 to the Republican Party of Wisconsin's federal account;
$27,300 to 2008 GOP presidential candidate John McCain;
$25,000 to 2012 Republican presidential candidate Mitt Romney.
Table
Top* Wisconsin Candidate Contributions from Diane Hendricks
January 1995 – December 31, 2015
| Candidate | Office | Amount |
| --- | --- | --- |
| Scott Walker | Governor | $529,100 |
| J.B. Van Hollen | Attorney General | $12,400 |
| Rebecca Kleefisch | Lt. Governor | $11,000 |
| Tommy Thompson | Governor | $10,000 |
| Republican Assembly Campaign Committee** | Assembly | $10,000 |
| Brad Schimel | Attorney General | $10,000 |
| Scott McCallum | Governor | $10,000 |
| James Daley | Supreme Court | $10,000 |
| Mark Green | Governor | $9,850 |
| Rebecca Bradley | Supreme Court | $5,000 |
*Table shows legislative and statewide candidates who accepted $5,000 or more during the period.
**This is one of four Democratic and Republican Assembly and Senate committees that are used by legislative leaders to raise special interest campaign contributions to spend on elections .