Kurt Bauer is president and chief executive officer of Wisconsin Manufacturers & Commerce (WMC), the state's largest business organization, and one of the most powerful special interest influences on state policymaking and elections.

Influence Peddler of the Month
Kurt Bauer
March 1, 2016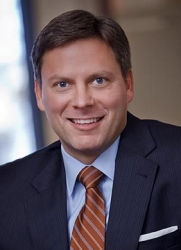 Kurt Bauer
Kurt Bauer is president and chief executive officer of Wisconsin Manufacturers & Commerce (WMC), the state's largest business organization, and one of the most powerful special interest influences on state policymaking and elections.
Bauer is a Wisconsin native who graduated from the University of Wisconsin-Madison in 1991. Shortly after, Bauer joined the Wisconsin Bankers Association in 1993 as a staffer and then lobbyist before he took a job as head of the Arizona Bankers Association from 2002 through 2004. He returned to the Badger State in 2004 to lead the Wisconsin Bankers Association until 2011 when he was chosen to succeed retiring WMC chief James Haney.
Like other pro-business advocates, Bauer has advocated lowering taxes, especially on the rich, cutting government spending, and promoting policies that encourage businesses to expand and relocate in Wisconsin.
WMC has also continued to be a strong, outside influence in state elections. Under Bauer's watch, the group has secretly raised and spent an estimated $13.7 million to support Republican and conservative candidates in elections for Supreme Court, governor, attorney general and the legislature.
WMC mostly uses television ads to bludgeon Democrats as taxers and spenders who would stunt economic growth and job creation, if elected. To view some of WMC's handiwork, check out its election ads in the Democracy Campaign's profiles on the group for the  2014, 2012 recall, 2012 fall, and 2011 recall campaigns.
WMC's activities in the 2011 and 2012 recall elections made it one of numerous ideological and trade organizations that were subpoenaed in a John Doe investigation into possible campaign finance law violations by special interest groups and GOP Gov. Scott Walker's campaign. WMC was one of the top spenders in the recall elections, doling out an estimated $4.7 million to support Walker and Republican Senate candidates. Last July, the Wisconsin Supreme Court killed the John Doe probe and also declared that campaign coordination between candidates and secretive issue ad groups, like WMC, was legal – a decision that may be appealed to the U.S. Supreme Court.
Before and during Bauer's role at WMC, the organization spent an estimated $8.3 million between 2007 and 2013 to help elect the four-member conservative majority – Justices Annette Ziegler, Michael Gableman, David Prosser and Patience Roggensack – that rendered the John Doe decision.
When Bauer took the helm of WMC in 2011, he said in an interview that his organization would throw its weight around during Wisconsin Supreme Court elections. "The Supreme Court does have significant influence over the business climate in the state. So that falls within the sphere of advocacy for business," Bauer said at the time.
In addition to interfering in elections, WMC's strong, pro-business advocacy role has continued under Bauer. The group is consistently among the top spenders on state lobbying in order to press its special interest agenda. From January 2011 through December 2015, WMC spent more than $2.7 million on lobbying. That's in part because WMC weighs in on several dozen legislative proposals in every two-year legislative session.
Some of WMC's legislative successes under Bauer that benefit business interests have been:
A law that severely restricts public employee collective bargaining rights, which drew national attention for the massive protests at the State Capitol and historic recall elections in 2011 and 2012 that it generated;
An anti-labor law known as "right-to-work," which prohibits requiring workers to make payments to unions as a condition of employment;
A change in campaign finance law that cloaks special interest giving by reducing the amount of occupational and employer information that candidates must disclose about their campaign donors;
A law that will inject partisan politics and patronage into the state's civil-service system;
A law that replaced the Government Accountability Board, Wisconsin's nationally recognized nonpartisan campaign finance and election watchdog, with two partisan commissions that have limited investigative authority;
Exempting some remodeling and renovation projects from lead-paint sampling and testing requirements;
A law that restricts the legal options available to victims of asbestos-related injuries who sue asbestos companies for damages;
A law that allows the immediate appeal of circuit court injunctions, restraining orders, or other actions affecting the enforcement of any state law to an appellate court or to the Wisconsin Supreme Court.  This can result in lower-court rulings that are unfavorable to a special interest group being immediately appealed to a higher court that might render a more favorable decision;
A law that loosens several state environmental regulations for mining. The law was requested and largely developed by Gogebic Taconite, a subsidiary of an out-of-state mining company that wanted to develop a massive open pit iron mine in northern Wisconsin;
A law that relaxes rules and requirements aimed at controlling phosphorus pollution.