Richard Uihlein, and his wife, Elizabeth, of Lake Forest, Ill., founded Uline Corp. and have contributed several million dollars, particularly in recent years, to conservative and Republican causes and state and federal candidates and committees.

Influence Peddler of the Month
Richard and Elizabeth Uihlein
April 1, 2016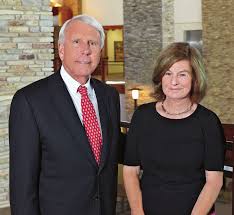 Richard and Elizabeth Uihlein
Richard Uihlein, and his wife, Elizabeth, of Lake Forest, Ill., founded Uline Corp. and have contributed several million dollars, particularly in recent years, to conservative and Republican causes and state and federal candidates and committees.
Uihlein is the great grandson of the co-founder of Milwaukee's Joseph Schlitz Brewing Co., and his father co-founded General Binding Corp. in Chicago. After graduating from Stanford University in 1967 with a history degree, Uihlein worked for General Binding in international sales before he and his wife started Uline in 1980.
Uline distributes industrial shipping and packaging supplies throughout North America. The company generates more than $2 billion in sales and has almost 4,000 employees worldwide. In 2008, the Uihleins, who tout limited government like most conservatives, accepted state and local tax breaks, grants and low-interest loans worth $18.6 million over nine years to move Uline's headquarters from Illinois to Pleasant Prairie, Wis.
In addition to Uline, the Uihleins also own EAU Holdings, which runs a spa, restaurant and lodge in Manitowish Waters, Wis., and is adjacent to state land the couple wants to buy from the Department of Natural Resources that would give them waterfront access. The sale was delayed last fall after pubic criticism.
The Uihleins have been longtime contributors to GOP candidates, but sharply ramped up their political contributions to state and federal candidates, committees and conservative ideological groups after the U.S. Supreme Court's Citizens United v. Federal Election Commission decision in 2010. Citizens United and subsequent federal cases legalized unlimited political contributions from wealthy individuals, corporations and unions to special interest groups that make independent expenditures to pay for broadcast ads, mailings and other electioneering activities to support or oppose state and federal candidates.
Since the 2009-10 election cycle, the Uihleins have contributed more than $26 million to Republican and conservative federal candidates, political party committees, political action committees (PACs) and an outside electioneering group that have to report their fundraising and spending, according to Federal Election Commission and U.S. Internal Revenue Service (IRS) records. It's unknown whether the Uihleins have contributed to issue ad and other dark money special interest groups that can keep their fundraising and spending secret.
More than two-thirds of the couple's federal contributions, nearly $18 million, were made in just the first 13 months of the current 2015-16 election cycle.
The top recipients of Uihlein contributions were two committees set up in 2015 to support Republican Gov. Scott Walker's short-lived 2016 presidential bid. Unintimidated PAC, a Super PAC, received $5 million from the Uihleins between May and August 2015, but later returned $4 million after Walker dropped out of the presidential race. Our American Revival, a 527 group, received $1.2 million from the Uihleins in 2015. 527 groups, which are nonprofits so-named for the IRS code that regulates them, may raise and spend unlimited amounts of money from any source on elections.
Other top recipients of contributions from the Uihleins since January 2009 are Club for Growth Action, $3.5 million; Liberty Principles PAC, nearly $1.9 million and Restoration PAC, $1.8 million.
In addition to their contributions to federal committees and candidates, the couple doled out nearly $650,000 between January 2010 and December 2015 to Wisconsin legislative and statewide candidates and state political party committees and PACs.
The top state recipients of Uihlein contributions between January 2010 and December 2015 were:
Walker's campaign for governor, $284,500;
Republican Party of Wisconsin, $220,000;
Prosser Victory Recount Found, $50,000;
GOP Sen. Van Wanggaard, of Racine, $21,000;
Republican Lt. Gov. Rebecca Kleefisch, $17,700.
Earlier this year, Uihlein also contributed $5,000 to conservative incumbent Wisconsin Supreme Court Justice Rebecca Bradley, who faces Appeals Court Judge JoAnne Kloppenburg in the April 5 spring election for a 10-year seat on the high court.
In addition to the couple's personal contributions, Richard Uihlein also serves as president of the Ed Uihlein Family Foundation, which contributed nearly $35 million between 2007 and 2014 to civic, religious, and conservative groups, including the Heritage Foundation, Americans for Prosperity Foundation, Federalist Society, and the Illinois Policy Institute.