Mike and Mary Sue Shannon, of Milwaukee, are among the state's top contributors in recent years to Republican state and federal candidates, political committees, and unregulated special interest groups that can raise and spend unlimited amounts of money on negative ads and other electioneering activities.

Influence Peddler of the Month
Mike and Mary Sue Shannon
May 2, 2016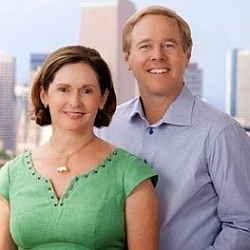 Mike and Mary Sue Shannon
Mike Shannon, a Brookfield, Wis. native, is the founder and chairman of KSL Capital Partners, a multibillion dollar private equity firm based in Denver, Col., that invests in high-end leisure, hotel and resort businesses. Before that, Shannon was president and chief executive officer of Vail Associates, a well-known Colorado ski resort.
The Shannons are 1980 and 1981 alumni of the University of Wisconsin-Madison, and Mike Shannon later received a master's degree in accounting and finance at Northwestern University in 1983. He served on numerous corporate and academic boards, including boards at the UW and Northwestern University. The couple are avid donors to both universities, as well as to numerous hospitals and health care facilities.
All told, the couple has doled out about $4.6 million since 2005 to political candidates, committees and groups that report their fundraising, but there has been a sharp increase in the couple's contributions since January 2012.
The largest recipient of contributions by the Shannons was the Republican Governors Association (RGA). The couple gave the RGA's 527 group $2,775,000 between October 2012 and October 2015. 527 groups are unregulated, tax-exempt, political nonprofit organizations run by corporations, labor unions, trade groups and other special interests that report their unlimited fundraising and spending to the U.S. Internal Revenue Service.
The bulk of those contributions to the RGA's 527 group were made in 2014 when the RGA's state political action committee, Right Direct Wisconsin, spent nearly $4 million mostly on negative television ads that helped Republican Gov. Scott Walker win his 2014 reelection by attacking his Democratic opponent, Mary Burke.
In addition to coinciding with Walker's 2014 reelection, the Shannons' contributions to the RGA also occurred during New Jersey GOP Gov. Chris Christie's 2013 gubernatorial election when the RGA spent money to support him, and while Christie was RGA chairman in 2014. Last year, New Jersey's pension board approved a plan by Christie to invest $100 million of the state's pension funds in KSL Capital Partners. An earlier report noted the proposal was among a series of deals the Christie administration wanted to make with firms whose executives made large political contributions to Republican groups, like the RGA.
The Shannons also made substantial contributions in 2015 to two federal committees that were created to support Walker's failed 2016 presidential bid. The couple contributed $450,000 to Unintimidated PAC, which is a Washington, D.C.-based super PAC, and $250,000 to Our American Revival, which is an Iowa-based 527 group.
Other top federal political committees and PACs that received contributions from the Shannons were:
The Republican National Committee (RNC), which received nearly $260,000 from the couple between January 2011 and December 2015. The RNC raises and spends funds to support Republican candidates for Congress and president.
Restore Our Future, which received $100,000 from the couple in 2012. This was a Washington, D.C.-based superPAC created by aides of former GOP presidential candidate Mitt Romney to support his unsuccessful 2012 campaign.
Romney Victory Inc., which received $80,000 from the Shannons in 2012. This was Romney's 2012 presidential fundraising committee.
At the state level, the Shannons have contributed a total of $220,000. The couple gave a total of $120,000 in 2012 and 2013 to Walker's state campaign committee for governor, and $100,000 in 2014 to the state Republican Party.