Ted Kellner, a founder and the current chairman of Fiduciary Management, and his wife, Mary, have contributed nearly $1.2 million to GOP state and federal candidates and committees since January 2006.

Influence Peddler of the Month
Ted Kellner
September 1, 2016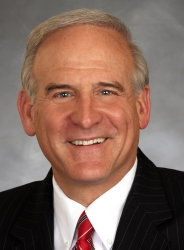 Ted Kellner
Ted Kellner, a founder and the current chairman of Fiduciary Management, and his wife, Mary, have contributed nearly $1.2 million to GOP state and federal candidates and committees since January 2006.
Fiduciary Management is a Milwaukee investment firm that Kellner helped create in 1980. The company now controls more than $22 billion in assets, and Kellner, 69, is its chairman. Kellner also owns Fiduciary Real Estate Development and Lakeview Equity Partners.
Kellner is also part owner of the Milwaukee Bucks basketball team, which successfully sought state aid last year to build a new arena. Walker signed into law a controversial bill to pour $250 million in state, county and city handouts to help the Milwaukee Bucks with the project. Shortly before and after Walker approved the bill last August, Kellner contributed a total of $90,000 to Unintimidated PAC, a super PAC created to support Walker's unsuccessful GOP presidential bid.
In addition to the companies he owns, Kellner also serves or has served on the boards of the Metropolitan Milwaukee Association of Commerce, American Family Insurance, M&I Bank, Park Bank, Metavante Technologies, Children's Hospital of Wisconsin, Medical College of Wisconsin, and the University of Wisconsin Foundation, among others.
The Kellners shelled out a total of more than $915,000 between January 2006 and June 2016 to federal candidates, committees and groups. In addition to Kellner's contribution to Unintimidated PAC to support Walker's presidential run, the other top five federal recipients of contributions from the Kellners were:
The Republican National Committee, which supports GOP presidential and congressional candidates, received about $310,000;
Right to Rise USA, a super PAC created by Republican Jeb Bush to support his failed 2016 GOP presidential bid, received $150,000;
2012 GOP presidential candidate Mitt Romney received $90,000;
Republican Governors Association (RGA), which raises and spends millions of dollars each year through its 527 group to help elect GOP governors across the country, received about $91,800.
The RGA has been one of the top outside spenders in Wisconsin in recent years. It doled out an estimated $18.4 million on mostly negative broadcast ads to help Walker win his elections for governor in 2010, 2012 and 2014. Kellner and other high rollers, including corporations and trade groups, can donate unlimited amounts to the RGA's 527 group to spend on elections as a way around individual contribution limits to state and federal candidates.
A small amount of the couple's federal contributions in the 2007-08 election cycle went to Democrats. Ted Kellner contributed $10,000 to the Democratic Senatorial Campaign Committee and Mary Kellner contributed $1,000 to President Obama.
In addition to federal contributions, the couple have been avid donors to Wisconsin legislative and statewide candidates. Effective this year, campaign contribution limits to state candidates were doubled by Walker and the GOP-controlled legislature. Kellner was among the first five contributors to Walker to take advantage of the higher limit, giving the governor the maximum $20,000 contribution in May. And under the new law, the governor did not have to list Kellner's employer, just his occupation, which Walker said was "analyst."
All told, the couple contributed about $249,200 between January 2006 and June 2016 to Wisconsin legislative and statewide candidates. The top state recipients of contributions from the Kellners during that time were Walker, about $183,900; GOP Sen. Alberta Darling, of River Hills, $25,600; and 2006 Republican candidate for governor Mark Green, $11,000.
All but 2 percent of the Kellners' state candidate contributions went to Republicans. Ted Kellner also contributed a total of $4,800 to four current conservative justices on the Wisconsin Supreme Court. Supreme Court justices are technically nonpartisan.