This state lobbying group, which represents a wide array of trucking interests, was among an onslaught of special interests that successfully killed a plan last month for a heavy truck fee to help dig Wisconsin's road-building program out of a $1 billion deficit.

Influence Peddler of the Month
Wisconsin Motor Carriers Association
August 1, 2017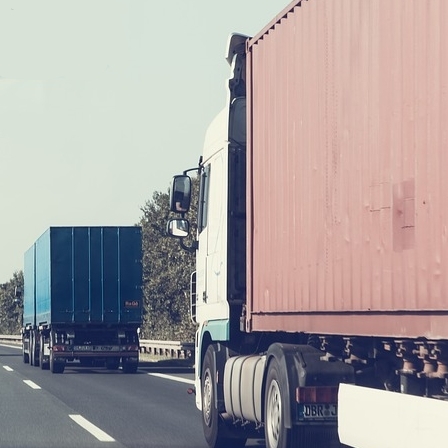 The GOP plan for a proposed per-mile fee on heavy trucks, which is used in four other states, would have raised more than $250 million every two years to pay for major road projects. Transportation funding is one of the stalemates between Assembly and Senate Republicans, who control the legislature, during their work on GOP Gov. Scott Walker's proposed 2017-19 state budget.
The Assembly GOP wants to raise state gasoline taxes or find other revenue to pay for roads and reduce borrowing. But Walker and Senate Republicans oppose new or increased taxes or fees and favor borrowing and continued major road project delays.
The association, which is headed by former GOP State Sen. Neil Kedzie, was joined by more than a dozen other transportation, business, and manufacturing groups or businesses, including Wisconsin Manufacturers & Commerce, the state's largest business group, to sink the plan in the Senate.
The association's success in quashing the plan was aided, in part, because the trucking industry is an avid campaign contributor. The industry doled out slightly more than $1 million since January 2011 to legislative and statewide candidates, including about $244,600 to current majority Republican legislators and about $615,000 to Walker, who must give final approval to the budget.
Among the top legislative recipients of the industry's contributions are the Committee to Elect a Republican Senate, at $30,140, and the Republican Assembly Campaign Committee, at $25,700. Those contributions show the industry is savvy at targeting its contributions to those in power because those two legislative campaign committees are controlled by legislative leaders and used to milk wealthy special interests for campaign cash to spend on elections.
In addition to campaign contributions, the association regularly lobbies on tax, insurance, workers' compensation, labor, environmental, road building and maintenance, truck length and weight rules, and other issues that affect the trucking industry.
In the last 10 years, since January 2007, the trucking group has spent about $680,000 on lobbying at the State Capitol. And its results have been impressive. The group has seen 31 bills it supported become law, including:
Requiring state permits to carry radioactive materials on Wisconsin highways;
Allowing large trucks to deviate from their lane in roundabouts and requiring other vehicles to yield to trucks moving through roundabouts;
Prohibiting truck drivers from using cellular phones while driving, except to report emergencies;
Reducing from 12 years to 6 years the statute of limitations to challenge the handling of traumatic injury claims;
Restricting state agencies from bringing legal actions;
Increasing state highway maintenance funding by $43 million in 2013-14;
Limiting noneconomic damages against manufacturers, distributors, sellers, and others in legal cases;
Reducing automobile insurance coverage requirements;
Increasing weight and length limitations on certain vehicles;
Prohibiting local governments from enacting ordinances that require businesses to provide paid or unpaid leaves to employees;
Eliminating compensatory and punitive damages for employment discrimination;
Creating tax breaks for businesses that relocate to Wisconsin.