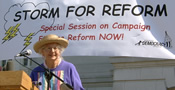 Somebody needs to follow the money in Wisconsin politics. Somebody needs to show how all that money contaminates public policymaking. Somebody needs to expose government corruption and blow the whistle on wrongdoing. And somebody needs to fight for reforms that make people matter more than money in politics and keep government as clean, open and honest as possible.
The Democracy Campaign has been doing all that and more with the help of a great many people just like you. We need your support.
By joining, you will help us carry on all the work you see showcased on this Web site. We will keep you informed of reform developments as they happen and alert you to opportunities to take action. As a member you will receive our Big Money Bulletin newsletter six times a year (includes annual report) as well as timely news updates and action alerts if you add your e-mail address to our statewide E-Lert network.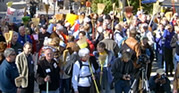 If you like what the Democracy Campaign does, please help us keep doing it. There are three ways to make a gift that we will put to use right away:
Through our secure online site OR by mail
OR by workplace giving through Community Shares of Wisconsin.
The Democracy Campaign is a tax-exempt 501(c)(3) nonprofit organization, and charitable donations supporting our work are fully tax deductible.
Three ways to join