Hijacking Campaign 2018 | Independent Expenditures | Issue Ads | Candidates | Offices | Campaign 2018
Posted: January 22, 2018
Updated: November 2, 2018

Fall: Oath • Spending
Spring: Oath • Spending
Special: Oath • Spending
This is a group created in 2003 by David and Charles Koch, the billionaire owners of Koch Industries and Wisconsin-based papermaker Georgia-Pacific.
Americans for Prosperity, which generally sponsors phony issue ads and has refused to disclose how much it raises and spends on Wisconsin elections until now, supports Republican and conservative candidates for federal, state, and local offices around the country. The Democracy Campaign estimates that Americans for Prosperity spent $5.7 million since January 2010 on undisclosed phony issue ads in Wisconsin legislative and statewide elections.
Fall Elections
In mid-September the group reported spending on behalf of Republican Reps. Andre Jacque, of De Pere, and Dale Kooyenga, of Brookfield. Both Jacque and Kooyenga are running for the state Senate. Jacque is a candidate in the 1st Senate District where he lost a special election in June to fill the vacant seat, and Kooyenga is running for the open seat in the 5th Senate District where the incumbent, Leah Vukmir, is leaving to challenge Sen. Tammy Baldwin for the U.S. Senate.
In August, the group announced a $1.8 million ad buy and sponsored a 30-second television ad that claimed Republican Gov. Scott Walker has spent millions on education and that Walker even drew praise in the past from his opponent in the November elections, Democrat Tony Evers.
The group announced a second $1.3 million ad buy in mid-September and sponsored an ad that claimed Wisconsin citizens could not afford Evers because he is open to raising gas taxes to pay for road construction.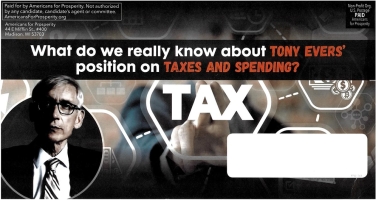 In early October, the group announced a $1.5 million ad buy and sponsored an ad that called Evers "a risk we can't take" because he may increase taxes.
A fourth 30-second television ad sponsored by the group in mid- to late October accused Evers of being risky to elect because he may raise gas and property taxes. The group sponsored a fifth 30-second ad in late October that said Evers would get rid of the state's controversial school voucher program, if elected.
A week before the August 14 primary, the organization first reported spending on mailings to back Republican incumbent John Spiros. Spiros faced a primary challenger in the 86th Assembly District.
In early October the group sent out mailers accusing Evers of intending to raise the gas tax. The mailers urged the reader to vote against Tony Evers.
A second mailer accused Evers of supporting a broken, expensive government sponsored health care program that would take money away from schools and road maintenance.
A third mailer claimed Evers' policies would trap students in sub-standard schools.
Supreme Court
Only a few days before the April 3 spring elections, the group filed paperwork with the state showing it was making independent expenditures on behalf of conservative Wisconsin Supreme Court candidate Michael Screnock. Screnock, a Sauk County Circuit Court judge, faces Milwaukee County Circuit Judge Rebecca Dallet for a 10-year seat on the high court. Americans for Prosperity spent money to pay for staff salaries and canvassing to support Screnock.
Special Elections
Earlier this year, the group made independent expenditures to support support Republican Rep. Adam Jarchow, of Balsam Lake, who ended up losing a special election to Democrat Patty Schachtner in the 10th Senate District special election. The group spent the money on mailings, digital and radio ads, and door-to-door literature.
In addition to the independent expenditures, the group's longtime issue ad arm sponsored 60-second radio and 15-second digital advertisements supporting Jarchow.
The 10th Senate special election was held to fill the northwestern Wisconsin Senate seat that was vacated by longtime GOP Sen. Sheila Harsdorf, of River Falls, to become Republican Gov. Scott Walker's agriculture secretary.
This organization is an unregistered independent expenditure committee that is required to report any such spending done within 60 days of a primary or an election to the Wisconsin Ethics Commission per Chapter 11, Subchapter X of Wisconsin Statutes.