Summary: The influence of big money doled out by well-heeled special interests is most graphically seen by average citizens during an election year. Wisconsin's political landscape is polluted by the millions of dollars spent on negative mailings and broadcast advertising by candidates, parties and special interest groups.
March 16, 2005
INTRODUCTION
However, the less obvious and longer term affect of large special interest campaign contributions is how much they change the way government does business – benefiting the big guy at the expense of the little guy. A previous series of WDC "Graft Tax" reports detailed how tax exemptions, government projects and other breaks that powerful special interests receive and protect with campaign contributions cost each Wisconsin taxpayer more than $1,300 a year.
This report, "Serving the Have-Mores" reveals another way wealthy special interests and the state elected public officials who accept their campaign contributions have corrupted Wisconsin's political culture and changed the way government does business. This report shows how state grant, low-interest loan and tax credit programs designed to provide a boost to budding entrepreneurs, fledgling businesses, struggling farmers and poor people are now sources of corporate welfare for national and multi-national companies and large corporate farms.
KEY FINDINGS
WDC reviewed 5,109 state grant and low-interest loan awards made by Department of Commerce programs totaling $947.2 million under three governors, from 1999 through September 2004. Excluding state aid from these programs to local governments and social service agencies that provide food and domestic abuse shelters, affordable housing and other services, the programs made about 3,900 grants and loans totaling $771.3 million to individuals and new and existing businesses during the period.
We found:
Campaign contributors received substantially larger state grants, low-interest loans and tax credits per capita than those who did not contribute.
Several Fortune 500 corporations and household names, including Wal-Mart, Great Northern, 3M, Nestle, Kohl's Department Stores and General Motors, have received millions of dollars in state aid and tax breaks to expand their businesses, train workers or build new roads and utility lines.
The state is not following the original intent of some of these programs, such as creating jobs in distressed areas to employ poor people. It awards grants to large companies that are also large campaign contributors that locate in affluent areas whose population also generates a large amount of campaign contributions.
The state has doled out millions of dollars worth of grants, low-interest loans and tax breaks to help 48 of the state's 135 large corporate farms, which are often criticized for their adverse impacts on the environment and the typical small family farm.
The state has given dozens of companies about $350,000 in the past five years to help pay for sending company representatives on junkets around the world.
CONTRIBUTORS VS NON-CONTRIBUTORS
WDC found that state grants, low-interest loans and tax credits were substantially higher to individuals and companies that made campaign contributions than the awards to those who did not make campaign contributions.
Per capita, campaign contributors received Commerce Department awards averaging eight times higher than non-contributors and 4.6 times higher than the overall average award to all recipients (see Chart 1 below).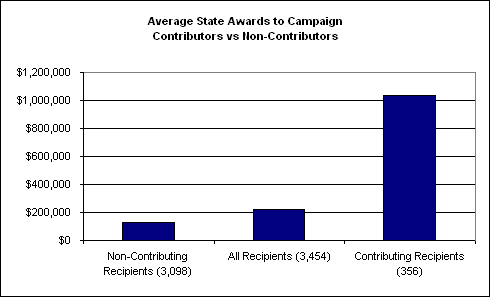 Overall, the 3,454 recipients of state grants, low-interest loans and tax credits received $771.3 million – averaging $223,318 each.
WDC found that 3,098 recipients, or 90 percent, who did not make campaign contributions received $402.7 million, or 52 percent, of the programs' benefits –averaging $129,990 each.
Only 356 recipients, or 10 percent, had a track record of making large individual campaign contributions to candidates for the Legislature and statewide office. However, those recipients hauled in $368.6 million, or 48 percent, of the grants and loans doled out by the programs – averaging $1,035,476 apiece.
The campaign contributions from those recipients totaled $2.1 million from 1993 through October 18, 2004.
CAPTAINS OF INDUSTRY GET STATE AID
Subsidies are justified on the grounds a company might pull out of Wisconsin but there is usually little if any proof that would happen. In a December 5, 1999 interview in the Milwaukee Journal-Sentinel, former Commerce Secretary Bill McCoshen, now a six-figure income Capitol lobbyist said: "incentives typically don't make any difference one way or another. They can be helpful but it is usually at the margins" and more useful for small and medium-sized companies.
However, the biggest firms get the biggest breaks, raising questions as to whether state aid is going to areas and businesses that need help the most.
Banks, insurance companies and several large corporations were among the commerce program applicants the state deemed in need of aid, including Wal-Mart, Charter Communications, Ford Motor Company, General Motors, Kohler Company, Nestle, JC Penney, Proctor & Gamble and Home Depot.
Wal-Mart, the world's largest retailer with nearly $9 billion in profits in 2003, has received $2.2 million since 1999 to help it open distribution centers in Tomah and Beaver Dam. In addition the company received at least $7.8 million worth of additional breaks from the two cities.
The 1999 distribution center project in Tomah netted $675,084 from a state commerce program. In addition, the city sold Wal-Mart the land for the center for $775,000, about one-third of the $2.4 million Tomah originally paid for the land.
Since then, plans to build large Wal-Mart Super Centers and distribution centers have met with community opposition in some places in Wisconsin and around the country through referendums, local laws to limit the size of retail stores and lawsuits. Currently, a dispute over a controversial $55 million Wal-Mart distribution center in Beaver Dam is in court to determine whether the deal between the company and the city via secret negotiations was proper.
The city and the state decided in 2004 to give Wal-Mart $7.7 million in subsidies for the project, including $1.5 million in state commerce and transportation aid.
The Walton family, which owns Wal-Mart, began making contributions in October 2000 to candidates for the Legislature. Through August 2004, company owners and employees contributed $66,625, including $17,600 in the first six months of 2004 when the Commerce Department awarded the company $500,000 in aid to build the Beaver Dam distribution center.
Wal-Mart opponents in Beaver Dam, Stoughton, Franklin and other communities around the country oppose Wal-Mart's Super Centers and distribution centers because of air and noise pollution caused by the amount of automobile and semi-truck traffic the stores draw. Wal-Mart is also blamed for putting small retailers out of business and thereby doing little or nothing to increase employment with the jobs Wal-Mart stores create.
Opponents also argue most Wal-Mart jobs pay lower wages and benefits than the retailers Wal-Mart stores put out of business. State figures show taxpayers help pay for health insurance for Wal-Mart employees. Last year 3,766 Wal-Mart employees, their spouses or their children depended on the state BadgerCare or Medicaid programs for health care, costing Wisconsin taxpayers about $1.8 million a year.
Other recipients of Commerce Department aid include:
Republic Services of Wisconsin, the top recipient of commerce program money, received $27.5 million in 2001 and 2002 to help it pay a $59.6 million bill for work on two of its landfills in the state. Republic, the third largest public waste disposal company in North America, got the first of its three state subsidies – $7.5 million – in December 2001. That was a month after it filed a lawsuit in federal court against the state to block a new $3 per ton dumping fee levied to pay for recycling programs. In December 2004, Republic agreed to pay a $475,000 environmental settlement with the state over solid and hazardous waste violations between 2000 and 2002 at one of the landfills for which it received state money.
Kohl's Department Stores, which received $3.4 million for business expansion in 2001 and 2002, was scheduled to go to court with the state in November 2003 over whether it should pay $826,000 in taxes and penalties for 1994-96. The tax-avoidance case involved deductions on Wisconsin income the company took for expenses it paid to a subsidiary in a no-tax state for the use of the name "Kohl's." The company made an undisclosed settlement with the state prior to its Wisconsin Tax Appeals Commission hearing.
Ashley Furniture, a western Wisconsin furniture maker that received $2.5 million in state aid from 1987 through 1999, later criticized the state for having burdensome regulatory laws that prohibited it from expanding on about two acres of wetlands. Finally in June 2002, Ashley said it was fed up dealing with the state and decided to expand operations in another state. A year later, Ashley applied for and received an additional $1.72 million in tax credits in July 2003 for a business expansion.
Ashley owners and employees have given most of their $74,250 in campaign contributions since 1993 to governors, including $31,500 and $11,550 to former Republican Governors Tommy Thompson and Scott McCallum, respectively, and $5,500 between August 2002 and June 2004 to Democratic Governor Jim Doyle, whose administration handed the company its latest batch of tax credits.
Kohler Company, an international plumbing manufacturer that owns numerous other brand names and a world-class golf course and resort on the shores of Lake Michigan, snagged $857,400 in state aid and tax breaks in 2002 and 2003 to expand its Saukville operations and train workers.
Then-Governor McCallum's campaign accepted $8,000 in contributions from Kohler Company executives in August 2002, a month after the company received its $685,000 tax credit for the Saukville project.
Whitmire Distribution, the third largest pharmaceutical distributor in the U.S. with a location in Hudson, Wisconsin, received $426,000 in tax credits in 1999 for an expansion project.
Charter Communications, a Fortune 500 cable company, received a $66,300 state grant in 2001 to train employees at the company's expanded customer services center in Fond du Lac.
Charter employees, who have made $31,555 in campaign contributions since 1993, made their first contributions to McCallum totaling $1,500 in March 2001 – two months before his administration gave Charter the grant. Later, in 2002, company employees contributed $1,660 to McCallum's campaign.
Home Depot, which bills itself as the world's largest home improvement retailer and the second largest retailer in the U.S., received a $300,000 tax break in 2001 to build a store in Racine. Earlier, the company received a $750,000 state grant in 1998 to help it clean up a site for a west side Madison store. Home Depot had profits of $1.6 billion in 1998 and $3 billion in 2001.
Lowe's, the world's second-largest home improvement retailer, received a $500,000 low-interest state loan in 2004 to help it build a door manufacturing plant in Janesville. The company has nearly 1,000 stores in 45 states and had sales of about $8.7 billion in 2003
GET WITH THE PROGRAM
Recipients of many of the high-end grants, loans and credits are decided upon by a nine-member Development Finance Board made up of two representatives from the departments of Commerce and Workforce Development, the director of the Technical College System Board and six public members appointed by the governor to two-year terms.
This means millions of taxpayer dollars are spent by an unelected board with no public hearings on the applications or the final agreements between the state and the recipients detailing how the state money will be used.
WDC reviewed contracts, evaluations and other documents provided by the department for 10 projects (see Table 1 below) for which the state doled out nearly $28.5 million in low-interest loans, grants or tax credits. The awards went to six nationally known corporations and four Concentrated Animal Feed Operations, commonly known as corporate farms or livestock factories that have 700 animals or more.
Table 1
10 State Assisted Commercial Projects
| Recipient | Location | Project Description | State Assistance |
| --- | --- | --- | --- |
| ACUITY | Sheboygan | $40 million headquarters expansion | $7,000,000 |
| General Motors | Janesville | $189.7 million plant retooling and worker training | $5,600,000 |
| Bombardier Motor | Sturtevant | $32 million building and equipment purchase | $5,000,000 |
| GE Healthcare/ Technologies | Wauwatosa | $85 million headquarters | $4,270,000 |
| Norlight Telecommunications | Brookfield | $9.7 million headquarters | $2,489,000 |
| Ashley Furniture | Arcadia | $2.8 million office building | $1,715,000 |
| Lake Breeze Dairy | Malone | $5.3 million modernization and cow purchase | $650,000 |
| Blue Star Dairy | Deforest | $7.2 million modernization and cow purchase | $517,000 |
| Wayside Dairy | Greenleaf | $5.4 million modernization and cow purchase | $484,000 |
| Thistle Dairy | Van Dyne | $1.1 million cow purchase | $337,500 |

The documents provided by the department showed the following:
There was no evidence of site visits or audits by the state to determine if the state assistance was being used as promised or that the recipients had created or retained the number of jobs promised in their agreements.
In four cases, recipients did not even file the required self-evaluations to show the progress of their projects.
Four projects proposed to create 20 or fewer jobs, most of which paid $11 an hour or less and in some cases offered no benefits.
Funding for three of the projects involved low-interest loans totaling $3.5 million to ACUITY which is a mutual insurance company, GE Healthcare/Technologies and Bombardier Motor Corporation that would be forgiven if the project was finished and the recipient created and retained the number of jobs promised.
Five projects violated program guidelines because they were not located in an economically distressed area, or where unemployment and poverty rates were higher than the statewide average.
For instance, Norlight Telecommunications received $2.5 million in tax credits in 2002 from the Enterprise Development Zone Program to help it build new offices in Brookfield, a well-to-do Milwaukee suburb. At the time, Waukesha County's unemployment rate was 2.7 percent, compared to the state's 3.8 percent and its poverty rate was 3.1 percent, compared to the 9.2 percent statewide poverty rate.
The Enterprise Development Zone program says qualifying projects "must affect distressed areas suffering from high unemployment, low incomes, declining population, declining property values and plant closings and that have high numbers of people on public assistance."
That scarcely describes the Norlight office building project in Brookfield or why the state gave Kohl's $3 million in tax credits to enlarge its 350,000-square-foot headquarters in upscale Menomonee Falls. Similarly the state also gave Strong Capital Management in Menomonee Falls $3 million in tax credits in 1996 and Allen-Bradley Company in Mequon about $2.2 million in tax credits in 1999.
ACUITY landed $7 million in program tax credits and a loan from the Doyle Administration in 2003 to double the size of its corporate headquarters in Sheboygan and build another building. At the time, the company described itself as a regional insurer operating in 11 states with $1.2 billion in assets and Sheboygan did not appear to be a distressed area, according to federal statistics. The city's 2003 jobless rate was 4.9 percent – fourth best among the state's 11 metropolitan areas – compared to the statewide 5.6 percent jobless rate. The area's poverty rate was 6 percent compared to the statewide 8.5 percent poverty rate.
President Bush's 2006 budget could reduce federal community development block grant money that the state uses for many projects. The Bush Administration said "although the intent of these programs is to help communities in distress, many relatively well-off communities continue to receive funding."
For years, the state has fudged on following program guidelines, saying these projects will benefit distressed areas in adjacent Milwaukee.
But critics argue many of these projects – for instance the Kohl's expansion – are miles away from economically disadvantaged areas. Since there is little or no bus service between these inner-city areas and some of the suburban locations, most disadvantaged people are not helped because they do not have transportation to the jobs.
In some cases the Legislature and the Governor have relaxed program criteria in order to make more areas of the state eligible for business project aid thereby diluting a program's ability to draw projects to truly distressed areas of the state.
For example, the Community Development Zone program created in 1987 originally required eligible locations to have an unemployment rate greater than 150 percent of the state unemployment rate. Based for example on the December 2004 statewide unemployment rate of 4.2 percent, that would mean eligible project areas would have to have an unemployment rate of 6.3 percent or worse. But legislation in 1995 relaxed the eligibility criteria by only requiring a location's jobless rate to be higher than the statewide rate. Also, entire counties with fewer than 75,000 people could be designated as community development zones.
The tax credit program's burden on taxpayers has nearly tripled since it was created. Originally the program allowed for the designation of eight zones that could offer $14 million in tax credits for up to seven years. Today, the program has 22 zones that offer up to $38 million in tax credits for up to 20 years.
A likely reason some of these grants, cheap loans and tax credits land in the hands and locations that they do is campaign contributions. Company executives know that governors hold the purse strings for these economic development programs and target their contributions regardless of political party.
Strong Capital Management executives contributed $10,000 to former Governor Thompson's campaign between 1993 and 1996 when the company got its tax break. And Kohl's has contributed $18,500 of its $20,600 in contributions since 1993 to Thompson, McCallum and Doyle.
In addition to individual contributions from executives whose companies receive state aid, several of the locations where these projects occurred are among the largest geographic campaign contributors in the state. An analysis of campaign contributions by zip code shows Brookfield has contributed $1.75 million to candidates for the Legislature and statewide office since 1993 which makes it one of the top 10 geographic-giving areas in the state. Menomonee Falls where businesses have attracted $9.4 million in state grants, loans and tax credits has contributed $235,708 to candidates.
Projects in well-heeled Mequon, another top 10 geographic-giving location with about $1.6 million in campaign contributions, is home to business projects that have drawn $2.7 million in state aid.
CORPORATE FARMS
Department of Commerce aid to farms and dairy operations totaled $16.6 million in grants, low-interest loans and tax credits to 633 recipients – averaging $26,285 each –between 1999 and mid-2004.
The programs helped only a sliver of Wisconsin's 16,000 farm operations.
Per capita, contributors again received strikingly larger awards than non-contributors. Non-contributors, who numbered 613, or 97 percent, received $12.7 million in awards – averaging $20,702 apiece.
Meanwhile, the remaining 20 recipients, or 3 percent who made $25,472 in campaign contributions, received about $3.9 million or an average $197,387 apiece – nearly 10 times more than the awards to non-contributors (see chart 2 below).

In addition to the disparity between contributors and non-contributors, corporate farms, like large corporations, got a bigger boost from the state than small operators. A large chunk of the grants and low-interest loans that Commerce Department programs doled out to farmers between 1999 and mid-2004 went to several corporate farms. Those operations, which have 700 or more animals, are often criticized for their adverse impacts on air and water quality and the survival of the typical small family farm.
The state was home to 135 corporate farms as of late 2004. Eighty-six of these farms received federal farm subsidies totaling $27.4 million between 1999 and 2003, and Commerce Department programs helped 48 of them with $6.4 million in low-interest loans and grants (see Table 2 below). That is about 38 percent of the total $16.6 million in awards doled out to the 633 farms and dairy operations by the department's programs.
Like large corporations, at least some factory farm owners do not appear to need state aid to buy a large dairy operation. One recipient, James Thompson, received a $337,500 low-interest state loan to buy Thistle Dairy in Winnebago County in 2003. A Commerce Department staff review of the project noted Thompson, who would continue to live with his family on a farm in Northern Ireland, is the largest investor in a 2,700-cow farm in Michigan and an individual "with significant net worth."
Block grant money meant to help low and moderate income people get well-paying jobs is being used to buy cows for factory farms, thereby boosting milk production and lowering milk prices. This helps factory farms and hurts family farms that have a tougher time weathering low milk prices. Ultimately, lower milk prices also help large cheese producers, like Kraft Foods, cut their production costs.
Kraft, which received $145,350 in commerce program aid in 2000 and 2001, and its parent company Philip Morris which is now renamed Altria, have contributed $58,076 to candidates for the Legislature and statewide office since 1993. They targeted $26,925 of their contributions to Thompson, McCallum and Doyle.
In addition to the state assistance and federal subsidies, these operators also benefit from $213 million a year in tax credits, tax exemptions and a cropland assessment formula shared by Wisconsin's entire agricultural community.
The cost of these breaks, such as the $127 million a year farmland use-value assessment formula, are shifted to other taxpayers. These breaks were put in place by the powerful agricultural lobby spearheaded by the Wisconsin Farm Bureau Federation. Agriculture has doled out $1.8 million in campaign contributions to candidates for statewide office and the Legislature since 1993.
Of particular note are contributions from agricultural interests to Doyle. The governor received $12,013 between January 1, 2004 and June 30, 2004 which covers the period when Doyle signed a controversial bill in April that removes local control over land use issues and empowers the state to set standards local governments must follow to grant or deny livestock operation permits. Those contributions to Doyle were the second-highest amount he has ever received in a six-month period from agriculture, and were obviously made to curry favor because he was not up for reelection in 2004.
The new law was sought by the industry and particularly corporate farms because of the opposition some farm operations have faced from the affect that large amounts of animal waste have had on air and water quality.
PRIVATE JUNKETS ON THE STATE'S DIME
One Commerce Department program gives companies up to $5,000 to help pay for sending employees on trade junkets around the world. The Wisconsin Trade Project doled out $344,131 from 1999 through mid-2004 to 60 companies.
Eight companies received $10,000 or more to attend multiple trade shows since 1999. They are:
Ad-Tech Medical Instrument Corporation of Racine, which received three $5,000 stipends in 2000, 2002 and 2004 to attend trade shows in Bangkok, Thailand; Madrid, Spain; and Florence, Italy.
Prodesse Incorporated of Waukesha, which received three $5,000 payments from the state to attend shows in 2002, 2003 and 2004 to attend shows in Dusseldorf, Germany; Orlando, Florida; and San Diego, California.
Barr Incorporated of Oshkosh which received $12,888 to attend two shows in 2000 and another in 2002 to attend shows in Guanajuato and Mexico City, Mexico.
St. Croix Systems of St. Croix Falls received $10,000 to attend two shows in 1999 and 2002 in New Zealand and Canada.
Amalga Composites of West Allis received $10,000 to attend two shows in 2000 and 2004 in China and Germany.
Feeco International of Green Bay received $10,000 to attend two shows in 2001 and 2002 in Chile and the Philippines.
Bestech Tool Corporation of West Bend received $10,000 to attend two shows – one in Mexico in 1999 and the other in 2002, however, the destination was not listed in records obtained from the state.
EMTEQ Aerospace of Muskego received $10,000 to attend two shows in 2001 and 2003 in Germany and Australia.
Program guidelines say the business is responsible for its representative's travel and lodging expenses, and that the program grant is only supposed to cover the translation and preparation of promotional materials, booth or exhibit space rentals and entry fees.
One would expect those guidelines to produce awards of varying sizes and odd amounts, however, a review of the program's awards show that 65 of 71 grants between 1999 and mid-2004 were the maximum $5,000.
Table 2
Federal Subsidies to Corporate Farms Receiving State Assistance
Farm Name
Location
1999-2003
Federal Subsidies
1999-2004
State Assistance
Emerald Dairy
New Richmond
$68,355
$717,000
Lake Breeze Dairy LLC
Malone
$210,025
$650,000
Blue Star Dairy Farms
DeForest
$1,151,725
$511,000
Dairy Dreams LLC
Casco
$111,106
$509,000
Wayside Dairy Farm Inc
Greenleaf
$252,640
$484,000
Shilo Dairy LLC
Brillion
$0
$384,000
Gordondale Farms (Deer Ridge)
Nelsonville
$505,563
$362,000
Thistle Dairy LLC
Van Dyne
$0
$337,500
Jon De Farm Inc
Baldwin
$156,843
$311,000
Matsche Farm Inc
Birnamwood
$246,332
$281,000
Hillsprairie Dairy/Mitchell Farms Inc
Hillsboro
$212,430
$256,000
Stahl Brothers Dairy LLC
Luxemburg
$50,381
$241,000
Majestic View Dairy
Lancaster
$310,079
$167,500
Kutz Dairy
Jefferson
$0
$163,250
Heeg Farm
Colby
$405,248
$156,000
Kinnard Farms Inc
Casco
$238,689
$156,000
Mueller Dairy Farm
Greenleaf
$68,351
$131,000
Wild Rose Dairy (Thelen)
LaFarge
$336,454
$106,000
Albrecht Family Farms LTD
Athens
$373,350
$98,500
Neighborhood Dairy LLC
Kaukauna
$281,391
$98,500
Vorpahl Farms Inc
Random Lake
$571,665
$86,000
Suring Community Dairy
Suring
$58,975
$58,861
Da-Ran Dairy LLC
Green Bay
$455,754
$8,000
Minglewood Inc
Deer Park
$329,986
$8,000
Knut Sons Inc
Ridgeland
$100,612
$6,500
Abel Farms
Eden
$0
$5,000
B & D Dairy
Pound
$0
$5,000
Clover Hill Dairy
Campbellsport
$109,833
$5,000
Dairyland Farms
New Franken
$47,333
$5,000
Friendship Valley Dairy
Clintonville
$233,398
$5,000
Green Valley Dairy LLC
Krakow
$78,827
$5,000
Larson Acres Dairy
Evansville
$709,505
$5,000
Miltrim Dairy
Athens
$253,874
$5,000
Omro Dairy LLC
Kaukauna
$100,297
$5,000
Pagel's Ponderosa Dairy
Kewaunee
$298,134
$5,000
Schmidt's Ponderosa LLC
Bonduel
$227,156
$5,000
Schottler Family Dairy
Somerset
$0
$5,000
Siemers Holsteins
Cleveland
$513,666
$5,000
Spring Grove Dairy
Brodhead
$145,229
$5,000
Sugar Creek Farm LLC
New London
$206,412
$5,000
Ulrich Farms North
New Richmond
$298,651
$5,000
Elusive Hill Dairy
Spencer
$0
$3,000
Nehls Brothers Farm Ltd
Juneau
$591,576
$3,000
Norm-E-Lane
Chili
$0
$3,000
Quantum Dairy LLC
Weyauwega
$0
$3,000
Robinway Dairy Farms
Kiel
$0
$3,000
Vir-Clar Farms
Fond du Lac
$0
$3,000
Vobora Farms
Auburndale
$205,117
$3,000
Totals
$10,514,962
$6,388,611