by Matthew Rothschild, Executive Director
December 4, 2015
(Originally published in The Capital Times of Madison, WI, Dec. 4)
We can't let the State Supreme Court get away with its horrible decision ending the John Doe II prosecution.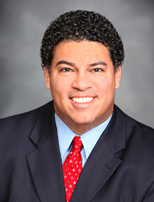 DA Ismael Ozanne
That's why I'm urging Dane County District Attorney Ismael Ozanne to petition the Wisconsin Supreme Court to allow him to become a party to the case so he can appeal it straight up to the U.S. Supreme Court.
When the Wisconsin Supreme Court essentially fired John Doe II Prosecutor Francis Schmitz on December 2, the Court claimed it wasn't trying to block such an appeal.
"Our decision to terminate Attorney Schmitz's authority is not meant to interfere with the ability of the prosecution team to seek Supreme Court review," it wrote.
And it invited five district attorneys – including Ozanne – who were involved in the case previously to take over where Schmitz left off.
"One or more of the district attorneys could seek to intervene in these actions, which would allow for the prosecution to be represented in future proceedings. . . . Such a motion to intervene by one or more of the district attorneys would receive prompt review by this court," the conservative justices said.
Ozanne should take them up on this invitation.
This case has profound significance not only for the John Doe II investigation but also, and more importantly, for our ability in the future to impose meaningful limits on money in politics.
There are three ripe grounds for appeal:
1. Failure to recuse
The four conservative justices on the State Supreme Court benefited from $8 million in election expenditures by some of the very same groups that the prosecutor was investigating. Under the U.S. Supreme Court case, Caperton v. Massey Coal, at least a couple of those justices had an obligation to recuse themselves.
2. Blatant misreading of campaign finance precedents
The State Supreme Court in its July ruling legalized coordination between candidates and outside issue-ad groups, citing the First Amendment. But nowhere in 42 years of U.S. Supreme Court rulings starting with Buckley v. Valeo has the U.S. Supreme Court made this claim. In fact, the whole edifice of its campaign finance rulings rests on there being no coordination.
3. Ignoring evidence of potentially illegal express advocacy coordination
In its July ruling, the Wisconsin State Supreme Court said candidates could not coordinate with "express advocacy" groups—those that say "vote for" or "vote against" people running for office. Prosecutor Schmitz sought to keep his investigation open because he said there was evidence of just such express advocacy coordination. As Justice Shirley Abrahamson mentioned in her dissent on December 2: "The legal arguments and evidence the Special Prosecutor presented to the John Doe Judge and to this court provide 'reason to believe' a crime was committed by coordinated express advocacy." Abrahamson concluded: "The investigation into coordinated express advocacy should continue."
To let this dangerous State Supreme Court decision stand without challenge would do a grave disservice to the people of Wisconsin.
Please contact Ismael Ozanne's office today and urge him to rise to this urgent occasion. He can be reached by email at This email address is being protected from spambots. You need JavaScript enabled to view it., or by phone at (608) 266-4211.
Thanks for contacting him, and for fighting for clean government in Wisconsin. It's a fight we can't give up on.