Attorney General Brad Schimel seems eager to get into the John Doe fray, even though his predecessor steered clear of it because of the appearance of a conflict of interest.

Schimel Angles for an Invite to Block John Doe
by Matthew Rothschild, Executive Director
February 11, 2016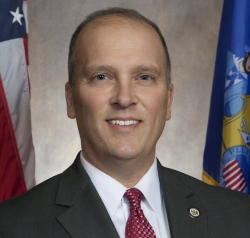 Attorney General Brad Schimel
Last Friday, one of his deputies, Andrew Cook, wrote a letter to the Wisconsin Supreme Court, angling for an invitation to weigh in on the question as to whether the three district attorneys who've entered the case have the authority to bring an appeal to the U.S. Supreme Court.
Such an appeal is crucially important because the Wisconsin Supreme Court's July 16 decision not only halted the John Doe that was investigating Scott Walker's alleged coordination with outside groups during the recalls. It also made the ludicrous claim, contradicted by 40 years of U.S. Supreme Court precedent, that the First Amendment requires Wisconsin to allow coordination between candidates and outside groups.
Cook said he was responding to a letter by Dean Strang, the lawyer for one of the people embroiled in the John Doe, urging Schimel to jump in. (Strang, by the way, was the lawyer who so distinguished himself representing Stephen Avery in the Netfix documentary "Making a Murderer.") Cook also said he was responding to a request from Edward Meyers, another lawyer for another person involved in the John Doe.
"If the Court called for the views of the Wisconsin Department of Justice on the questions presented by Attorneys Strang and Meyers…the Office of Solicitor General will be able to file a brief within thirty days, or within a shorter timeframe if the Court requests," wrote Cook.
It would have to be within a shorter timeframe because the clock runs out on the district attorneys on March 1. That's their deadline to file with the U.S. Supreme Court.