Gov. Scott Walker and Assembly Speaker Robin Vos have reacted disgracefully to the decision on Tuesday by the Government Accountability Board to seek funding from the legislature to educate citizens on the new voter ID requirements.

Walker, Vos, Disgraceful on Voter ID Funding
by Matthew Rothschild, Executive Director
April 28, 2016
Governor Scott Walker
Rather than back this vital public awareness campaign, Walker deflected blame onto the good-government and advocacy groups that have been challenging Wisconsin's onerous Voter ID law in court.
"The state had to spend a whole lot of time and money defending the law," Walker told WBAY on Tuesday. "If people were really serious about that, they should have allowed the state to use all the money we had to fight in the courts to use that in promoting the system."
In a press statement on Wednesday, Vos said the Voter ID law was protecting "the integrity of our elections while not inhibiting people from voting," even though the League of Women Voters of Wisconsin has pointed out instances where people were, in fact, inhibited from voting, and even though voter fraud has been a virtually non-existent problem.
And Vos echoed Walker's snide remark. "I also agree with Governor Walker's sentiments on this issue," Vos said. "The state has had to utilize taxpayer resources to defend the law in frivolous lawsuits from liberal activist groups who are now asking for additional Voter ID education."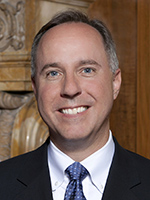 Speaker Robin Vos
Vos and Walker were alluding to lawsuits by the ACLU, the League of Women Voters of Wisconsin and One Wisconsin Now Institute. The lawsuits were hardly "frivolous." The ACLU and the League succeeded in postponing the implementation of the Voter ID bill in 2014 because the U.S. Supreme Court agreed that it improperly required those who had already sent in their absentee ballots to then send in additional identification documents. Lawsuits by the ACLU and One Wisconsin are still pending.
Representative Chris Taylor, who urged the Government Accountability Board to ask for about $250,000 from the legislature for the public awareness campaign on Voter ID, did not take kindly to Walker's reaction.
"I'm deeply disappointed that Governor Walker felt the need to blame the victims of one of the most extreme Voter ID laws in the country, who had to use litigation to ensure one of their most basic rights was protected," she said.
And Kevin Kennedy, executive director of the Government Accountability Board, also took issue with Walker. He called the comment "disingenuous," and said the need to educate the public on Voter ID was separate from the lawsuits. They're "apples and oranges," he said.