The trial over the rigging of Wisconsin's electoral maps ended on Friday, with both sides giving their closing arguments.

Why GOP Map in Wisconsin May Get Shot Down
by Matthew Rothschild, Executive Director
May 31, 2016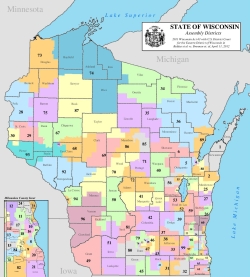 The trial over the rigging of Wisconsin's electoral maps ended on Friday, with both sides giving their closing arguments.
The difference in quality between the two arguments couldn't have been starker.
The lawyer for the plaintiffs, Gerry Hebert, gave one of the most compelling and inspiring arguments since Gregory Peck in "To Kill a Mockingbird."
The lawyer for the state, Brian Keenan, rambled and seemed almost like he was winging it.
Hebert, who is the executive director of the Campaign Legal Center in Washington, D.C., and who has argued some of the country's most important voter discrimination cases over the last two decades, showed his experience and his passion.
He claimed that his clients' First Amendment rights were violated.
"Their right to vote is fundamental," Hebert said during closing arguments. "It's our voice in the government. It's the only voice many of us have. It's not right to target people and harm them because of their voting history. What did they do? They had the nerve to participate in the political process and go to the polls."
He pointed out that the State of Wisconsin did not even contest the point that the intent of the redistricting was to advantage the GOP.
He angrily pointed to the empty witness chair to underscore the fact that not a single elected official from the GOP bothered to testify in court to defend the rigged maps that they drew, in secret, to solidify their political advantage.
Hebert ended by noting that it was Memorial Day weekend and that our soldiers died to protect our democracy and our right to vote, which this partisan redistricting was nullifying.
After this soaring oration, Assistant Attorney General Keenan began with an odd comment about how he wanted the trial to be over because he wanted to be with his wife in Door County, which, after this trial, he knows only by its district names.
He confirmed Hebert's point about not contesting the intent of the redistricting, saying that's how politics works in Wisconsin, and that by electing the Republicans in 2010, the voters gave the Republicans the authority, under the state constitution, to handle redistricting. "That's democracy," he said.
And even though U.S. Supreme Court Justice Anthony Kennedy has recognized that some gerrymandering may be unconstitutional and has been seeking an objective yardstick to measure it, Hebert said it was impossible to do so, and quoted deceased Justice Antonin Scalia as saying it would toss the judicial branch "upon a sea of imponderables."
Since the four liberal justices on the Court are already on record as being in favor of overturning some gerrymandering, this claim was a clunker, and may torpedo the state's case.