Wisconsin's Attorney General Brad Schimel knows how to pile it high.

More BS from Brad Schimel
by Matthew Rothschild, Executive Director
August 30, 2016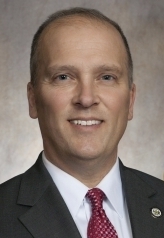 Attorney General Brad Schimel
Wisconsin's Attorney General Brad Schimel knows how to pile it high.
In an opinion piece in the Milwaukee Journal Sentinel today, he took issue with criticism that the editorial board leveled against him for defending the GOP's new laws that made it harder for some Wisconsin citizens to vote.
Schimel got all pious:
"The Editorial Board fundamentally misunderstands my role as attorney general. Let me be very clear: I have a statutory duty to defend state law. . . . I do not substitute my personal preferences for the policy determinations of the Legislature. . . . As attorney general, I enforce and defend all laws as passed by the elected Legislature. In fact, I have defended laws involving policy with which I disagreed."
But he has not enforced and defended "all laws" that have been passed, or all laws that he disagreed with. I heard him say, at a WisPolitics luncheon, that he thought the old Wisconsin election law that banned coordination between candidates and outside "issue advocacy" groups was unconstitutional. Schimel didn't argue before the Wisconsin Supreme Court that the law should be upheld. He didn't do anything to uphold that law.
He can't have it both ways now.