Green Bay Mayor Jim Schmitt should resign his office.

Green Bay Mayor Should Resign
by Matthew Rothschild, Executive Director
December 6, 2016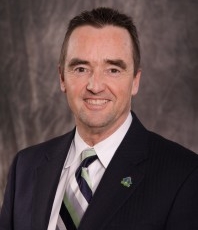 Green Bay Mayor Jim Schmitt
On Monday, in a ridiculously lenient deal, he pleaded guilty to three misdemeanors for brazenly violating our campaign finance laws.
Later that day, he said, "I have every intention of fulfilling this term," which ends in April 2019.
So not only does Schmitt not receive a single day in jail for repeatedly falsifying his campaign finance reports, he now wants to stay in office, which he won with the help of this unkosher money, for another two years and four months!
That takes a lot of gall.
Mayor Schmitt should own up, resign from the office he has disgraced, and let the city of Green Bay move out from under this cloud he created.
The idea that he'll remain in office after what he's done should offend anyone who believes we have equal justice in America.
Look at the hypocrisy of his sentencing. The prosecutor, defending the lenient plea agreement, said that Schmitt's guilty pleas would limit the mayor's political future, adding, "This limitation is itself a form of punishment."
But every conviction limits the guilty party's career path, and rarely is this considered in the sentencing of any but white-collar (and white) criminals.
Out of respect for the people of Green Bay, and out of respect for our laws, Mayor Schmitt should resign immediately.