The federal district court that ruled that Wisconsin's legislative maps were unconstitutional should now throw those maps out and start redrawing the district maps in a fair way.

Court Should Redraw Wisconsin District Maps
by Matthew Rothschild, Executive Director
December 22, 2016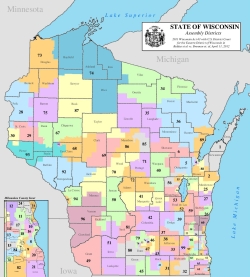 The federal district court that ruled that Wisconsin's legislative maps were unconstitutional should now throw those maps out and start redrawing the district maps in a fair way.
Last month, a three-judge panel made a first-of-its kind ruling when it concluded that the Republican leadership in 2011 drew maps that were clearly "designed to make it more difficult for Democrats, compared to Republicans, to translate their votes into seats."
It didn't toss the maps out at that time but instead asked the parties to the lawsuit for their proposed remedies, which were just filed on Wednesday.
Not surprisingly, Wisconsin's Attorney General, Brad Schimel, proposed that nothing be done until the U.S. Supreme Court hears his appeal of the case, and that, in the event that the Supreme Court agrees with the district court, that the legislature should redraw the maps, not the district court judges.
But that's absurd on two grounds.
First, the plaintiffs in this suit, which was brought by the Fair Elections Project, should not have their constitutional right to a meaningful vote delayed any longer. Nor should any Wisconsin citizen, for that matter.
And second, the Republican leadership has demonstrated that they can't be trusted to draw fair maps. They drew the original maps in the most biased and secretive manner, and then they defended them in the most deceptive way.
As the plaintiffs argued in their filing, the Republican leaders' "illegal conduct in passing and defending" the maps is a "compelling" reason for the court to go ahead and redraw the maps on its own.
What's more, Speaker Robin Vos just indicated yesterday that he has no interest in a new redistricting process, so he can't be relied on.
There is precedent in redistricting cases for courts to bypass the legislature, and the federal district court should follow that precedent here.
Throw the maps out and redraw them in a fair way so every citizen's vote counts.