Wisconsin Attorney General Brad Schimel still doesn't get it. Caught taking a flagrantly hypocritical stance on leaks, he acts like he's a U.S. Supreme Court justice, empowered to make a ruling on constitutional law, instead of the person who is supposed to enforce the laws of the state of Wisconsin.

Schimel Still Hypocritical on Leaks
by Matthew Rothschild, Executive Director
December 27, 2016
Wisconsin Attorney General Brad Schimel still doesn't get it.
Caught taking a flagrantly hypocritical stance on leaks, he acts like he's a U.S. Supreme Court justice, empowered to make a ruling on constitutional law, instead of the person who is supposed to enforce the laws of the state of Wisconsin.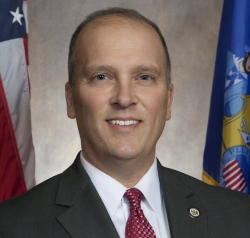 Attorney General Brad Schimel
In the John Doe case, Eric O'Keefe of Wisconsin Club for Growth was under a gag order by the special prosecutor, who, under the statute on the books at the time, was entitled to take secret evidence.
O'Keefe blatantly and defiantly violated the secrecy oath when he talked to the Wall Street Journal and conservative talk radio about the case.
Schimel did not try to prosecute O'Keefe for that violation of state law.
But Schimel is trying to prosecute the person who leaked documents in the case to The Guardian.
Schimel's defense for this hypocrisy?
"The courts have no authority to order a private citizen to have a gag order on them," he told Jessie Opoien of The Capital Times, citing the First Amendment.
But Wisconsin's John Doe secrecy provisions were never heard by, much less overturned by, the U.S. Supreme Court.
And Schimel slips in his attempt to scamper onto the moral high ground because the FBI, with its "national security letters," has subjected more than 300,000 Americans to gag orders, and some of these have been upheld in court.
Somehow, I don't remember hearing Schimel denounce the FBI or those courts for this.