Tucked into Gov. Walker's budget are two proposals that would further imperil good government in Wisconsin.

Walker Slashes Good Government Boards
by Matthew Rothschild, Executive Director
February 14, 2017
Tucked into Gov. Walker's budget are two proposals that would further imperil good government in Wisconsin.
The first is to take away the independence of the Wisconsin Judicial Commission. Created by the legislature in 1978 as an agency independent of the Wisconsin Supreme Court, the Judicial Commission investigates alleged misconduct by any judge or court commissioner in the state, and it also investigates whether a disability so impairs a judge that he or she can no longer do the job. If it finds probable cause, it then brings a proceeding against the judge, which is heard by a panel of three appellate court judges. These judges then pass their recommendations on to the Wisconsin Supreme Court, which determines whether a judge should be reprimanded, censured, suspended, or removed.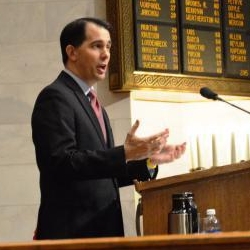 Governor Scott Walker
By stripping it of its independence and handing it over to the Wisconsin Supreme Court, one of the most biased and rigged courts in the country, Walker is jeopardizing its ability to flash a light on judicial misconduct. The chief justice of the Wisconsin Supreme Court could water down the guidelines that the Commission uses. What's more, favoritism could rule the day: The chief justice could subtly or not so subtly indicate to the staff not to investigate a friend, relative, or donor of the chief or to one of the chief's allies on the court.
Second, Walker has proposed a massive 30 percent cut to the Elections Commission, which would result in the elimination of six staff positions. This comes at a time when the Commission is still in its infancy. It also comes at a time when the electorate and the county clerks are still trying to figure out the voter ID law, as well as the new electronic registrations. And it comes at a time when institutional memory is at risk. The Commission was established in late 2015 after the legislature and Walker destroyed the Government Accountability Board, replacing it with a partisan Elections Commission and Ethics Commission. Getting rid of these slots would risk reducing the knowledge base of the staff.
"If ever there were a time when we shouldn't be talking about reducing the resources for overseeing fair and free elections, this is it," says retired judge Robert Kinney, who resigned last December from the Ethics Commission to protest the politicization and ineffectiveness of that board. "This is shortsighted and will only serve to further undercut agency efficiency and staff morale."
These two proposals are in keeping with Walker's overall assault on good government. Not only did he and the GOP-controlled legislature do away with the GAB, but they have also shielded public officials from any John Doe investigation, and they tried – but fortunately failed -- to shield legislators from open records requests.