It was widely reported that the Wisconsin Supreme Court approved new rules October 28 allowing judges to rule on cases involving their biggest campaign contributors.

New Supreme Court Ethics Rules Should Not, Will Not Stand
Commentary by Mike McCabe, Executive Director
November 2, 2009
Less widely noted was the fact that the rules were written by Wisconsin Manufacturers and Commerce and the Wisconsin Realtors Association and adopted by the court without a single change. That's right, two of the most powerful lobbying groups in our state were allowed to write a major new portion of the state judicial ethics code.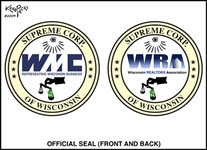 Not found in the news coverage of the court's action is an important question: When these new rules are applied in the future to real-life cases, will the results be in keeping with the U.S. Constitution?
The answer is unquestionably no if the recent past is any indication of how members of Wisconsin's highest court will behave in the future. I say that based on a ruling by the U.S. Supreme Court this past June in a West Virginia case, Caperton v. Massey.
Massey Coal Company executive Don Blankenship spent $3 million getting Judge Brent Benjamin elected to the West Virginia Supreme Court and Benjamin went on to hear a case involving Massey Coal and cast the deciding vote to overturn a $50 million judgment against Blakenship's company. The U.S. Supreme Court ruled that the conflict of interest should have resulted in Benjamin's disqualification from the case and that the other side was denied a fair trial and had their constitutional right to due process violated by Benjamin's participation.
Wisconsin saw a very similar scenario play out just last year. Wisconsin Manufacturers and Commerce was involved in a dispute over whether computer software purchased by a business should be taxed. A lower court said it should. The state Supreme Court reversed that decision, with Justice Annette Ziegler supplying the deciding vote in a 4-3 ruling and writing the opinion overturning the lower court just a year after WMC had spent some $2.2 million to help get her elected.
In the next election, WMC spent at least another $1.8 million to help get Michael Gableman elected to the state Supreme Court. Now if another case involving WMC comes before the court, the new rules WMC and the Realtors wrote will allow Ziegler and Gableman to participate in the case even though WMC spent $4 million to put them on the court.
In Caperton, the U.S. Supreme Court ruled that spending $3 million to elect a judge and then having that judge hear your case violates the Constitution's guarantee of due process and denies the other side a fair trial. If what happened in West Virginia was unconstitutional, then spending $4 million to elect two judges and then having those judges take part in deciding your case is even more so.
Allowing judges to sit on cases involving their biggest campaign supporters is wrong on its face. That the Wisconsin Supreme Court's majority allowed two powerful lobbying groups to write these new ethics rules for them adds insult to injury. And as the U.S. Supreme Court's decision in Caperton makes very clear, the conduct being permitted in Wisconsin tramples one of our most basic rights.