Wisconsin contributors gave a record $1.34 million in the first half of 2010 to special interest groups that secretly raise and spend unlimited amounts to smear state and federal candidates with negative advertising and mailings at election time, a Wisconsin Democracy Campaign review found.

Secretive Smear Groups Get Record Cash From Wisconsin
Wealthy special interests give 527 groups more than $1.3 million in six months
August 17, 2010

Madison –
The contributions are 128 percent more than the $587,458 the so-called 527 groups got from Wisconsin individuals, businesses, unions and trade groups in the first half of 2006 – the last comparable non-presidential election year when Wisconsin had a race for governor – and 215 percent more than the $424,370 the groups got from the Badger State in 2002 (see Bar Chart).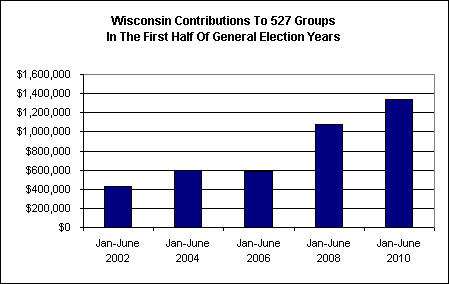 The sharp escalation of state contributions to these unregulated attack groups likely stems from a U.S. Supreme Court decision in January called Citizens United v. Federal Election Commission that now lets unions, corporations and other special interests spend unlimited amounts on elections.
527 groups are named for the section of the U.S. Internal Revenue Service code that governs them, but the IRS does not regulate where they get their contributions or how much they can accept and spend. These groups include the more popularly known Democratic Governors Association, Republican Governors Association, Progressive Majority and Club for Growth.
The Democracy Campaign's review of IRS reports filed by 527 groups also found:
Democratic-leaning 527s continued to receive substantially more Wisconsin contributions than Republican-leaning 527 groups – thanks mostly to large contributions from a few individuals or organizations – during the first six months of 2010. Democratic 527s received $846,822 or 63 percent of Wisconsin contributions during the six-month period compared to $480,761 or 36 percent that went to Republican 527 groups. Four groups mostly representing insurers that were politically neutral or supported both political parties received $9,252 or 1 percent of Wisconsin contributions.
The top five Wisconsin contributors gave a combined $865,732, or 65 percent of the total $1.34 million contributed by 266 state donors. Topping the list (Table) was Milwaukee philanthropist Lynde Uihlein, an heir to the Schlitz Brewing and Allen Bradley family fortunes, who contributed $582,000 to four Democratic 527 groups. She was followed by the Milwaukee Chamber of Commerce which gave $115,000 to a Republican 527 group; Sheboygan businessman Terry Kohler, a former GOP candidate for governor, who contributed $63,000 to two Republican groups; Judith and Gordon Faulkner of Madison who own Epic Systems and gave $55,000 to two Democratic 527s; and Johnson Controls in Milwaukee which gave $50,732 to two Democratic groups.
In addition to money flowing out of Wisconsin, some 527 groups sent $250,000 back to state issue ad and electioneering groups in April and May. Two 527 groups controlled by the American Federation of State, County and Municipal Employees and the United Food and Commercial Workers contributed $100,000 to Advancing Wisconsin and the Greater Wisconsin Political Fund and $50,000 to the Progressive Wisconsin Political Fund $50,000.
Five 527 groups received more than $100,000 from Wisconsin contributors during the first half of 2010. Topping the list was the Republican Governors Association's 527 group which received $353,593 from Wisconsin donors. The association sponsored three 30-second negative television commercials in June and July attacking Democratic candidate for governor Tom Barrett. In the 2006 election for Wisconsin governor, the group spent more than $2 million on negative broadcast ads and other electioneering activities that bashed incumbent Democratic Governor Jim Doyle, who won reelection.
The GOP governor's group was followed by the Greater Wisconsin Political Fund, which received $255,000 from state contributors. The fund is affiliated with the Madison-based Greater Wisconsin Committee, a phony issue ad group, and its political action committee. Greater Wisconsin has spent an estimated $8.2 million in spring and fall elections since 2006 to attack GOP candidates and support Democrats.

Rounding out the top five were three 527 groups that also support Democratic candidates, including Progressive Wisconsin Political Fund, which received $191,500; the League of Conservation Voters which got $182,000 and Wisconsin Progress which raised $114,174 from state contributors.

Wisconsin Progress' report to the IRS showed that one of its contributions came from a state agency – $1,176 on May 25 from the Department of Workforce Development.
Wisconsin contributions to 527 groups also set a second quarter election year record of $1.09 million between April and June 2010. That compares to $695,883 in contributions to the groups in the second quarter of 2008; $204,149 in the second quarter of 2006 and $447,193 in the second quarter of 2004. The latest second-quarter take by the groups was four times more than the $257,961 Wisconsin contributors gave them in the second quarter of 2002.
Wisconsin's 527 contributions totaled a record $2.87 million between January 2009 and June 2010 – the first 18 months of the 2009-10 election cycle. Previously, 527s groups got $2.2 million during the same period in 2007-08; $1.23 million at the same time in 2005-06 and $1.18 million for the same period in 2003-04. The latest 18-month haul by the groups was three times the $976,358 Wisconsin contributors gave the groups at during the first 18 months of 2001-02.
Table
Wisconsin Contributions* to 527 Groups
January – June 2010
| Committee Name | Amount |
| --- | --- |
| Republican Governors Association | $353,593 |
| Greater Wisconsin Political Fund | $255,000 |
| Progressive Wisconsin Political Fund | $191,500 |
| League of Conservation Voters | $182,000 |
| Wisconsin Progress | $114,174 |
| American Solutions for Winning the Future | $79,060 |
| Democratic Governors Association | $68,631 |
| GOPAC | $27,300 |
| Democratic Legislative Campaign Committee | $13,050 |
| Ironworkers Political Education Fund | $11,461 |
| National Association of Mutual Insurance Cos. Administrative Fund | $8,028 |
| PCI (Property Casualty Insurers) Political Accounts | $7,528 |
| Emily's List Non-federal | $5,700 |
| Presidential Coalition LLC | $5,050 |
| College Republican National Committee | $2,250 |
| National Federation of Republican Women | $2,045 |
| Republican State Leadership Committee | $1,685 |
| ActBlue Technical Services | $1,541 |
| American Bakers Association Political Education Committee | $1,500 |
* Table shows groups that received $1,500 or more from Wisconsin contributors during the six-month period.