Payday lenders contributed nearly $75,000 to state policymakers and candidates in 2009 – a record in a non-election year – including $65,440 to legislators to quash proposals to regulate the industry, a Wisconsin Democracy Campaign review shows.

Will Payday Lender Money Blitz Win Out?
Regulation proposals stymied by industry contributions, lobbying
March 25, 2010
Madison -
And it appears those campaign contributions (see Bar Chart) and $669,000 worth of lobbying may win out. With only eight days of work left on the 2009-10 legislative calendar, none of the six legislative proposals to regulate payday lenders or auto title loan outfits by varying degrees may get passed by the full legislature.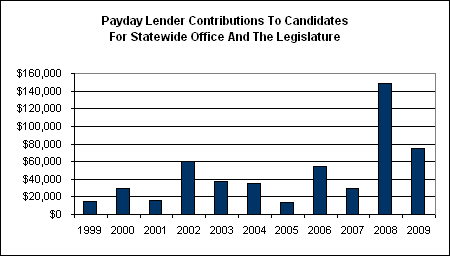 Industry critics want the legislature to pass a plan that caps industry loan rates at 36 percent annually. Wisconsin is the only state that does not regulate payday lenders whose interest rates can exceed 500 percent a year.
About 69 percent of the 2009 payday lender contributions went to only four committees – the legislative campaign committees used by Senate and Assembly Republican and Democratic leaders to milk wealthy special interests for campaign cash for election year spending.
The Democracy Campaign found legislative Democrats, who captured control of both houses in 2008 for the first time since the early 1990s, accepted more payday lender and auto title loan industry contributions than Republican legislators in 2009 – the first year that has happened since payday lenders appeared in Wisconsin in the mid-1990s. Assembly and Senate Democrats accepted $47,140 while legislative Republicans got $18,300.
In addition to legislators, the industry contributed $8,120 to Democratic Governor Jim Doyle, $750 to Republican candidate for governor Scott Walker and $500 to Democratic candidate for governor Tom Barrett (Table).
Payday Lender Campaign Contributions To Candidates
For Statewide Office And The Legislature In 2009
Name
Party
Office
Amount
Assembly Democratic Campaign Committee
D
A
$26,250
State Senate Democratic Committee
D
S
$9,500
Doyle, Jim
D
G
$8,120
Republican Assembly Campaign Committee
R
A
$8,000
Committee to Elect a Republican Senate
R
S
$7,500
Sullivan, Jim
D
S05
$2,500
Kreitlow, Patrick J
D
S23
$2,500
Lehman, John
D
S21
$1,990
Vinehout, Kathleen
D
S31
$1,500
Fitzgerald, Jeff
R
A39
$1,500
Sheridan, Mike
D
A44
$1,000
Fitzgerald, Scott
R
S13
$1,000
Walker, Scott
R
G
$750
Plale, Jeffrey
D
S07
$550
Colon, Pedro
D
A08
$500
Barrett, Tom
D
G
$500
Smith, Jeff
D
A93
$300
Garthwaite, Phil
D
A49
$300
Kanavas, Ted
R
S33
$300
Shilling, Jennifer
D
A95
$250
TOTAL
$74,810
Assembly Democrats received $28,600 in 2009 from payday lenders. Most of the payday lender contributions – $26,250 – went to their leadership-controlled fundraising committee – the Assembly Democratic Campaign Committee. In addition, the ADCC got another $5,350 from industry lobbyists.
The ADCC got $3,000 from a payday lender and another $2,500 from an industry lobbyist on September 9, a day before Democratic Assembly Speaker Mike Sheridan, who controls the committee, said the interest rate cap went too far. The ADCC also got two contributions totaling $5,000 on October 2, and Sheridan's personal campaign committee got two $500 contributions from industry executives September 3.
The Assembly passed a compromise measure in February that bans auto title loans and payday loan rollovers but does not contain an interest rate cap. About the same time, majority Senate Democrats introduced a bill that limits payday loans to $900 and contains a 33 percent cap on interest rates but only after borrowers fail to repay their loans on time. There is no word on when the full Senate will consider the bill.
Senate Democrats accepted $18,540 from payday lenders and auto title loan providers in 2009 lead by their leadership-controlled fundraising committee, the State Senate Democratic Committee which got $9,500. In addition, the committee accepted another $1,950 from industry lobbyists.
Four of the five Democratic senators the industry contributed to in 2009 are freshman senators who are likely to face tough reelection bids in 2010. They include Democratic Senator Jim Sullivan of Wauwatosa who authored the Senate's only payday regulation bill which critics also panned for lack of an interest rate cap. Sullivan accepted $2,500 from the industry.
Republicans have traditionally received more campaign contributions from payday lenders than Democrats because most GOP legislators have generally opposed regulating the industry particularly with loan rate caps while Democrats have historically favored stronger restrictions including a 36 percent annual cap on their interest rates – until now.
Assembly Republicans got $9,500 from payday lenders in 2009. Their leadership-controlled fundraising committee, the Republican Assembly Campaign Committee, got $8,000 and GOP Minority Leader Jeff Fitzgerald of Horicon accepted $1,500.
Senate Republicans accepted $8,800 from payday lenders in 2009. Their leadership-controlled fundraising committee, the Committee to Elect a Republican Senate got $7,500 plus another $100 from an industry lobbyist. Senate Minority Leader Scott Fitzgerald of Juneau received $1,000 and Senator Ted Kanavas of Brookfield got $300 from payday lenders.
The 2009 payday lending contributions follows a record $149,150 in campaign contributions by the industry in 2008 to all candidates for statewide office and the legislature. Of that, $98,350 was accepted by current legislators.