Wisconsin contributors doled out a record $1.53 million in 2009 to special interest groups that often pollute state and federal elections with negative advertising, mailings and other outside electioneering activities, a Wisconsin Democracy Campaign review shows.

Shadow Groups Get Record Contributions From Wisconsin Donors
Individuals, unions, businesses give groups $1.5 million in non-election year
March 8, 2010

Madison -
The contributions are the most ever in a non-election year, smashing the previous record of $1.12 million set in 2007 by $414,019, or 37 percent (see Bar Chart). Last year's contributions were 138 percent more than the $642,349 Wisconsin contributors gave to so-called 527 groups in 2005, 165 percent more than the $577,413 contributed in 2003 and 178 percent more than the $551,988 given in 2001.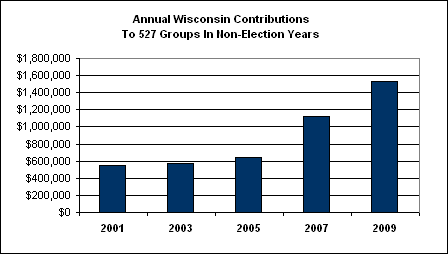 527 groups are named for the section of the U.S. Internal Revenue Service code that governs them, but the IRS does not regulate where they can get their contributions and how much they can accept and spend. These groups include the more popularly known GOPAC, Club for Growth, Democratic Governors Association and Progressive Majority.
Union and business contributions to 527 groups would be illegal to give directly to state and federal Wisconsin candidates because most of the contributions violate how much contributors can give and how much candidates can accept. Their money also would come from corporate and union treasuries which cannot be used for direct political donations to candidates.
Last year's record Wisconsin contributions to 527 groups were made before a U.S. Supreme Court decision in Citizens United v. Federal Election Commission that now allows corporations and unions to spend unlimited amounts in elections. Aside from letting corporations run amok in elections, the decision also allows trade associations, nonprofit groups and 527 attack groups to ramp up their political activity and numerous observers believe many of them will.
Other findings gleaned from 527 reports filed with the IRS include:
Democratic 527 groups received substantially more contributions in 2009 than Republican 527 groups, continuing a trend that started in 2006. Democratic 527 groups received $1.03 million or 67 percent of the total contributions from Wisconsin contributors and Republican 527 groups received $484,445 or 32 percent of Wisconsin contributions in 2009. The remaining $21,310 in contributions went to 527s that supported Democrats and Republicans, or neither party;
The Greater Wisconsin Political Fund is the 527 group for the Greater Wisconsin Committee in Madison – a liberal group well known for its phony issue ads dating back to the 2006 general election when it spent an estimated $4 million to get Democratic Governor Jim Doyle reelected. The group has spent an estimated $8.17 million in the last four years on negative broadcast ads, mailings and other electioneering activities to support Democrats for statewide office and the legislature.
The Republican Governors Association sponsored phony issue ads in Wisconsin in the 2006 general election when it backed GOP candidate for governor Mark Green over Doyle. The group spent more than $2 million on ads and mailings mostly to attack Doyle.
America Votes 2006 is a Washington D.C.-based group and one of several 527s that back Democratic candidates for federal office. The group has not been involved in state races in Wisconsin. America Votes appears to concentrate on voter mobilization and gets much of its support from business interests and philanthropists.
Phony issue ads are often negative broadcast advertising or mailings used by smear groups during an election to attack or praise candidates without explicitly telling people who to vote for. Outside special interest groups who sponsor phony issue ads have not had to report how much they raise and spend on these activities but the U.S. Supreme Court's Citizens United v. FEC decision in January allows states and Congress to require disclosure.
A dozen 527 groups received $25,000 or more from Wisconsin contributors in 2009. Leading the list was the Greater Wisconsin Political Fund at $400,000 followed by the Republican Governors Association at $186,150 and America Votes 2006 at $150,000 (Table 1).
Uihlein has been a longtime supporter of women's causes and Democratic candidates and is frequently Wisconsin's top contributor to 527s. She gave $150,000 to America Votes 2006, $100,000 each to the Greater Wisconsin Political Fund, the League of Conservation Voters and Wisconsin Progress, $37,000 to the Progressive Wisconsin Political Fund and $5,000 to Emily's List.
Following Uihlein was the Greater Wisconsin Committee which contributed $300,000 to its 527 arm – the Greater Wisconsin Political Fund.
Rounding out the top three were Terry and Mary Kohler, of Sheboygan, and their Windway Capital Corporation which contributed a combined $115,800. The Kohlers are longtime backers of conservative causes and Republican candidates for office. Terry Kohler gave $50,000 to American Solutions for Winning the Future, $25,000 to the Republican Governors Association and $300 to the Presidential Coalition. Mary Kohler gave $25,000 to America's PAC and $13,000 to GOPAC. The Kohlers' company gave $2,500 to the Republican National Lawyers.
There were 452 Wisconsin contributors to 527 groups in 2009 and the top two gave more than half of the $1.53 million that came from the Badger State. Topping the list was Lynde Uihlein, a Milwaukee philanthropist and heir to the Schlitz Brewing and Allen-Bradley family fortunes, who doled out $492,000 (Table 2).
Top 527 Recipients • Top Wisconsin Contributors
Table 1
Top* 527 Recipients of Wisconsin Contributions in 2009
| Committee Name | Amount |
| --- | --- |
| Greater Wisconsin Political Fund | $400,000 |
| Republican Governors Association | $186,150 |
| America Votes 2006 | $150,000 |
| Wisconsin Progress | $143,750 |
| American Solutions for Winning the Future | $143,400 |
| League of Conservation Voters | $100,000 |
| Progressive Wisconsin Political Fund | $87,500 |
| Democratic Governors Association | $53,445 |
| GOPAC | $34,592 |
| International Brotherhood of Electrical Workers Educational Committee | $32,206 |
| National Association of Mutual Insurance Companies Administrative Fund | $25,020 |
| America's PAC | $25,000 |
| Progressive Majority | $19,500 |
| Republican State Leadership Committee | $15,828 |
| Ironworkers Political Education Fund | $14,283 |
| National Federation of Republican Women | $13,495 |
| Presidential Coalition LLC | $12,210 |
* Table shows 527 groups that received $10,000 or more in Wisconsin contributions in 2009
Table 2
Top* Wisconsin Contributors to 527 Organizations in 2009
Name
City
Employer
Amount
Lynde Uihlein
Milwaukee
Brico Fund
$492,000
Greater Wisconsin Committee
Madison
Not Applicable
$300,000
Terry and Mary Kohler
Sheboygan
Windway Capital
$115,800
Johnson Controls
Milwaukee
Not Applicable
$51,585
ABC Supply
Beloit
Not Applicable
$50,000
American Federation of Teachers-Wisconsin
Madison
Not Applicable
$35,000
International Brotherhood of Electrical Workers
– Locals 158, 494 and 2150
Green Bay, Milwaukee, Menomonee Falls
Not Applicable
$32,206
Alliant Energy
Madison
Not Applicable
$25,000
Badger Investments
Green Bay
Not Applicable
$25,000
Menards
Eau Claire
Not Applicable
$25,000
American Family Mutual Insurance
Madison
Not Applicable
$20,618
Grant Abert
Hillpoint
Retired
$20,000
Miller Brewing
Milwaukee
Not Applicable
$15,000
Oneida Tribe of Indians of Wisconsin
Oneida
Not Applicable
$15,000
Capitol Navigators
Madison
Not Applicable
$15,000
Ironworkers Locals 8 and 383
Milwaukee , Madison
Not Applicable
$14,283
Joseph E Richardson II
Oostburg
Richardson Industries
$10,338
Professional Firefighters of WI
Merrill
Not Applicable
$10,000
WI State AFL - CIO
Milwaukee
Not Applicable
$10,000
Michael Grebe
Milwaukee
Bradley Foundation
$10,000
* Table shows contributors who gave a total of $10,000 or more to 527 groups in 2009