Today, a New York Times editorial, "Promises to Keep," calls on President Obama to make good on the vow to overhaul election financing he made when opting to run his campaign outside of the federal public financing system. It asks President Obama to make certain his nominees to fill three vacant positions on the Federal Election Commission are dedicated to upholding and enforcing election law, rather than undercutting it.

President Obama Pushed on Campaign Finance Promises
Midwest Democracy Network Presidential Questionnaire Documents Vow
Released: July 9, 2009
Posted: July 14, 2009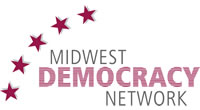 Chicago - Today, a New York Times editorial, "Promises to Keep," calls on President Obama to make good on the vow to overhaul election financing he made when opting to run his campaign outside of the federal public financing system. It asks President Obama to make certain his nominees to fill three vacant positions on the Federal Election Commission are dedicated to upholding and enforcing election law, rather than undercutting it.
President Obama made that promise in his response to the Midwest Democracy Network's "Presidential Candidate Questionnaire on Political Reform." He expressed strong support for both a voluntary public financing system for congressional elections and a revitalized public financing system for presidential campaigns.
Earlier this year, 23 Midwest Democracy Network partner organizations sent a letter to President Obama urging him "use the full powers of the White House" to make much-needed public financing reforms of congressional and presidential elections a reality. "From our vantage point in America 's heartland," the letter states, the groups "strongly believe the two most important steps that can be taken to reform Washington , D.C. ," are enactment of the bipartisan Fair Elections Now Act and Presidential Funding Act.
The Midwest Democracy Network and its partner organizations urged President Obama to "make these common sense bills a priority" and "make our elections about voters and volunteers instead of big money donors."
Senators John McCain and Russ Feingold have placed a hold on President Obama's first nominee to the F.E.C. They want to know who the President's nominees for the other two vacancies are, which would signal his commitment to remaking the agency.
With some of the main components of the landmark McCain-Feingold that restrict corporate political spending waiting for a U.S. Supreme Court review, the long-time champions of campaign finance reform have reason to be concerned.
Nominating strong supporters and enforcers of our nation's election laws to serve at the F.E.C. would be a strong first step toward making good the promise President Obama made in his response to the Midwest Democracy Network.
He would be on his way to providing a much-needed antidote to a "pay to play system" in Washington, D.C. that has earned the public's disgust and undermined confidence in the federal government's capacity to tackle the enormous problems facing the country.
The Midwest Democracy Network is an alliance of political reform advocates committed to improving democracy in Illinois , Michigan , Minnesota , Ohio and Wisconsin . The Network includes state-based civic and public interest organizations, as well as prominent academic institutions and respected policy and legal experts.