Groups requesting public information are often forced into expensive and cumbersome litigation against public bodies because of rigidities within Wisconsin's public disclosure laws, according to a study released Wednesday by the Citizen Advocacy Center in celebration of Sunshine Week (March 15-21).

Flaw in Wisconsin Open Government Laws Can Lead to Costly Litigation, Study Finds
State Sunshine Laws Lack Appeals Process
March 18, 2009
Groups requesting public information are often forced into expensive and cumbersome litigation against public bodies because of rigidities within Wisconsin's public disclosure laws, according to a study released Wednesday by the Citizen Advocacy Center in celebration of Sunshine Week (March 15-21).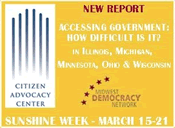 The report found that while Wisconsin's open government laws overall are strong and penalties for violations are substantial – compared to Michigan, Minnesota, Ohio and Illinois – if a group challenges the state on a violation of its Public Records Law (PRL) or Open Meetings Law (OML), there is no administrative appeals process to resolve the dispute.
Despite the lack of appeals process, the study found that Wisconsin is unique in allowing the state Attorney General and district attorneys to prosecute public bodies that violate the state's open government laws.
"Going to court to obtain public information should be the absolute last resort," said Terry Pastika, Executive Director and Community Lawyer for the Citizen Advocacy Center . "Taxpayers should not have to foot the legal bill every time the state is challenged on a violation, when a simple change to the statute could save Wisconsin precious funds in these tough economic times."
In conducting the study on behalf of the Midwest Democracy Network, which is working on political reform across the region, the Center reviewed each state's laws as well as more than 1,000 legal cases, attorney general opinions, and professional publications to produce a comprehensive study of each state's strengths and weaknesses. The Center also provided specific reform recommendations that good government advocates can use to advance changes within each state. Reforms range from changing how fees are levied to implementing training programs for public officials.
The full report and state-by-state comparison charts are available online at www.citizenadvocacycenter.org.
The study found that efforts to obtain information from government agencies in Wisconsin are hampered by several factors, including:
The lack of firm deadlines to respond to information requests delays production of public records. Wisconsin 's PRL does not mandate responsiveness to information requests within a certain time period, allowing a public body to substantially delay the production of records without recourse.
High expenses related to locating public records. Under Wisconsin 's PRL, offices can charge exorbitant fees for simply locating public records. These fees are in addition to reproduction.
Statutes of limitations are not universally applied. Different rules apply to those who are incarcerated, and they have less time to file a claim to force the production of public records.
Minimal public notice for open meetings is required . Wisconsin OML requires 24 hour notice of a public meeting, impeding the public from preparing and organizing to attend meetings.
Meeting minutes requirements are scant. Under Wisconsin OML, public bodies are not universally required to keep substantive documentation of public meeting discussions. The OML itself only requires a record of motions and roll call votes.
To remedy these problems, CAC recommended that lawmakers reform Wisconsin PRL and OML laws to:
Allow for an administrative appeals process that must be responded to within a limited amount of time prior to filing litigation.
Cap costs for producing documents to $0.15 per page.
Eliminate statute of limitations so everyone has equal access to public documents.
Require a minimum of 72 hours notice for public meetings.
Require meeting minutes to include substantive details.
The Center reviewed Michigan, Ohio, Illinois, Wisconsin and Minnesota 's Freedom of Information and Open Meetings Acts and found striking similarities between all states, including:
Open government laws are sporadically enforced, which means public bodies are more likely to be unresponsive to records requests and employ exemptions to keep meetings closed.
No state surveyed has a government office with statutory power specifically created to oversee and enforce sunshine laws.
State employees are not adequately trained to carry out open government policies and may be unintentionally violating the laws.
Citizens may be able to attend meetings, but there are very few opportunities to participate.
"For our democracy to work, we need open government laws that are not only strong but also consistently applied and enforced," said Wisconsin Democracy Campaign director Mike McCabe. "Wisconsin has long been known for good sunshine laws, but this assessment shows there are some notable shortcomings that should be addressed."
The study, conducted by the Center and funded by The Joyce Foundation, is distributed by the Midwest Democracy Network, an alliance of political reform advocates who are working to strengthen democracy and build the capacity of the public to participate and affect government decision-making.
Citizen Advocacy Center • Wisconsin Report