Legislative candidates and special interest groups that sponsored mostly smear ads and mailings spent a record $20.2 million in last November's elections, according to a Wisconsin Democracy Campaign review.

Legislative Races Cost Record $20 Million In '08
Complete 2008 campaign records for 18 candidates still unavailable
June 22, 2009
Madison - Legislative candidates and special interest groups that sponsored mostly smear ads and mailings spent a record $20.2 million in last November's elections, according to a Wisconsin Democracy Campaign review.
Total spending by legislative committees and electioneering special interests in legislative races in 2008 smashed the old record of $16.6 million set in the comparable 2004 legislative races. It also was 55 percent higher than the $13.03 million spent by legislative candidates and groups in the 2006 races (see Chart 1) and nearly double the $10.32 million spent just six years earlier, in 2002.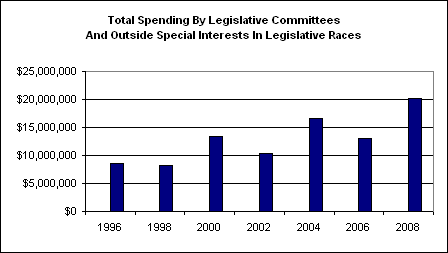 Legislative candidate and leadership committees alone spent a record $13.15 million on the 2008 races, which is 29 percent more than the previous record $10.18 million spent in the 2006 legislative races and 32 percent more than the $9.95 million spent in the comparable 2004 legislative races (see Chart 2).
In addition to the $13.15 million spent by legislative candidates in 2008, WDC reported last December that outside special interest groups led by the Wisconsin Education Association Council, the Coalition for America's Families, the Greater Wisconsin Committee and All Children Matter spent a record $7.1 million to harass voters and drown out the candidates in key races, including more than $1 million in the hotly contested 47 th Assembly District contest. For more information about these outside groups and their activities please check out our Hijacking Campaign 2008 feature.
The 2008 legislative spending total does not include spending from 18 campaign finance reports, many of which were due February 2 and some as far back as last fall despite repeated informal requests and a first-ever Open Records request by the Democracy Campaign asking the Government Accountability Board to produce paper copies or electronic versions of reports for the public to view. The problem is a new electronic reporting system the board began using last fall that has been fraught with problems. Dozens of reports filed on it and reviewed by the Democracy Campaign earlier this year contained inaccurate fundraising and spending totals and cash balances, incorrectly identified expenditures and contributors and contributions listed more than once.
The Democracy Campaign analysis of the legislative fundraising and spending reports also found:
The four legislative campaign committees, which are used by Senate and Assembly Republican and Democratic legislative leaders to raise large amounts of special interest cash to spend on key races at election time, spent a record $1.3 million. The previous record spending was $1.25 million set in the 2006. The four campaign committees also set a fundraising record in 2008 – topping $1 million for the first time.
Legislative Campaign Committee
2008
Fundraising
2008
Spending
Assembly Democratic Campaign Committee
$625,729
$641,802
State Senate Democratic Committee
$275,451
$434,740
Republican Assembly Campaign Committee
$109,829
$91,044
Committee To Elect A Republican Senate
$84,418
$137,167
TOTAL
$1,095,427
$1,304,753
Winning candidates substantially outspent losing November ballot candidates. The 115 winners of the 99 Assembly and 16 Senate seats up for election spent $6.35 million, compared to $4.16 million by the 87 candidates who lost. These totals do not include complete 2008 spending for five losing candidates and four winning candidates because not all of their 2008 campaign reports were available from the Government Accountability Board. The four winning candidates with incomplete 2008 spending totals are incumbent Democratic Representatives Tamara Grigsby, Annette Williams and Christine Sinicki and Republican Representative Scott Newcomer.
Eighty-seven percent – or 100 of 115 – of the legislative races were won by the candidate on the November ballot who spent the most money. Only one of the 16 Senate seats and 14 of the 99 Assembly seats were won by the candidate who spent the least.
The race for the Senate 8th pitted incumbent Republican Senator Alberta Darling against Democratic Representative Sheldon Wasserman. Both Wasserman and Darling smashed the old spending record by a legislative candidate in a special election or in a regular election year. Democratic candidate Alex Paul spent $450,664 in an unsuccessful bid in the 2003 special election for the 24th Senate District seat and Republican Senator Sheila Harsdorf spent $409,279 to win her 10th Senate District seat in the 2000 elections. Wasserman spent $722,333 in an unsuccessful attempt to unseat Darling who spent $479,076 in 2008. In addition, outside special interests spent about $52,000 led by the pro-Democratic Advancing Wisconsin and the state's largest business group, Wisconsin Manufacturers and Commerce, which supported Darling.
In addition, the record for the most ever spent in a regular election year by an Assembly candidate – $221,403 in 2004 by former Republican Assembly Speaker John Gard – was eclipsed by Democratic candidate Dan Kohl, who spent $311,709 and lost in the primary for the 22nd Assembly District seat.
A complete list of the legislative candidates and the amount they spent in 2008 is available.
An increasing number of legislative races are becoming more expensive. In 2008, 27 candidates spent more than $100,000 in their bid for the Senate or Assembly, compared to 19 candidates in the comparable 2004 elections and 14 candidates in 2000. There were 15 races – nine in the Assembly and six in the Senate – in which the candidates collectively spent more than $200,000, including the Senate 8 th District race in which the two candidates spent a combined $1.2 million.
In the Assembly 47th 10 special interest groups spent more than $1 million on mostly negative broadcast ads and mailings – tripling the $345,843 spent by the initial field of seven candidates which was pared in the primary to Democrat Trish O'Neil who spent $146,275 and Republican Keith Ripp, who spent $125,934 and won.
The most expensive legislative race in state history was the 10th Senate District race in 2000 between Harsdorf and incumbent Democrat Alice Clausing. An estimated $3 million was spent, with outside groups accounting for more than $2 million of the total.
Two other races likely cost between $900,000 and $1 million each. The open Senate 12th District seat pitted Republican Tom Tiffany against Democrat Jim Holperin, who won. The candidates spent a combined $610,736 and outside special interests kicked in about $350,000 more. In the Assembly 68th District contest between incumbent Republican Terry Moulton and Democrat Kristen Dexter, who won, the candidates spent $269,466 but special interests led by the state's politically powerful teachers union, the Wisconsin Education Association Council, spent around $700,000.
Races in which candidates and special interests spent at least $800,000 include the Assembly 43rd District contest between Republican challenger Debi Towns and incumbent Democrat Kim Hixson, who won, and the Senate 32nd District contest between Democratic challenger Tara Johnson and incumbent Republican Dan Kapanke who won.
Other races whose total spending hovered between $400,000 and $650,000 include the Assembly 96th between Democrat Dale Klemme and incumbent Republican Lee Nerison, who won; the Senate 18th between Democrat Jessica King and Republican Randy Hopper, who won; the open Assembly 57th between Republican Jo Egelhoff and Democrat Penny Bernard Schaber, who won; and the Assembly 80th between Democrat John Waelti and incumbent Republican Brett Davis, who won.
Numerous Assembly and Senate races cost several hundred thousand dollars – in addition to the most expensive Assembly 47th District contest which approached $1.4 million – when candidate and special interest spending is combined.
Candidate Spending by Amount • Candidate Spending by District
Candidates Listed Alphabetically