Legislative candidates on the November ballot had $5.52 million in their campaign accounts at the end of August, but nearly $3 of every $4 was held by incumbents who also are likely to benefit from more contributions and negative, outside electioneering activity by powerful business, labor and other special interests in the coming weeks, a Wisconsin Democracy Campaign analysis shows.

Incumbents Hunkering Down In Beds Of Cash
Legislative officeholders, special interests determined to maintain status quo
September 26, 2008
Madison - Legislative candidates on the November ballot had $5.52 million in their campaign accounts at the end of August, but nearly $3 of every $4 was held by incumbents who also are likely to benefit from more contributions and negative, outside electioneering activity by powerful business, labor and other special interests in the coming weeks, a Wisconsin Democracy Campaign analysis shows.
Legislative incumbents had nearly $4 million in their campaign accounts – a $4 to $1 advantage over challengers who cleared the September primary – as special interest contributions and their spending on negative, outside electioneering escalate to determine control of the legislature in November, a Wisconsin Democracy Campaign analysis shows.
Campaign finance reports filed by the candidates covering fundraising and spending activities for July and most of August show the 102 incumbents had campaign cash balances totaling $3.95 million (see pie chart) while 73 challengers had just short of $1 million in their accounts. Twenty-seven candidates for open seats had nearly $600,000 in cash on hand.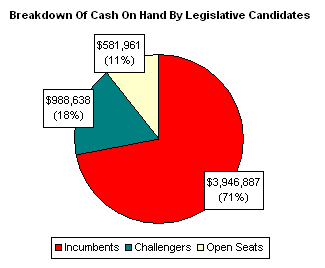 The cash advantage held by incumbents was built from more than 270 fundraisers between January 2007 and August 2008 when they milked powerful special interests using last year's months-long state budget standoff and other key spending and policy proposals, like cable regulation and smoking bans to draw campaign contributions. During the same 20-month period the Senate met only 33 days and the Assembly met only 29 days to consider public policy and spending legislation.
The candidates are vying for 99 Assembly seats and 16 Senate seats up for grabs in the November 4 general election. Republicans control the Assembly 51-47 and Democrats the Senate by 17-14.
With such close margins it appears likely direct special interest contributions to the candidates as well as outside electioneering activities will be as bad or worse than previous, comparable years. Independent expenditures groups which report their spending and activities and phony issue ad groups that secretly raise and spend as much as they want doled out a record $6.7 million in 2004 and about $5 million in 2000 – the last two elections where there were only legislative races – on negative ads, mailings and other activities.
Other key findings from the candidates' latest campaign finance reports show:
In addition to the legislative candidates, the four legislative leadership committees which are used by Senate and Assembly leaders to raise money from lobbyists and powerful special interests for election year spending, had $361,004 to help elect legislative candidates;
Assembly incumbents had a $6 to $1 advantage over the challengers they will face in November with $2.76 million in their campaign accounts versus $471,367. Senate incumbents had a $2 to $1 advantage over challengers they face on the November ballot with $1.19 million on hand compared to $517,271;
Sixty-three percent, or 24 of the 38 legislative primaries – all in the Assembly – were won by the candidate who spent the most money;
Twelve candidates – nine incumbents, two open seat candidates and a challenger – had cash balances exceeding $100,000 at the end of August;
All 269 legislative candidates going into the September primary had a record $5.81 million in their campaign accounts at the end of August. That was 14 percent higher than the previous record $5.09 million all legislative candidates had in their accounts at the same time in 2006 and 47 percent higher than the $3.96 million they had in 2004;
Leading the pack was Democratic Representative Sheldon Wasserman of Milwaukee (see Table) who had $346,705 in his campaign account followed by Republican Senator Alberta Darling of River Hills who had $268,854 in the bank. Wasserman is challenging Darling in what is expected to be one of the most expensive legislative races in state history.
During the first eight months of 2008, Wasserman and Darling have collectively spent nearly a third of a million dollars on the race.
Table
Top* Campaign Cash Balances Of Legislative Candidates
On The November Ballot
Candidate
District
Party
Candidate
Status**
Cash Balance
Wasserman, Sheldon
S08
D
C
$346,705.43
Darling, Alberta
S08
R
I
$268,854.24
Hansen, Dave
S30
D
I
$196,024.69
Black, Spencer
A77
D
I
$150,462.43
Wirch, Robert
S22
D
I
$134,633.49
Harsdorf, Sheila
S10
R
I
$127,097.69
Kapanke, Dan
S32
R
I
$126,092.79
Lazich, Mary
S28
R
I
$116,791.01
Gundrum, Mark
A84
R
I
$114,257.31
Holperin, Jim
S12
D
O
$106,498.10
Kaufert, Dean
A55
R
I
$102,207.03
Tiffany, Tom
S12
R
O
$100,317.99
Johnson, Tara
S32
D
C
$98,972.12
Lassa, Julie
S24
D
I
$98,282.22
Moulton, Terry
A68
R
I
$96,297.97
Davis, Brett H
A80
R
I
$93,904.60
Nelson, Tom
A05
D
I
$83,463.03
Stone, Jeff
A82
R
I
$78,149.44
Vos, Robin
A63
R
I
$74,551.03
Petrowski, Jerry
A86
R
I
$61,669.51
King, Jessica J
S18
D
O
$58,056.57
Page, Alison H
S10
D
C
$57,006.27
Bernard Schaber, Penny
A57
D
O
$56,278.74
Meyer, Dan
A34
R
I
$55,309.92
Rhoades, Kitty
A30
R
I
$54,683.11
Vruwink, Amy Sue
A70
D
I
$52,996.07
Dexter, Kristen
A68
D
C
$51,680.78
Hopper, Randy
S18
R
O
$51,055.67
*Table shows November ballot candidates who had campaign cash balances of $50,000 or more August 25.
** "I" means incumbent; "C" means challenger; and "O" means open seat.
November Ballot Candidate Cash Balances