Legislators accepted a record $3.86 million in campaign contributions in a non-election year, including more than $2 million in the last half of 2007 when they hobnobbed with special interests at fundraisers while working on the crucial state budget, a Wisconsin Democracy Campaign analysis shows. Legislators Used State Budget To
Rustle Record Campaign Contributions
Lawmakers wring record $3.9 million from special interests in 2007
February 20, 2008
Madison - Legislators accepted a record $3.86 million in campaign contributions in a non-election year, including more than $2 million in the last half of 2007 when they hobnobbed with special interests at fundraisers while working on the crucial state budget, a Wisconsin Democracy Campaign analysis shows.
State Senate and Assembly incumbents also have amassed a record $4.88 million in their campaign war chests going into the 2008 election year to scare off opponents who bring sorely needed fresh ideas and a healthy debate about state policy and spending to the legislature.
Key findings in the WDC review include:
The record $3.86 million raised by personal campaign committees and the four legislative leadership committees in 2007 beat the previous budget-year record $3.35 million raised in 2005 by 15 percent and the $2.6 million raised in 2003 by 49 percent (see bar chart below);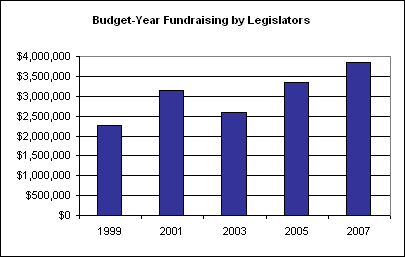 Most of their 2007 contributions – $2.33 million – came in the last half of the year when legislators completed their work on the proposed 2007-09 state budget four months late. That was 19 percent more than the previous high of $1.97 million raised by legislators between July and December 2005 and 77 percent higher than the $1.32 million legislators collected in the last half of 2003;
The four legislative leadership committees, which are used by Senate and Assembly leaders to raise large amounts of money from wealthy special interests for election year spending, accepted an all-time record $981,791 in 2007 (see Table 1), breaking the 2004 election year record of $973,767. The previous non-election year fundraising high by the four committees was $970,008 in 2005;
Table 1
2007 Legislative Campaign Committee Fundraising
Committee
Total
Raised
Cash
Balance
Assembly Democratic Campaign Committee
$279,143
$50,600
Republican Assembly Campaign Committee
$216,473
$68,353
State Senate Democratic Committee
$317,667
$233,685
Committee to Elect a Republican Senate
$168,508
$60,206
TOTAL
$981,791
$412,844
The $4.88 million legislators had in their campaign accounts going into the 2008 election year was 19 percent higher than the $4.1 million they had going into the 2006 election year and 54 percent more than the $3.16 million they had at the start of 2004;
Fundraising by personal and legislative campaign committee broken down by caucus shows Assembly Republicans and Senate Democrats, which control the majority in their houses and crafted the 2007-09 state budget sent to Democratic Governor Jim Doyle, each raised more than $1 million last year (see Table 2). Assembly Republicans, who hold a 52-47 majority, raised 24 percent more than Assembly Democrats and Senate Democrats, who hold an 18-15 majority, raised 12 percent more than Senate Republicans;
Table 2
2007 Fundraising By The Four Legislative Caucuses
 
Assembly
Republicans
Senate
Democrats
Assembly
Democrats
Senate
Republicans
2007 Fundraising
$1,044,566
$1,042,201
$842,242
$929,498
Total Cash Balances
$1,363,577
$1,143,465
$1,293,069
$1,084,668
Wisconsin's 132 legislators, whose salaries cost taxpayers $6.26 million and who claimed an additional $1.16 million in lodging and meal expenses for being in Madison on work in 2007, spent less than three weeks in session last year – 18 days in the Senate and 20 days in the Assembly. Meanwhile, they held at least 158 fundraisers, including at least 103 between February 14 when they received the budget and October 23 when they approved it. Many of those events were not backyard barbecues or simple events asking $10 a pop. Golf outings and other fundraisers often demanded several hundred to $1,000 or more per person from wealthy special interests while the budget was being considered. Finally, a legislative committee voted late last year to increase legislative salaries 6.3 percent to $50,438 a year starting in 2008.
Most of the top 10 fundraisers in the Assembly and Senate were legislative leaders, Assembly freshman seeking reelection, targeted Senate incumbents and three incumbents seeking other offices (see Tables 3 and 4).
In the Senate, veteran Republican Senator Alberta Darling led fundraising with $251,560 last year. Darling, of River Hills, faces a strong challenge in November from veteran Democratic Representative Sheldon Wasserman of Milwaukee. Democratic Senator Lena Taylor of Milwaukee was next at $155,207. Taylor, who faces reelection in November, is also running for Milwaukee County executive in the spring elections. Republican Senator Ted Kanavas of Brookfield, who routinely raises as much money as he can even though he has a safe seat, followed Taylor at $121,791.
Three other senators who also raised more than $100,000 – Democrats Dave Hansen of Green Bay, Robert Wirch of Kenosha and Roger Breske of Eland – generally face Republican opponents every four years, often in targeted races.
Assembly fundraisers were led by Republican Speaker Michael Huebsch of Onalaska who raised $100,447. Huebsch follows a long line of Assembly Speakers who are usually the top or among the top fundraisers in the legislature each year because they control the fate of legislative proposals in the Assembly and are often regarded as the second most powerful elected official in state government behind the governor. Behind Huebsch was Democratic Representative Pedro Colon of Milwaukee who raised $85,999. Like Taylor, Colon faces reelection in November but is also running for a local office – Milwaukee city attorney – this spring. Rounding out the top three is Wasserman, who raised $85,883.
Republican Representative Robin Vos of Racine, a member of the budget-writing Joint Finance Committee, raised $58,474 followed by Republican Assembly Majority Leader Jeff Fitzgerald of Horicon who raised $55,585. Republican Representative Brett Davis of Oregon, who represents a district with a close Democratic-to-Republican ratio, raised $48,548.
In addition to legislators, the state's three top constitutional officers collectively raised $1.16 million in 2007. None of them faces reelection until 2010. The trio was led by Doyle, who accepted $942,038 and ended the year with a cash balance of $425,997. The governor held at least nine fundraisers in 2007 – five during the budget process and four after he signed the budget October 26. Four of those nine events asked for between $500 and $2,500 per person to attend.
Republican Attorney General JB Van Hollen raised $208,802 in 2007 and ended the year with a cash balance of $106,403. Democratic Lieutenant Governor Barb Lawton took in $6,985 and ended the year with $26,749 in her campaign account.
For a complete list of the statewide and legislative officeholders and the amounts they raised in 2007 go to the end of this article.
Table 3
Top 10 Senate Fundraisers in 2007
Name
Office
Party
2007
Fundraising
Cash
Balance
Darling, Alberta
S08
R
$251,559.60
$221,702.26
Taylor , Lena C
S04
D
$155,206.86
$124,192.06
Kanavas, Theodore J
S33
R
$121,790.52
$134,474.77
Hansen, Dave
S30
D
$113,070.34
$150,119.76
Wirch, Robert
S22
D
$108,081.19
$115,945.83
Breske, Roger
S12
D
$103,719.83
$108,405.58
Fitzgerald, Scott
S13
R
$85,948.42
$20,110.26
Kapanke, Dan
S32
R
$82,876.99
$85,955.42
Kedzie, Neal
S11
R
$62,897.25
$103,550.53
Miller, Mark
S16
D
$51,358.76
$37,011.28
Table 4
Top 10 Assembly Fundraisers in 2007
Name
Office
Party
2007
Fundraising
Cash
Balance
Huebsch, Michael
A94
R
$100,446.50
$51,285.62
Colon, Pedro
A08
D
$85,998.50
$70,946.90
Wasserman, Sheldon
A22
D
$85,883.36
$272,925.24
Vos, Robin
A63
R
$58,474.46
$72,392.35
Fitzgerald, Jeff
A39
R
$55,585.00
$47,392.41
Davis, Brett H
A80
R
$48,547.56
$41,753.53
Nelson, Thomas
A05
D
$36,348.14
$48,891.50
Moulton, Terry
A68
R
$35,199.56
$56,925.43
Mason, Cory
A62
D
$34,170.47
$28,734.46
Hines, JA
A42
R
$30,777.03
$29,208.61
All Legislators
By Total Raised • Alphabetically • By Cash Balance