Since mid-February, the country has witnessed a heated debate about which presidential candidates are or are not committed to forgoing private financing of their general election campaigns this fall in favor of participating in the presidential public financing system. Reform Network Releases Presidential Candidates'
Final Responses to Political Reform Survey

February 28, 2008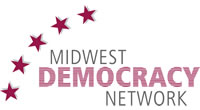 This controversy has attracted widespread news coverage and prompted numerous editorials, including in the New York Times, Washington Post, USA Today, Philadelphia Inquirer and St. Petersburg Times.
To a large extent, this debate has been fueled by conflicting interpretations of Senator Barack Obama's written response to a question concerning his intention to participate in the presidential public financing system. This question was contained in a questionnaire from the Midwest Democracy Network, which all the presidential candidates were invited to answer in the fall of 2007. In addition to campaign finance, the MDN questionnaire covered government ethics, lobbying regulation, federal communications policy, election laws and voting rights, and congressional redistricting. In keeping with a September 2007 pledge not to comment or pass judgments on the candidates' views and positions, MDN does not intend at this point to take sides in disputes over the meaning of their answers. In our view, these are matters better left to voters and the candidates to sort out for themselves.
Despite repeated efforts by the MDN and allied civic groups last fall to persuade all the presidential candidates to lay out for the American people their ideas for strengthening the political system, only former Senator John Edwards and Senator Obama chose to do so. Their full and unedited responses to the questionnaire were publicly released on November 27, 2007.
Because of the extraordinary attention Senator Obama's answers recently attracted, on February 19 MDN once again contacted the remaining major presidential contenders - Senator Hillary Clinton, Governor Mike Huckabee, Senator John McCain, and Congressman Ron Paul - and encouraged them to follow Edwards' and Obama's example by explaining their own views on these issues. We urged the candidates to submit their completed questionnaires by Tuesday, February 26 in order to give voters in next week's critically important primary elections a chance to weigh their positions on issues that continue to concern millions of their fellow Americans. None of these candidates opted to respond.