This past week, several media reports referenced a Midwest Democracy Network (MDN) federal political reform questionnaire that was issued in September 2007. Midwest Democracy Network Statement Calling on Presidential Candidates to Clarify Positions on Public Financing
and Other Reforms

February 19, 2008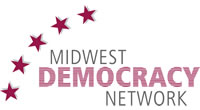 The Midwest Democracy Network, a coalition of over 20 Midwestern civic groups working in Illinois, Michigan, Minnesota, Ohio and Wisconsin, today issued the following statement:
" While the focus on the questionnaire has centered on answers submitted by Senator Barack Obama's campaign, it should be noted that the campaigns of Senator Hillary Clinton, Senator John McCain, Governor Mike Huckabee and Congressman Ron Paul have yet to answer a single question from the questionnaire.
"The MDN respectfully calls on Senators Clinton and McCain, Governor Huckabee and Congressman Paul to join Senator Obama in responding to the MDN federal political reform questionnaire by Tuesday, February 26, 2008.
"As voters in Ohio, Texas, Rhode Island and Vermont prepare to go to the polls on March 4, it is critical that voters know where the remaining candidates stand on a raft of key issues including public financing of presidential campaigns, government ethics, lobbying, media policy, election laws, and redistricting.
"This questionnaire offers the candidates a nonpartisan forum for laying out their positions on these important issues prior to the ultimate nomination of candidates for the general election. And as a result, a number of other organizations – most notably, Common Cause, Public Campaign, and several state League of Women Voters and PIRG organizations – have joined in the call for candidates to respond.
"The President of the United States has a special responsibility to defend and preserve the values, institutions and practices that are so essential to a well-functioning democracy. At a time when young Americans are once again putting everything on the line to make the world safe for democracy in far away and dangerous places, it is not unreasonable to expect presidential candidates to tell the American people how they plan to move us all closer to the more perfect union our nation's founders envisioned."