As state lawmakers decide what to make of a special session on campaign finance reform, a new book released today shows how Wisconsin's political system has grown dysfunctional and how it stacks up against four other states in the Great Lakes region

Taking Democracy's Temperature in the Heartland
New book by Midwest reform network sounds warnings of political decay,
tells of revival of democratic ideals
January 14, 2008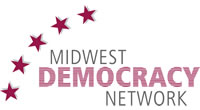 .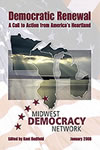 "Democratic Renewal: A Call to Action from America's Heartland" assesses the condition of democracy in Illinois, Michigan, Minnesota, Ohio and Wisconsin, and describes reform efforts in each state.
The book represents a landmark analysis of multiple political systems in a region of the country that is a political bellwether and typically has a decisive impact on national elections. Edited by Kent Redfield, professor of political studies and public policy at the University of Illinois at Springfield, the book is being issued under the banner of the recently created Midwest Democracy Network (MDN), a nonpartisan alliance of public interest groups including the Wisconsin Democracy Campaign, the League of Women Voters of Wisconsin and Common Cause in Wisconsin.
"The five states this book looks at have very different political histories and political cultures, but all five have something in common. Democracy is in serious trouble in each one of them," said Democracy Campaign director Mike McCabe, one of the book's authors. "If you compare Wisconsin's political history to the other four states, we have the most in common with Minnesota. But if you compare the current condition of our democracy to what's happening throughout the Great Lakes region, Wisconsin's recent experience is more like Illinois's and Ohio's."
McCabe added: "It's not that political corruption and the other ills that afflict our democracy are unique to Wisconsin or worse here than in the other states. The book clearly shows otherwise. It's that Wisconsin's political culture has changed more dramatically, and it's been a change for the worse. Wisconsin has fallen farther than any of the other states, and this fall from political grace happened within a single generation. Our state's politics have gone from squeaky clean to badly soiled."
While the book paints a less-than-pretty picture, it also chronicles progress that is being made toward repairing recent damage to the democratic process and restoring public trust. Among the policy advances cited in the book is the ethics enforcement reform law passed last January that creates new tools for fighting government corruption and helps revive meaningful enforcement of ethical standards and accountability in state government. The law replaced discredited enforcement agencies with a politically independent agency under the direction of a nonpartisan Government Accountability Board with broader enforcement powers and an unlimited budget for investigations.
The recently convened special session on campaign reform presents another opportunity to make further progress toward revitalizing democracy in Wisconsin.
The release of "Democratic Renewal" coincides with the launching of a Midwest Democracy Network web site that will serve as a clearinghouse of political reform ideas and projects, policy research and news.
The book makes references to problems plaguing Wisconsin's voter registration system and also the ethical problems dogging state Supreme Court Justice Annette Ziegler. After editing of the book was completed and it went to press, an agreement was reached ending the state's contract with the global outsourcing firm Accenture to develop a computerized statewide voter registration system. Under the terms of the deal, the state recouped roughly $6 million and gained control of the computer software, which had been treated as a trade secret and Accenture's private property under the original contract. Also in recent days, a three-judge Judicial Conduct Panel recommended that Justice Ziegler be reprimanded for judicial misconduct.
The Wisconsin chapter of the book cites several public opinion polls showing that state residents are increasingly concerned about political corruption and are growing more disenchanted with state politics and elected state officials. After the book went to print, findings from several new polls were released. These new poll results show the public's mood has further soured and disillusionment with elected state officials has intensified.
Wisconsin Policy Research Institute poll results released just before Christmas showed a mere 2% of Wisconsin residents believe they can trust state government to do what is right almost all the time. Eighty-two percent of those surveyed say lobbying groups determine what state government spends money on while only 12% believe voters do. And when asked whose interests they think their elected officials represent the most, 10% of respondents said they think their elected officials represent the voters' interests, while 43% think state politicians are working for the special interests and 42% think they are just looking out for their own self-interest.
The Badger Poll by the University of Wisconsin Survey Center released in late December showed public approval of the Wisconsin Legislature's performance dropped 18 percentage points from the levels of public support indicated by polling done by the center five months earlier.
The latest Wisconsin Survey by St. Norbert College also showed an 18-percentage-point drop in the Legislature's job approval rating since the previous opinion survey done in the spring of 2007. When asked by St. Norbert's Survey Center to identify the biggest problem facing Wisconsin, more people than ever said it's government ethics and politics. The percentage of people identifying government ethics as the state's biggest problem nearly doubled from the previous poll conducted in the spring, and on the list of biggest concerns it ranked ahead of jobs and the economy, health care, education, gas prices, crime and drugs, the environment and immigration. Only tax and budget concerns worry a higher percentage of Wisconsinites than government ethics and politics.
St. Norbert's has been doing the Wisconsin Survey since 1994 and the ethics of the state's political leaders didn't register as a concern at all until the spring of 2002.
The entire book, "Democratic Renewal: A Call to Action from America 's Heartland," along with summaries of the authors' state-specific findings and reform recommendations can be found at www.MidwestDemocracyNetwork.org.
The Midwest Democracy Network, established in late 2006, consists of both state-based reform advocacy organizations and national research and policy institutions. Nearly 30 organizations are affiliated with MDN.