Candidates and special interests spent $32.3 million on the 2006 governor's race where surges of vicious and deceptive advertising again hijacked a meaningful discussion of the issues that concern voters, a Wisconsin Democracy Campaign analysis shows.

The Cost Of An Ugly Governor's Race: $32 Million
Secret special interest spending on negative electioneering triples
February 6, 2007
Madison - Candidates and special interests spent $32.3 million on the 2006 governor's race where surges of vicious and deceptive advertising again hijacked a meaningful discussion of the issues that concern voters, a Wisconsin Democracy Campaign analysis shows.
The spending in the latest four-year cycle from 2003 through 2006 spiked 38 percent from the $23.5 million spent in the 2002 cycle and nearly quadrupled the $8.6 million spent in the 1998 governor's race.
The seven candidates for governor and lieutenant governor led by Democrat James Doyle who was reelected to a second four-year term and his Republican opponent Mark Green spent $19.81 million (see Table) during the cycle, including $16.55 million in 2006 alone. In the 2002 governor's race, candidates for governor and their running mates spent $19.2 million.
Table
2006 Gubernatorial Election Cycle Candidate Spending
Candidate
Office
Party
Spending
James Doyle
G
Democrat
$10,551,776
Mark Green
G
Republican
$7,600,171
Scott Walker
G
Republican
$1,167,622
Nelson Eisman
G
Green
$26,729
Barbara Lawton*
LG
Democrat
$321,420
Jean Hundertmark*
LG
Republican
$146,114
Leon Todd
LG
Green
$75
Total
$19,813,907
*Spending totals do not include contributions from Lawton to Doyle and from Hundertmark to Green
Special interest group spending on disclosed electioneering activities – called independent expenditures – totaled $3.1 million in 2006, compared to $1.36 million in 2002 and $750 in the 1998 governor's race.
Most of the sharp increase in the cost of the 2006 governor's race was caused by secret special interest spending on electioneering activities – euphemistically called issue ads – which more than tripled from $2.9 million in 2002 to $9.39 million in 2006. There was no issue ad spending in the 1998 governor's race (see Chart).
Chart
Estimated Issue Ad Spending in Races for Governor
1998-2006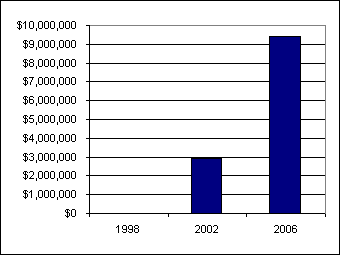 Issue ad groups do not report their fundraising and spending activities because a loophole in the state's campaign finance laws let special interests keep that information secret if their negative ads do not explicitly tell listeners to vote for or against a candidate. Groups that make independent expenditures must file reports with the state that publicly identify their fundraising and spending because their advertisements explicitly tell listeners how to vote. However, anyone who views negative phony issue ads knows who the group sponsoring it supports or opposes without being explicitly told.
Issue ad groups are free to use unlimited labor union and business funds that could not legally be contributed directly to candidates for public office in Wisconsin. In addition to the sources of the funds, the contributions these issue ad groups solicit sometimes greatly exceed the legal limit on contributions that can be made directly to a candidate.
The leading phony issue ad groups were:
Greater Wisconsin Committee, which reportedly spent more than $4 million mostly on radio and television advertisements to slam Green. The committee and a separate 527 group accepted most of its money from Washington, D.C.-based labor unions, the Democratic Governors Association, the Democratic Attorneys General Association, and the Potawatomi tribe. The group's ads against Green questioned his ethics and connections as a congressman with Republican congressional leaders and a lobbyist accused or convicted in pay-to-play schemes. The ads also accused Green of trading votes for campaign contributions from wealthy special interests.
Republican Governors Association, which spent more than $2 million on negative advertisements and mailings to beat up Doyle. Most of the ads accused Doyle of accepting campaign contributions in exchange for expanded tribal gambling agreements, lucrative state business contracts or other favors from his administration.
Wisconsin Manufacturers and Commerce – the state's largest business group and a traditional Republican supporter – which spent a reported $1.5 million on anti-Doyle statewide television ad that criticized the governor for vetoing proposals to cut business taxes, make it harder for people to sue a business for product injury and create tax-deductible health care savings accounts.
All Children Matter, which spent more than $1 million on negative ads against Doyle. This Michigan-based group backs increasing state support and expansion of Milwaukee's school voucher program which uses more than $100 million a year in state taxpayer dollars to send about 17,000 pupils to private and religious schools. None of the group's three television ads against Doyle promoted school choice or even mentioned an educational issue. Like other groups, their ads dwelled on Doyle's ethics, big donors getting lucrative state contracts and a Doyle administration employee who was criminally convicted for steering a state contract to a Doyle contributor.
Special interest groups also spent $3.1 million on independent expenditures in the governor's race. There is no limit on the amount of independent expenditures a group can make but they must publicly report their fundraising and spending activities, obey campaign contribution limits and cannot use corporate money on these activities. The biggest spenders were:
Wisconsin Education Association Council – the state's largest teachers union and longtime Democratic supporter – which spent $1.78 million on negative television advertisements accusing Green of casting congressional votes that favored giveaways to drug manufacturers over efforts to make prescriptions more affordable for seniors and that helped big oil companies increase profits at the expense of escalating gasoline prices.
National Rifle Association Political Victory Fund which spent $511,960 on a "Dump Doyle" radio ad, bumper sticker and billboard campaign as well as television and radio advertisements that called Doyle a threat to sportsmen and personal freedom because he vetoed a bill to let people carry concealed weapons. The group also spent another $179,797 on ads, billboards and other activities to support Green and his running mate, Jean Hundertmark.
American Federation of State, County and Municipal Employees (AFSCME) which spent $329,658 on radio ads, canvassing, posters, T-shirts and other electioneering activities to support Doyle and oppose Green.
Planned Parenthood which spent $174,888 on mailings, advertisements and automated telephone calls to support Doyle and his running mate Barbara Lawton and to oppose Green and Hundertmark, for their positions on a number of abortion-related proposals in the past, including allowing pharmacists to refuse to fill prescriptions for birth control.
Greater Wisconsin Committee PAC which spent $50,110 mostly on advertising to support Doyle and criticize Green. However, the group spent an additional $76,281 on advertising that was not identified as independent expenditures and not identified with a particular race.
The Democracy Campaign's calculation of the total cost of the governor's race was based on state Elections Board and Internal Revenue Service documents, ad-buy data, information on electioneering activities from around the state submitted to WDC's Hijack Hotline and media reports.