ore than 40 citizens picketed in front of the Supreme Court chambers today for fair and impartial courts – and judges who are accountable to the law, not beholden to special interests.

Citizens Demonstrate for Judicial Ethics

May 7, 2007

Madison - MThe Ruckus Corps of citizen activists that has grown out of the People's Legislature formed the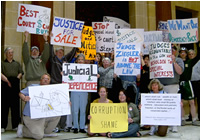 core of the assembly of concerned citizens who made the point that judges and politics don't mix, protesting in particular the recent election for state Supreme Court which turned out to be the ugliest, most expensive and most partisan high court race Wisconsin has ever seen.
Today's demonstration came a day before a Senate committee is scheduled to vote on three reform proposals, including the Impartial Justice bill (SB 171) and the Judicial Right to Know bill (SB 170) as well as truth-in-campaigning legislation (SB 77) requiring full disclosure of special interest group electioneering.
The People's Legislature is a multi-partisan citizen assembly dedicated to creating a statewide, grassroots movement in support of political reform. It is co-sponsored by the Wisconsin Democracy Campaign, Fighting Bob Inc., Center for Democratic Action and Latinos United for Change and Advancement.