Five wealthy special interests from Wisconsin contributed $260,000 in the first three months of 2006 to two leading Democratic and Republican organizations that collect and spend unlimited amounts of money on negative ads and mailings to influence voters, the Wisconsin Democracy Campaign has found.

Governors Associations Playing Money Laundering Role in '06 Wisconsin Race

April 20, 2006

Madison -

The Democratic Governors Association accepted $160,000 from four contributors and the Republican Governors Association reeled in $100,000 from two contributors. One of the contributors, Johnson Controls, gave money to both organizations (see tables below).

These donations, which are being used to influence Wisconsin's race for governor between incumbent Democrat Jim Doyle and likely GOP nominee Mark Green, are being routed through the governors associations because it is illegal under state law for individuals to directly contribute a total of more than $10,000 in a year to political candidates, parties and committees, and corporations and unions have been prohibited since 1906 from making direct contributions to candidates, parties and committees from their treasuries.

Wisconsin Contributions to the Democratic Governors Association
January 1, 2006 – March 31, 2006
Contributor
City
Employer
Amount
Lynde Uihlein
Milwaukee
Brico Fund
$100,000
Johnson Controls
Milwaukee
Not Applicable
$40,000
Credit Union National Association
Madison
Not Applicable
$15,000
Thrivent Financial for Lutherans
Appleton
Not Applicable
$5,000
TOTAL
$160,000
Wisconsin Contributions to the Republican Governors Association
January 1, 2006 – March 31, 2006
Contributor
City
Employer
Amount
Johnson Controls
Madison
Not Applicable
$75,000
Monster.com
Milwaukee
Not Applicable
$25,000
TOTAL
$100,000
Here is a brief description of the Democratic and Republican governors associations' latest benefactors:
Lynde Uihlein is heir to the Schlitz Brewing and Allen-Bradley fortunes and a Milwaukee philanthropist active in Democratic causes and women's issues. She is one of Wisconsin 's leading contributors to shadowy 527 groups, giving them $236,000 from 2002 through 2004.
Johnson Controls is a multi-national Fortune 500 company with nearly $28 billion in sales in 2005 and 120,000 employees in more than 500 locations worldwide that produce dozens of automotive and building heating and safety products.
Monster.com is an internet job listing and search website with offices worldwide.
Credit Union National Association is the credit union industry's national trade association based in Washington D.C. and Madison.
Thrivent Financial for Lutherans, formerly known as Aid Association for Lutherans, is a Fortune 500 company that offers financial and insurance products to nearly three million customers.
The Democratic and Republican governors groups are among hundreds of unregulated political nonprofit organizations known as 527s, a reference to the U.S. Internal Revenue Service code that governs them. These groups, which include the more commonly known Swift Boat Veterans for Truth, America Coming Together, GOPAC and MoveOn.org, can accept and spend unlimited amounts of money on negative direct mail and issue advertising campaigns.
A preliminary review of financial reports available for 52 of these organizations that have historically received Wisconsin contributions found the two governors groups and 15 others received a record-smashing $358,546 in Wisconsin donations in the first quarter of 2006 (see chart below).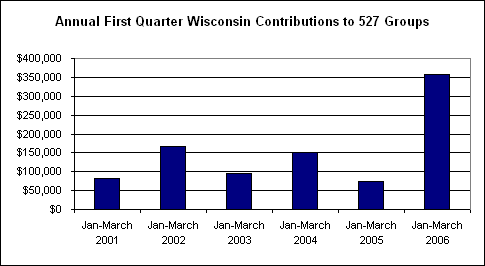 With hundreds of reports yet to be reviewed, the preliminary total is already more than double the amount of Wisconsin contributions in any annual first quarter since 2001, the first full year in which 527 financial reports had to be filed with the IRS. In comparable election year first quarters, 527 groups received $152,142 in 2004 and $166,409 in 2002 from Wisconsin contributors.
The Democratic Governors Association has said it would use the contributions it gets to help Doyle get reelected. Last year after it received $360,000 from Wisconsin tribes and corporations, the association donated $300,000 in August to the Greater Wisconsin Committee, an unregulated Democratic-leaning group. A few days after getting the money, the committee launched a series of television ads praising Doyle for the tax and education policies in his 2005-07 state budget.