Special interests spent a record $6.65 million on mostly negative advertising and mailings in 2004 legislative elections, more than quintupling what they spent a mere eight years ago and far surpassing what candidates in the most competitive races spent on their own campaigns, a Wisconsin Democracy Campaign analysis shows.

Special Interest Campaigning Reaches New Peak
Shadow Group Spending in State Races Up 454% in 8 Years
February 21, 2005
Madison -
The outside spending groups, including the state's largest teachers union, Wisconsin Education Association Council (WEAC), powerful business lobby Wisconsin Manufacturers & Commerce (WMC), other commercial interests and a collection of shadowy front groups, poured an estimated $4.3 million into unreported "issue" advertising and sponsored $2.35 million worth of fully disclosed campaign ads known as independent expenditures.
Issue ads are typically broadcast advertising or direct mail appeals that clearly support or oppose a candidate but avoid words like "vote for" or "vote against." A loophole in Wisconsin's campaign finance laws allows communications that perform this semantic dance step to be paid for with unregulated and undisclosed funds known as "soft money," including illegal corporate contributions. Independent expenditures are spent on radio, TV and newspaper ads, billboards, direct mail and phone calls to explicitly support or oppose candidates. Unlike issue ads, sponsors of independent expenditures must identify themselves, disclose their spending and the source of funds used to pay for the activity, and abide by campaign contribution restrictions.
Compared to previous election years, the amount of unregulated soft money spent on issue advertising continued to grow in 2004 while the amount spent on disclosed independent expenditures held steady (see chart below).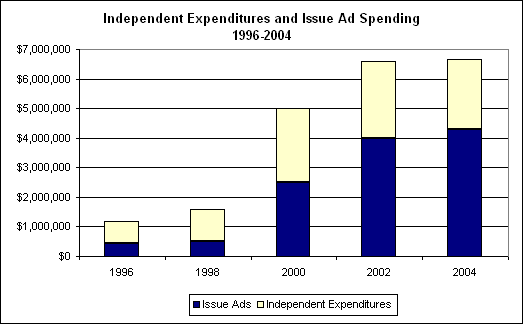 The $6.65 million interest groups running their own campaigns for or against candidates spent in 2004 was even more than the $6.6 million spent on such electioneering in 2002, which featured a $23 million race for governor. It is 33 percent more than the $5 million groups spent in 2000 and 454 percent more than the $1.2 million they spent in 1996.
Last week, the Democracy Campaign reported that candidates and committees controlled by legislative leaders spent $9.94 million on their 2004 campaigns. The $6.65 million in interest group spending on state legislative races brings the total cost of 2004 legislative campaigns to about $16.6 million.  
Most expensive races
In targeted races, outside special interests kidnapped the elections, grossly outspending the candidates. In the 22nd Senate race pitting incumbent Democrat Robert Wirch against Republican challenger Reince Priebus, total campaign spending was an estimated $2.2 million, according to the Democracy Campaign's analysis. Special interests accounted for an estimated $1.7 million of that in issue advertising and independent expenditures. Wirch, who won, and Priebus spent a combined $531,081.
Another race hijacked by special interests was for the open seat in the Senate 32nd District where they outspent the candidates by a 2-to-1 margin. WDC puts the race's total price tag at $1.5 million. Issue ads and independent expenditures in the race totaled about $1 million, compared to the combined $480,038 spent by Republican Dan Kapanke, who won, and Democrat Brad Pfaff.
Campaigns in two other Senate districts - the 30th District race pitting incumbent Democrat Dave Hansen against Republican challenger Gary Drzewiecki and the 12th District race featuring incumbent Democrat Roger Breske and Republican challenger Thomas Tiffany - came close to $1 million in total spending.  
Cast of interest group characters
Groups actively working to influence the outcome of 2004 elections included some new groups as well as familiar faces thanks to the lack of movement on comprehensive campaign finance reform by the Legislature and Governor Jim Doyle.
There were 24 groups that reported spending $2.35 million on independent expenditures in 2004 but $1.9 million of it was spent by WEAC to support Democratic candidates. The union spent $569,270 in support of Wirch. It spent nearly $800,000 on three additional Senate races, in the 32nd to support Pfaff, in the 30th to support Hansen and in the 12th to support Breske.
Only two other groups spent more than $100,000 on independent expenditures - the Wisconsin Builders Association and the Wisconsin Farm Bureau Federation. The builders spent $133,061 and the agribusiness federation spent $104,794 in support of mostly Republican candidates.
Issue ad groups were led by WMC, the Wisconsin Realtors Association, the construction industry and other business groups supporting Republican candidates that roughly matched WEAC's spending on behalf of Democrats.
Among the issue ad groups active in state races in 2004 were several front groups with motherhood-and-apple-pie sounding names. For example, All Children Matter, a Michigan-based group led by Amway founder Richard DeVos, a multi-millionaire who slipped across the border to sponsor well over $500,000 worth of ads in some 16 legislative races on property tax issues and in support of Republican candidates who favor the state's school voucher program that lets Milwaukee students attend private schools at public expense.
Two groups that supported Democratic candidates were among the most prominent sponsors of undisclosed issue ads. Americans for a Brighter Tomorrow was heavily involved in the 32nd Senate race favoring Pfaff but was best known for an ad it ran in the 80th Assembly race that called Republican candidate Brett Davis a "right wing zombie." Another group, the Greater Wisconsin Committee, ran advertisements in Assembly and Senate races across that state that promoted Democratic positions on education and health care reform and strongly criticized a proposed GOP property tax freeze plan.
For more on issue ad groups active in 2004 election campaigns, go here.
"Candidates are becoming little more than pawns in today's elections, as campaigns in Wisconsin are being outsourced to phony front groups that are doing the dirty work for their special interest sponsors," WDC executive director Mike McCabe said. "The money in state politics is increasingly moving under the radar and voters are left in the dark about who's really paying for election campaigns, all thanks to a loophole in the law the U.S. Supreme Court says can and should be closed."
A campaign finance reform bill introduced this session as Senate Bill 46 and scheduled for a public hearing next month does not require interest groups to disclose their campaign donations and abide by the campaign contribution limits in current law. The soft money loophole that remains intact in the proposed legislation also allows groups to get around Wisconsin's century-old ban on corporate campaign contributions. In contrast, last session's bipartisan Senate Bill 12 required full disclosure of campaign finances and closed the loophole that currently enables special interests to make undisclosed and unlimited soft money donations.