Republican legislators and Democratic Governor Jim Doyle have received nearly $8 million or 3.8 times more in campaign contributions from wealthy supporters than from opponents of an environmental deregulation bill and another proposal to ease the financial and legal liability of big business, a Wisconsin Democracy Campaign analysis shows.

Environmental Deregulation Littered with Big Money
GOP, Doyle got nearly four times more from supporters of bills than opponents
Posted: April 12, 2005
Madison –
The proposals, Assembly Bills 277 and 278, have been dubbed the "Job Creation Act II" by supporters which include business, manufacturers, agriculture, construction, road builders, transportation, utilities, paper companies and telecommunications giant SBC. Conversely, the bills have been called "Dirty Air" or "anti-conservation" measures by opponents which include the AFL-CIO, lawyers, environmentalists and local governments.
Overall, the bills' special interest supporters have made $8.83 million (Table 1) in large individual and political action committee contributions to the legislature and the governor since 1993 including $7.7 million to GOP legislators, who control the Legislature, and Doyle. The bills' opponents have contributed $2.58 million to the governor and legislators (Table 2), including $2.05 million to Doyle and Republican lawmakers.
The $5.68 million supporters gave to Assembly and Senate Republicans, who have authored and co-sponsored the bills, is 12.7 times more than the $448,452 that GOP lawmakers have received from the bills' opponents (see chart below).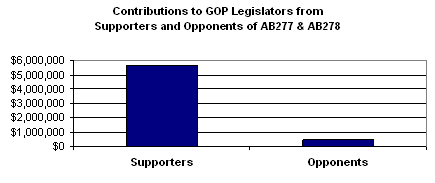 The $2.02 million Doyle accepted from big business and other wealthy supporters of the bill who are traditionally Republican allies is 26 percent more than the $1.6 million he accepted from the bills' opponents who are usually Democratic allies.
Generally, the bills are aimed at attracting businesses and encouraging existing ones to stay and expand by relaxing limitations and requirements on air pollution and construction permits, limiting the ability of citizens and local and state law enforcement from suing businesses, setting standards for admissible expert testimony in court cases against businesses and eliminating the ability of workers to sue corporate shareholders for the wages failed businesses owe them.
Most of the top 10 recipients of campaign contributions from both supporters and detractors of the bills are legislators who have been in targeted races in recent elections and former and present legislative leaders and the legislative campaign committees they control.
The Committee to Elect a Republican Senate, State Senate Democratic Committee, Republican Assembly Campaign Committee and Assembly Democratic Campaign Committee have received $1.33 million. Bill supporters have given these committees, which are used to attract special interest campaign contributions that legislative leaders use at election time to get their colleagues elected, five times more than bill opponents.
Other top recipients include former Republican Assembly Speaker Scott Jensen and present Republican Assembly Speaker John Gard. The Speaker, who is often regarded as the second most powerful state officeholder behind the governor, determines what legislation is approved or rejected in the Assembly.