The multipartisan citizen movement known as the People's Legislature today called for a special session on political reform to address growing corruption in Wisconsin politics and rehabilitate the state's ailing democracy.

People's Legislature to Lobbyists' Legislature: Sweep It Clean
Grassroots Reform Movement Calls for Special Session on Reform
October 27, 2005

Madison -
Participants in a People's Legislature rally today at the Capitol called for action on four reform measures during the special session, including:
Assembly Bill 626, bipartisan campaign finance reform legislation modeled after the successful clean money systems in Arizona and Maine;
Senate Bill 1, an aggressive ethics enforcement measure that replaces the dysfunctional state Elections Board and Ethics Board with an independent Government Accountability Board; and
Assembly Joint Resolutions 22 and 41, which would create competitive elections through reform of legislative redistricting to end partisan gerrymandering of voting districts.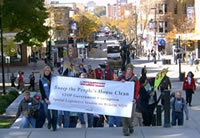 At the noon rally, many of the participants brandished brooms to drive home the point that the Capitol needs to be swept clean. They then showered the governor's office and the offices of their state legislators' with fliers calling for the special session (attached).
"The big donors and the $200-an-hour lobbyists don't want these reforms and neither do the lawmakers they own. But this is what it will take to root out corruption at the Capitol, revive our comatose democracy and restore the public's faith in elected officials," Wisconsin Democracy Campaign director Mike McCabe said, noting a recent poll showing only 6 percent of state residents feel public officials are representing them.
"There is a cancer growing in state government and those in charge want to treat it with the equivalent of acne cream. We need a full-strength cure," McCabe added. "To justify their foot dragging on reform, lawmakers are fond of saying that nobody cares about political corruption or campaign donations or campaign finance reform. Look at how many 'nobodies' came today to show they care."
Carol Lobes of the nonpartisan Center for Democratic Action, another sponsor of the People's Legislature, said, " It is clear that this Legislature, as a body, does not represent the people. Somehow the idea of the 'common good' has gotten lost in all the influence peddling, in a culture of special interest 'pay for play.' We need the common good to be common again."
Leading up to today's rally for reform at the Capitol, the People's Legislature held a series of citizen assemblies around the state. The first was held January 4 in Madison and drew more than 1,100 people. Regional forums were then held later in January in La Crosse, in Cable in March, in Milwaukee in April and in the Green Bay-area town of Luxemburg in May. A People's Legislature assembly also convened September 10 at Fighting Bob Fest in Baraboo, which attracted more than 5,300 people.