Democratic Governor Jim Doyle accepted $41,550 in campaign contributions from two utilities shortly after a state panel controlled by Doyle appointees first denied, then reopened and approved the controversial $220 million sale of the utilities' Kewaunee nuclear power plant, a Wisconsin Democracy Campaign analysis shows.

Contributions Recharge Nuke Plant Sale
Nuke plant sale denied, then approved after campaign contributions flow
December 6, 2005
Madison -
Wisconsin Public Service of Green Bay and Alliant Energy of Madison announced November 7, 2003 they wanted to sell their plant to Virginia-based Dominion Resources, and on December 19, 2003 the two utilities asked the state Public Service Commission to approve the deal.
Meanwhile, utility executives had ramped up their contributions to Doyle in 2003, giving him $23,270 in 2003, compared to $14,320 between 1993 and 2002. More than half of those contributions - $12,670 from WPS - were accepted by Doyle on October 31, 2003, a week before the utilities' announced a deal to sell the plant to Dominion.
After the December 2003 application to the PSC to sell the plant, Dominion executives gave $2,000 to Doyle's campaign on January 31, 2004 - the first and only contributions by any Dominion executive to a Wisconsin candidate before or since.
After hearings on the proposal in June 2004, the PSC voted 2-1 November 19, 2004 against the sale, citing concerns about the state's ability to regulate rate increases, nuclear waste storage and other economic, health and safety factors. PSC Chairwoman Burnie Bridge and Commissioner Mark Meyer, who were appointed by Doyle, opposed the sale.
Doyle's campaign finance reports show he received $27,750 from Alliant and WPS executives that month, including $25,650 on November 29, 2004. On December 20, Dominion submitted another application asking the PSC to approve the deal, and the commission reopened the case January 13, 2005.
The PSC refused to hold a second round of public hearings on the new application to sell the plant, even though Dominion's proposal reportedly contained several new conditions.
The sale was unanimously approved March 17, 2005. WPS and Alliant executives, who had not contributed to Doyle since the previous November, gave the governor $15,900 between March 9 and April 8, 2005.
"Whenever it was time for a decision to be made, they were at Doyle's doorstep with campaign contributions," said WDC executive director Mike McCabe (see chart and chronology below).
Bridge defended the commission's turn-about, saying Dominion's revised application and other changes protect the ratepayers more than the first application.
But critics, including the Citizens' Utility Board and the Municipal Electric Utilities of Wisconsin, say the new deal still means the power plant will eventually be exempt from PSC rate-setting, construction and other state oversight.
Two weeks after the March 17 nuclear plant decision, Bridge left the PSC to become a Department of Health and Family Services administrator.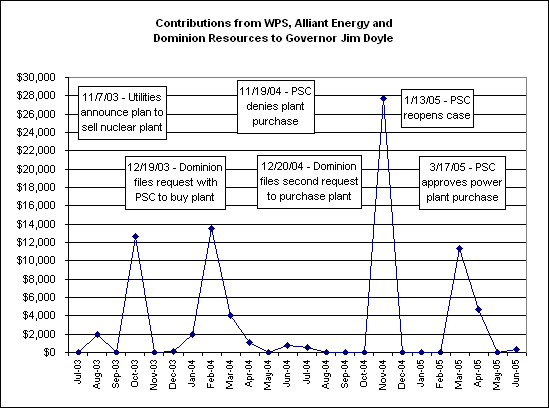 Chronology of Public Service Commission Action on the
Kewaunee Nuclear Power Plant Sale
and Campaign Contributions to Governor Jim Doyle
by Wisconsin Public Service, Alliant Energy and
Dominion Resources Executives and Political Action Committees
| Date | Development |
| --- | --- |
| October 31, 2003 | WPS executives contribute $12,670 to Doyle. |
| November 7, 2003 | WPS and Alliant announce deal with Dominion to sell Kewaunee nuclear plant. |
| December 19, 2003 | Dominion files request with Public Service Commission to buy Kewaunee plant. |
| January 31, 2004 | Dominion executives contribute $2,000 to Doyle. |
| November 19, 2004 | PSC rejects proposed sale of Kewaunee plant. |
| November 29, 2004 | WPS and Alliant executives contribute $25,650 to Doyle. |
| December 20, 2004 | Dominion files revised request with PSC to purchase Kewaunee plant. |
| January 13, 2005 | PSC reopens case. |
| March 9 – April 8, 2005 | WPS and Alliant contribute $15,900 to Doyle. |
| March 17, 2005 | PSC approves sale of Kewaunee plant. |
| March 31, 2005 | Doyle reassigns PSC Chairwoman Burnie Bridge. |