Local television stations in Madison aired over 33 hours worth of political ads in the three weeks leading up to the November 5 election, but devoted only a few minutes a night to campaign news coverage and mere seconds to candidates discussing issues, a Wisconsin Democracy Campaign analysis of evening newscasts in the Madison TV market shows.

Madison TV Aired Hours of Political Ads, Minutes of Election News in Final Weeks of 2002 Campaign
WISC a bright spot on dreary local TV landscape, however
January 28, 2003
Madison -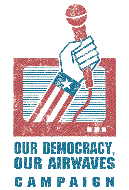 "The stations basically said, 'let 'em eat ads,'" WDC executive director Mike McCabe said.
WDC monitored the 5 p.m., 6 p.m. and 10 p.m. newscasts on Madison's three major network affiliates - WKOW 27 (ABC), WISC 3 (CBS) and WMTV 15 (NBC) - in the final three weeks of the 2002 campaign. The monitoring took a snapshot of coverage on nine nights - October 15-17, October 23-25 and November 2-4.
The Democracy Campaign's report precedes the release of results of monitoring of newscasts nationwide, including those aired on stations in Milwaukee. The national analysis, led by the University of Southern California, is expected in mid-February.
The WDC analysis shows:
The three major network affiliates in Madison devoted an average of 18 seconds per newscast and 46 seconds per night to candidate discourse. The three stations devoted an average of 1 minute, 40 seconds per newscast and 4 minutes, 22 seconds per night to overall election campaign coverage.
WISC was responsible for the three-station average being as high as it is, airing over three times as much candidate discourse as WMTV and nearly four times as much as WKOW. The local CBS affiliate averaged 35 seconds per newscast and 1 minute, 29 seconds per night of candidate discourse. WISC averaged 2 minutes, 38 seconds per newscast and 6 minutes, 43 seconds per night of overall campaign news coverage.
WKOW aired the least candidate discourse, averaging nine seconds per newscast and 23 seconds per night. The local ABC affiliate averaged 1 minute, 20 seconds per newscast and 3 minutes, 32 seconds per night of election campaign coverage.
WMTV averaged 10 seconds per newscast and 27 seconds per night of candidate discourse. The NBC affiliate aired the least overall campaign coverage, averaging 1 minute, 4 seconds per newscast and 2 minutes, 52 seconds per night of election-related news.
While WISC easily outpaced its rivals in the quantity of campaign coverage, the station distinguished itself even more in terms of the quality of its coverage, McCabe said.
WISC's "Campaign Roadtrip" series focused on identifying the issues citizens in different parts of the state were most concerned about and then gave the major candidates for governor a chance to state their views on those issues.
"WISC deserves credit for breaking the mold of local television political coverage and giving viewers issue-oriented, candidate-centered information," McCabe said.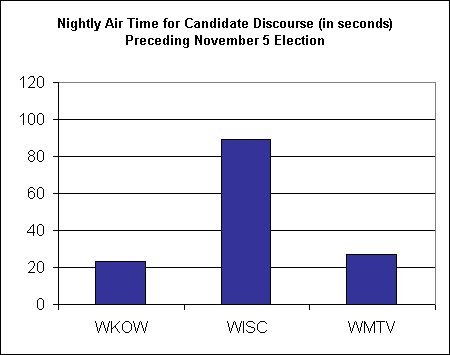 In stark contrast, WMTV and WKOW provided horserace coverage of state and national campaigns, giving viewers a steady diet of poll results and few opportunities to hear candidates discuss issues, he said.
WKOW's coverage was particularly bleak, McCabe said. Rather than focusing on the state budget crisis, health care or other issues voters were concerned about, the ABC affiliate's election-related coverage dwelled on the controversy surrounding a state Democratic Party bingo party in Kenosha and then-Governor Scott McCallum's use of state airplanes, he noted.
One of the few other campaign-related stories that aired on WKOW highlighted an election Wisconsin voters couldn't participate in - a States Attorney race in North Dakota between a husband and wife.
"Taken as a whole, WKOW's coverage did more harm than good. It told voters who was likely to win, but gave them little meaningful information they could use to make up their own minds," McCabe said. "It was so bad that doing no campaign coverage at all actually would have been an improvement."
The problem at WKOW traces to the attitude of top station management toward covering political news, he said. At an October 16 public forum, WKOW general manager Bob Miller said it is not his obligation to educate citizens about political candidates and issues. He said his role is to find entertaining programming that will attract the highest number of viewers, and in turn sell advertising time. Miller's remarks were reported in a Madison newspaper the following day.
Miller also said the public doesn't want more political coverage. "I can hear the click of the remote control. It's deafening," he said.
But McCabe said the fact that local ratings leader WISC is providing by far the most extensive campaign coverage proves Miller is wrong.
"Channel 3 did the best job of covering the 2002 campaign by a long shot, and viewers didn't tune out," he said.
U.S. Senators John McCain (R-Arizona), Russ Feingold (D-Wisconsin) and Richard Durbin (D-Illinois) have introduced free air time legislation that would require television and radio stations to air a minimum of two hours per week of candidate-centered or issue-centered programming in the six weeks preceding a primary or general election. Half of this programming would have to air between 5 p.m. and 11:35 p.m., and
no segment that airs between midnight and 6 a.m. would count toward meeting the requirement.
"Two hours a week of issue-oriented campaign coverage in the weeks leading up to an election sounds like a lot compared to what the local stations are doing now," McCabe said. "But when you consider that they ran 33 hours worth of political ads in the three weeks before the November election and made nearly $1.3 million off the sale of that air time, it is not much to ask of them to give us two hours a week of substantive coverage."
Number and Cost of Political Ads by Station
October 16 to November 5, 2002
Station
Number of Ads
Estimated Cost
WKOW (ABC)
1,242
$277,511
WMTV (NBC)
1,510
$458,798
WISC (CBS)
1,235
$524,176
TOTAL
3,987
$1,260,485
Source: Campaign Media Analysis Group and the Alliance for Better Campaigns