Large contributions from wealthy out-of-state donors to Wisconsin candidates for statewide office and the Legislature soared to a record $1.2 million in 2002 - a third of it to Democratic Governor Jim Doyle - a Wisconsin Democracy Campaign analysis released today shows.

Out-of-State Donors Pour Record Cash into State Races
Contributions from outside Wisconsin topped $1.2 million in 2002
June 2, 2003
Madison -
The 2002 total shattered the previous high for out-of-state contributions - $564,795 in 2001 (see chart below). It also represents a 142 percent increase over total out-of-state contributions during the last gubernatorial election year in 1998 and a 172 percent increase over the 1994 election year.
TOTAL ANNUAL OUT-OF-STATE CONTRIBUTIONS TO WISCONSIN CANDIDATES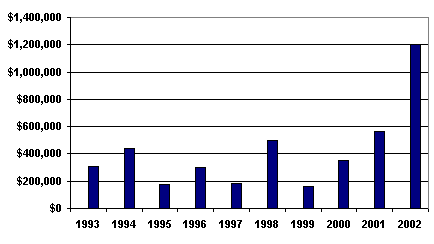 Banking and financial interests contributed the most - $186,524 - followed by lawyers and lobbyists at $144,307 (Table 1). The banking industry has an interest in preserving state tax loopholes that allow many of the largest institutions to pay little or no Wisconsin income taxes. State figures show corporate taxes paid by banks declined from $39.2 million in 1996 to $17.9 million in 2000. They have also fought to preserve a $1.1 million a year tax exemption for their automated teller machines and a law that forces companies that file for bankruptcy to pay money owed to banks before paying salaries owed to workers.
"The more graft they pay, the less tax they pay," WDC executive director Mike McCabe said of banks and financial interests.
Within the banking and finance industry, out-of-state payday lenders led with $52,300 in contributions to Wisconsin candidates. Payday lenders have opened more than 200 locations in Wisconsin in the past six years and simultaneously have become among the top out-of-state special interest campaign contributors since 1999. They have successfully killed legislation to restrict the triple-digit interest rates they charge customers and they favor legislation that would exempt them from the state's consumer protection laws.
Members of the 2003 Legislature received $31,350 in 2002 from payday lenders - the most of any out-of-state special interest.
Doyle received a record amount of out-of-state contributions - $396,240 - from a variety of interests (Table 2) including $80,825 from attorneys, $30,000 from owners and executives of a Michigan-based high-interest lender called Loan Giant and $22,550 from engineering and construction management concerns. The previous high from out-of-state donors in one year to a single candidate was $325,693 to former Republican Governor Tommy Thompson in 1994.
Doyle's take represents 33 percent of the $1,204,500 in contributions from out-of-state donors to Wisconsin candidates in 2002.
Doyle's opponent, former Governor Scott McCallum, accepted $166,958 from out-of-state contributors in 2002, including $19,843 from insurance companies and agents, $15,000 from commercial printers and $8,100 from retirees.
The owners of Loan Giant and the Chicago Wolves hockey team and a Massachusetts college professor and his wife were among the largest out-of-state contributors to Wisconsin candidates (Table 3). Other notables on the list include John and Christy Walton, the owners of Wal-Mart whose political interests in Wisconsin include promoting school choice and repealing the state's minimum markup law, and Corrections Corp.of America director Henri Wedell who has a $50 million a year contract with the state to house Wisconsin inmates in CCA's private prisons outside of Wisconsin.
"Our state elected officials are supposed to be representing the people of Wisconsin, but they are becoming increasingly beholden to people who don't live here. Voters here are losing leverage with their own elected representatives by the day because of the growing influence of out-of-state interests," McCabe said. "Wisconsin politicians should not be taking money from people who can't vote for them. These out-of-state donors are looking to buy political favors and they are getting a handsome return on their investment, at the expense of ordinary Wisconsin citizens."