Local television stations around the country jacked up the prices of candidate ads by an average of 53% in the two months before the 2002 election, exploiting a campaign-driven spike in demand, according to a study released today by the national Alliance for Better Campaigns.

TV Industry Profiteering on Democracy

July 23, 2003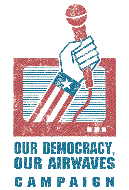 The study analyzed the sale of more than 37,000 political ads on 39 local stations in 19 states. Two Wisconsin stations were included in the survey - Madison's WISC and WMTV. WISC's price increases in the final weeks of the 2002 campaign averaged 92%, while WMTV's ad prices increased an average of 47%.
The Wisconsin Democracy Campaign is a state partner of the Alliance for Better Campaigns and collected ad sale data from the public files of the local TV stations for the study.
The price hikes by television stations around the country occurred despite a three-decades old federal law that is supposed to prevent such pre-election profiteering.
The study was released on the same day as a Senate Commerce Committee hearing on the public interest obligations of broadcasters. At that hearing, Arizona Senator John McCain said he will be introducing the Our Democracy, Our Airwaves Act next week.
The bill will be similar to one introduced in the 107th Congress requiring broadcasters to air more issue-centered or candidate-centered programming and providing candidates and national committees of political parties with free air time.
The Lear Center at the University of Southern California's Annenberg School for Communication also released its study today of election news on 122 local television stations, including three Milwaukee stations. That study found that 56% of the top-rated half-hour news broadcasts aired in the seven weeks before Election Day in 2002 did not contain a single campaign story, and the stories that did air primarily focused on strategy and horse race coverage, rather than issues.