Promises that the state budget would be balanced, taxes would not be increased and the pain of solving the fiscal crisis would be universally shared were all broken because the Legislature and governor refused to require their wealthy donors to sacrifice in order to close the state's $3.2 billion deficit, a Wisconsin Democracy Campaign analysis shows.

A '3-Lie Budget'
Legislators, Governor Break Promises, Hand More Perks to Big Donors, Up 'Graft Tax' to $1,358 Per Taxpayer
August 11, 2003
Madison -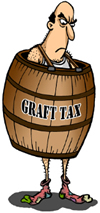 Despite the massive budget shortfall, Democratic Governor Jim Doyle and the Republican-controlled Legislature gave special interests at least $203.8 million worth of additional tax breaks, pork barrel spending and other policy favors - at a cost of about $53 to each of Wisconsin's nearly 3.9 million taxpayers.
The budget and other legislation approved by the Legislature and signed by the governor will increase the annual cost of special interest perks to $1,358 for each Wisconsin taxpayer. Moreover, the 2003-05 state budget charges Wisconsin taxpayers, seniors, college students and others hundreds of dollars a year each in higher taxes and fees because lawmakers' wealthy donors were not asked to "share the pain."
The "pain" imposed on special interests was a paltry $1 million-a-year cut in state subsidies to ethanol producers - equivalent to a savings of about 25 cents a year for each Wisconsin taxpayer.
"This is a three-lie budget," WDC executive director Mike McCabe said. "The people of Wisconsin were promised a balanced budget, but a large structural deficit remains because lawmakers continue to rely on Enron-style accounting to make the books appear to be balanced. Legislators and the governor repeatedly said there would be no tax increases, but there are hundreds of millions of dollars in tax increases disguised as'fees.' And it was promised countless times that there would be shared sacrifice. Ordinary citizens did all the sacrificing. Wealthy donors were spared any pain."
WDC highlighted a variety of tax breaks, pork barrel spending and other policy favors in two previous reports, "The Graft Tax" and "Graft Tax (Part 2)," and "Graft Tax Scorecard" which tracked ongoing developments in the 2003-05 state budget debate. Each identified policy and spending items that benefited narrow special interest campaign contributors at the expense of the general public - a tab picked up by ordinary taxpayers that WDC dubbed a "graft tax."
The two previous reports tallied dozens of sales and property tax exemptions, corporate tax breaks, road and capital building projects, a sweet pension deal and other items that cost Wisconsin taxpayers $5.03 billion a year or $1,305 each.
The latest state budget, plagued with a deficit spawned in part from years of breaks and pork barrel spending for special interests, brought hope that policymakers would even the scales between what the general public gives and special interests get. Instead, they made things worse.
Special interests kept the $5 billion in breaks they had and several big money players gained more, including:
The business community, which has contributed $36.7 million since 1993, managed to reduce its ever-shrinking share of taxes even more through passage of a new corporate tax break - the single sales factor formula - to eventually cut their taxes $45 million a year;
The construction industry, which has contributed $4.85 million to candidates for statewide office and the governor since 1993 to encourage an unprecedented prison-building spree that has meant hundreds of millions of dollars to the industry and continuous increases in the corrections budget, will tag taxpayers for an additional $54 million over the next two years;
Road builders and associated unions, who have contributed $2.05 million since 1993 in exchange for a road construction and rehabilitation program that has spent billions to lay and maintain new pavement, got an additional $77 million increase to about $1.8 billion over the next two years;
The agriculture industry, which has contributed $1.45 million since 1993, planted a $26 million tax break for agricultural forestland in the budget on top of a property tax formula on croplands that has saved them $767 million since 1995;
The paper industry, which has contributed $488,608 since 1993, got a $1 million recycling fee exemption to remove and dispose of toxic PCBs in the Fox River that the industry was principally responsible for putting there;
The Wisconsin Health and Hospital Association, the trade group of the hospital industry, which has contributed $469,442 since 1993, got handed a $750,000 no-bid contract to collect and process sensitive medical information of benefit to the industry.
In addition to paying for breaks of direct benefit to special interests, the budget increases "fees" by $411 million including about $359 million that directly affects the general public, including:
Drivers will pay $106.9 million in increased vehicle registration, titling and environmental impact fees;
Hunting and fishing licenses will cost $11.6 million more;
People enrolled in SeniorCare, BadgerCare and Medical Assistance will pay $73 million more in eligibility, enrollment fee, drug co-payment, premium and deductible increases;
Autistic children and the chronically ill will face tougher eligibility requirements and pay nearly $1 million for state treatment programs;
University of Wisconsin System students will pay $150 million more in tuition.
In addition, taxpayers could pay $361 million or more in property taxes due to cuts in state aid to schools and local governments.
For a listing and description of the budget items that benefit donors and pick the pocketbooks of the general public check out the "Graft Tax Scorecard."
Finally, the current budget contains a hidden bill for the future called a structural deficit that Doyle and the Legislature did not close. A structural deficit occurs when ongoing expenses are greater than permanent revenue sources. The budget adopted by the Legislature and signed by Doyle has a structural deficit estimated at $711 million, which could cost taxpayers $184 a piece if policymakers lean on them rather than wealthy donors to pay for the cost of this year's accounting gimmick in the next budget.
Graft Tax (Original Report)  • Graft Tax (Part 2)
Graft Tax Scorecard