The Wisconsin Democracy Campaign today announced it is running a new series of newspaper and radio ads throughout the state to remind the public that an overwhelming vote of support for campaign finance reform in a 2000 referendum has been ignored by state lawmakers who continue to stonewall reform legislation three years after the vote.

WDC Renews Media Campaign for Reform

September 15, 2003

Madison -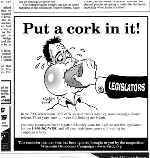 A 30-second radio spot starts airing today on 75 stations throughout the state and will air over 1,900 times in the next two weeks. Two newspaper ads will run in 12 daily newspapers across the state - the first on Sunday, September 21 and the second on Sunday, September 28.
The ads point out that 90 percent of voters in the 2000 referendum supported campaign finance reform, but three years later the elected representatives of those voters still have not delivered the reforms the public wants.
You can see the newspaper ads here, and listen to the radio ads here.