Hundreds of contributors representing powerful special interests shell out generous contributions to both Democratic and Republican candidates to gain influence regardless of who wins the governor's office and which party controls the Legislature, a report by the Wisconsin Democracy Campaign shows.

"Buy-Partisan Politics"
Bet Hedging Widespread Among Big Donors, New Study Shows
October 1, 2003
Madison - Hundreds of contributors representing powerful special interests shell out generous contributions to both Democratic and Republican candidates to gain influence regardless of who wins the governor's office and which party controls the Legislature, a report by the Wisconsin Democracy Campaign shows.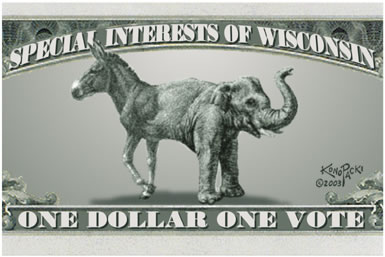 The findings are important because they blow a hole in the claim often made by well-heeled individuals and special interest groups that they contribute to participate in the democratic process and support the candidate and party whose views best reflect theirs and not to influence policymakers to obtain favors.
Among the report's key findings is a dramatic increase in bet-hedging contributors in the governor's race in 2002. The WDC analysis found that 325 contributors gave more than $545,000 to both Democrat James Doyle and incumbent Republican Governor Scott McCallum in the election year. In 1998, only two individuals contributed a total of $1,300 to both incumbent Republican Governor Tommy Thompson and Democrat Ed Garvey, and 36 individuals contributed more than $42,000 to both Thompson and Democrat Charles Chvala in 1994.
WDC's study also found that $3 of every $4 that the four leadership-controlled legislative campaign committees (LCCs) accepted from special interest political action committees (PACs) in 2001-02 came from PACs that gave to at least one Democratic and one Republican LCC. Some PACs also altered the size of their contributions to the partisan LCCs in the Senate between 1993 and June 2003 depending on the party in control.
"Major donors are not contributing just to be good citizens and participate in the democratic process. They are not giving simply to support politicians who share their philosophy of government. They are hedging their bets in an effort to buy access to and influence over whoever is elected," WDC executive director Mike McCabe said. "They don't care who wins as long as they have money on the winner."
The investment big campaign contributors are making in the political process has paid off handsomely as major donors shared little or none of the pain that was inflicted on many Wisconsin residents in the 2003-05 state budget that Democratic Governor James Doyle and the Republican-controlled Legislature created. It increased taxes, tuition, health care expenses for the poor and elderly and other costs to average taxpayers by hundreds of millions of dollars, but gave some of the state's wealthiest campaign contributors new perks worth nearly $204 million, an August analysis by WDC showed.
In the governor's race, several individuals made contributions to both candidates on or nearly on the same day, including Madison real estate developer George Gialamas who gave Doyle and McCallum $2,500 each on August 28, 2002 and Tim Michels, a Brownsville road-building executive and GOP U.S. Senate candidate for 2004, who contributed $1,000 to McCallum on August 26, 2002 and $1,000 to Doyle on August 30, 2002.
In other cases, longtime contributors to McCallum, Thompson and mostly Republican candidates for the Legislature slid contributions to Doyle in the homestretch of the race including William, David and Paula Kraemer, owners of Edward Kraemer & Sons Construction in Plain, who gave McCallum $8,976 between January and June 2002 and then contributed a total of $7,900 to Doyle between August and October 2002.
George Steil, Thompson's longtime personal attorney from Janesville gave Doyle $500 after the election. It marked Steil's first large individual campaign contribution to any Democrat for legislative or statewide office since at least 1993.
To influence state legislative elections, top-contributing PACs controlled by the Wisconsin Education Association Council, the state's largest teachers union, and the realtors doled out thousands of dollars to all four LCCs. WEAC PAC gave a total of $16,000 to the Assembly and Senate Republican LCCs and $26,000 to the Assembly and Senate Democratic LCCs in 2001-02.
The Realtors PAC, which spread $28,000 among all four Democratic and Republican LCCs in 2001-02, also substantially varied the size of its contributions to the Senate Democrats' LCC depending on whether the Democrats held the majority. The committee got as little as $1,000 over a three-year period when the Democrats were not in control and as much as $12,000 over a 22-month period when the Democrats held the majority in the Senate.
The study also found that nearly half of the 259 PACs that contributed to candidates for statewide office and the Legislature in 2001-02 gave to both GOP and Democratic candidates, particularly legislative leaders and multiple candidates for governor and attorney general.
For instance, Alliant/Wisconsin Power & Light PAC contributed $7,200 to Republicans and $4,350 to Democrats during the two-year period, including $1,600 to five Democratic and Republican legislative leaders between late June and late July 2002 as they were negotiating on policy and spending items in a budget adjustment proposal to close a $1.1 billion budget deficit.
TDS Telecommunications PAC contributed $1,500 to McCallum and $1,250 to Democrat Tom Barrett in 2001. Later it contributed another $1,350 to Barrett and $500 to Doyle in 2002. The PAC also backed both candidates for attorney general - Democrat Peg Lautenschlager and Republican Vince Biskupic - to the tune of $250 and $500, respectively, on the same day, June 28, 2002.
Both parties' increasing reliance on the same deep-pocketed donors has contributed to a blurring of ideological distinctions between the parties on many major issues, particularly pocketbook matters. This diminishes the quality of debate in the legislative process by narrowing the range of policy options that are vigorously debated, McCabe said. It also cheats voters out of distinct choices on the ballot at election time, he added.
"On core issues like budgets, taxes, the economy, crime and punishment, schools and access to higher education, the difference between the parties is not black and white, it's gray. The fact that campaigns on both sides are being bankrolled by the same big money interests has led to the death of a true two-party system and the emergence of a single Gray Party," McCabe said. "That not only means the views of many voters are no longer represented in the political process, but it also means that many alternative solutions to the problems our state faces are never discussed in election campaigns or in legislative debate."