Since the Wisconsin Democracy Campaign announced last month that it has joined the national Free Air Time Coalition, 16 more state-level advocacy groups have joined the grassroots campaign to build support for proposals to require that television and radio stations provide free air time before all elections for candidate ads, debates and issue discussion.

State Free Air Time Coalition Grows
16 Groups Join WDC to Push for Next Step in Reform After McCain-Feingold
May 2, 2002
Madison -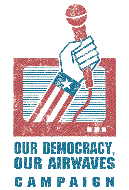 New members of the Wisconsin coalition include Common Cause in Wisconsin, the League of Women Voters of Wisconsin, AARP, Coalition of Wisconsin Aging Groups, Wisconsin Citizen Action, Sierra Club - John Muir Chapter, Wisconsin Council on Children and Families, Wisconsin Public Interest Research Group, Citizens' Utility Board, National Farmers Organization - Wisconsin, Wisconsin Federation of Teachers, Wisconsin Retired Educators' Association, American Association of University Women - Wisconsin, Lutheran Office for Public Policy in Wisconsin, Clean Water Action Council and the Wisconsin Coalition for Advocacy.
The Wisconsin Democracy Campaign is leading the Free Air Time Coalition's efforts in Wisconsin. The nationwide coalition has grown to 51 national groups - including AARP, the AFL-CIO, Common Cause, the League of Women Voters, the NAACP, National Education Association, Sierra Club, the National Council of Churches and the Youth Vote Coalition. It also consists of scores of state and local civic organizations like the state coalition assembled in Wisconsin. The national effort is led by the nonpartisan Alliance for Better Campaigns.
The campaign is being launched in the wake of the passage by Congress of the McCain-Feingold campaign finance reform bill designed to limit the supply of political money. A free air time system would reduce the demand for political money - and in the process open up political campaigns to more candidates, more ideas and more competition.
In 2002, the state groups will host forums across the state at which civic activists, community leaders and elected officials will discuss the free air time issue. Local activists also will collect signatures on a declaration of support for free air time. More information about the campaign is available here or on the national campaign's web site at www.FreeAirTime.org.