Local television stations in Wisconsin's three largest TV markets have already taken in over $4 million this year from the sale of over 12,000 political ads, according to figures released today by the Wisconsin Democracy Campaign.

TV Political Ad Spending on Record Pace
$4 Million Already Spent Through Labor Day in Top 3 Wisconsin Markets
September 16, 2002
Madison -
Nationally, candidates, parties and issue groups spent $305.6 million to air 512,255 ads on 561 stations in the nation's top 100 markets in the first eight months of the year. By Election Day their haul is expected to approach $1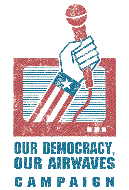 billion - double the record for a non-presidential campaign year. In Wisconsin, $4,024,198 was spent on 12,074 ads aired on stations in Milwaukee, Green Bay and Madison. The figures obtained by the Wisconsin Democracy Campaign were compiled by the Campaign Media Analysis Group (CMAG), a private firm that tracks political advertising on television.
"There is nothing free about speech in political campaigns," WDC executive director Mike McCabe said.
As of September 1, candidates, parties and issue groups had spent $2,247,837 to air 4,114 spots in the Milwaukee TV market. While the cost of political ads was highest in Milwaukee, the most ads were aired in Green Bay, where 4,473 political ads ran in the first eight months of 2002 at a cost of $961,022. In Madison, $815,339 was spent to air 3,487 ads.
The national Television Bureau of Advertising (TVB) estimates spending on political ads across the country will be between $850 million and $1 billion in 2002. If the spending for 2002 hits $1 billion, it would double the $498 million that TVB estimates was spent in 1998, the last non-presidential election. It also would comfortably exceed the previous record for political ad spending set in the 2000 presidential campaign. TVB estimated 2000 political ad spending at $606 million, while CMAG's monitoring pegged it at $771 million.
McCabe said the high cost of reaching voters through TV ads harms the political process in two important ways - it prevents many good people from seeking public office, and it makes those who do seek office unduly beholden to wealthy special interests.
"Over $4 million has already been spent on TV ads - and that's just in three of the state's TV markets. We'e on a pace to see at least $10 million to $12 million spent on TV ads by Election Day," McCabe said. "You don't raise that kind of money from friends and neighbors. Candidates have no choice but to turn to the special interests with the deepest pockets. These folks don't give out of the goodness of their hearts. They are making an investment in the political process and they expect a return on their investment. The money chase required to pay for TV ads puts those special interests in the driver's seat when laws are being made at the Capitol."
Number and Cost of Political Ads by Station
January 1 to September 1, 2002
Station
Number of Ads
Estimated Cost
 
 
 
WCGV (UPN)
10
$1,444
WPXE (PAX)
10
$2,019
WVTV (WB)
46
$23,899
WDJT (CBS)
469
$184,466
WISN (ABC)
1,019
$448,436
WITI (Fox)
1,173
$495,220
WTMJ (NBC)
1,387
$1,092,353
Milwaukee Total
4,114
$2,247,837
 
 
 
WIWB (WB)
5
$664
WLUK (Fox)
704
$89,236
WGBA (NBC)
865
$114,711
WBAY (ABC)
1,202
$280,954
WFRV (CBS)
1,697
$475,457
Green Bay Total
4,473
$961,022
 
 
 
WMSN (Fox)
187
$26,340
WKOW (ABC)
883
$151,222
WISC (CBS)
1,063
$305,266
WMTV (NBC)
1,354
$332,511
Madison Total
3,487
$815,339
Source: Campaign Media Analysis Group and the Alliance for Better Campaigns