With a month to go until Election Day, local television stations in Wisconsin's three largest TV markets already have treated their viewers to over 19,500 political ads this year and have charged candidates, parties and issue groups nearly $6.3 million for the air time, according to figures released today by the Wisconsin Democracy Campaign.

TV Political Ad Frenzy Kicks into High Gear
Over 7,500 Campaign Ads Aired in Last Month in Top 3 Wisconsin Markets
October 3, 2002
Madison -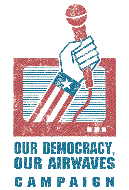 As of September 30, $6,260,713 had been spent this year to air 19,587 ads on stations in Milwaukee, Green Bay and Madison. Over a third of the ads have aired in the last 30 days. Just since September 1, candidates, parties and issue groups aired 7,513 ads in the three markets at a cost of $2,236,515.
The most ads have been run on Green Bay stations, where 7,117 ads aired from January 1 to September 30 at a cost of $1,428,263. Milwaukee stations have raked in the most from political ads, taking in $3,495,424 to air campaign ads 6,475 times. Madison stations took in $1,337,026 for airing 5,995 ads. The figures obtained by the Wisconsin Democracy Campaign were compiled by the Campaign Media Analysis Group (CMAG), a private firm that tracks political advertising on television. (See table below.)
Nationally, candidates, parties and issue groups spent $455 million to air 752,718 ads on 561 stations in the nation's top 100 markets in the first nine months of the year. Counting stations in smaller markets, the cost of political ads is expected to approach $1 billion by Election Day - double the record for a non-presidential campaign year.
Political campaigns are on a pace to spend at least $10 million to $12 million on TV ads in Wisconsin by Election Day, predicted WDC executive director Mike McCabe.
"In this land of free speech, getting your voice heard in a political campaign has become prohibitively expensive," McCabe said. "Only those with immense personal fortunes or access to special interest treasuries can speak above a whisper in the political arena."
The Democracy Campaign has become a state partner of the national Alliance for Better Campaigns and is leading the effort in Wisconsin to promote free air time legislation that U.S. Senators Russ Feingold and John McCain announced they will introduce. WDC is co-sponsoring a public forum on the role of television in politics with the University of Wisconsin-Madison's School of Journalism and Mass Communications to be held on Wednesday, October 16 at 7 p.m. in Bascom Hall (room 272) on the UW-Madison campus.
Number and Cost of Political Ads by Station
January 1 to September 30, 2002
Station
Number of Ads
Estimated Cost
 
 
 
WCGV (UPN)
10
$1,444
WPXE (PAX)
42
$6,924
WVTV (WB)
63
$30,778
WDJT (CBS)
799
$299,716
WISN (ABC)
1,609
$683,365
WITI (Fox)
1,757
$765,672
WTMJ (NBC)
2,195
$1,707,525
Milwaukee Total
6,475
$3,495,424
 
 
 
WIWB (WB)
15
$1,836
WLUK (Fox)
1,114
$138,427
WGBA (NBC)
1,377
$168,660
WBAY (ABC)
2,029
$436,602
WFRV (CBS)
2,582
$682,738
Green Bay Total
7,117
$1,428,263
 
 
 
WMSN (Fox)
317
$42,133
WKOW (ABC)
1,539
$248,299
WISC (CBS)
1,869
$520,351
WMTV (NBC)
2,270
$526,243
Madison Total
5,995
$1,337,026
Source: Campaign Media Analysis Group and the Alliance for Better Campaigns